ÜRITUSED
2016-04-15
TME's wards win the RoboCup European Open title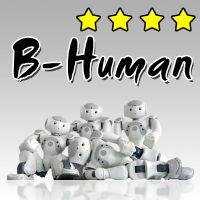 The B-human team, sponsored by TME, has won the World Championship
in the "Standard Platform" league during the RoboCup European Open.
B-human is an unusual football team, as it consists of robots moving on their own. This is a joint project of the Department of Computer Science of Bremen University and the German Research Center for Artificial Intelligence (DFKI). The goal
of the project is to create advanced software for robots, and participation
in the RoboCup events.
This year's RoboCup European Open was played from 30 March until 3 April
in Eindhoven, in the Netherlands. Great interest was aroused by football games played by robots. These uncommon players competed on various levels and were divided into three leagues: "Small Size League", "Middle Size League", and "Standard Platform League". Robots designed by participants from all over the world took part in the competition. The B-human team outclassed the remaining 8 teams in their category.