ÜRITUSED
2016-05-30
TME at SoldeRace 2016 in Hungary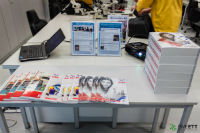 Transfer Multisort Elektronik as a sponsor of soldering competition in Budapest.
Soldering competition, which took place on 15th April 2016, was organised by the Faculty of Electrical Engineering and Computer Science at Budapest University of Technology and Economics. It was a great opportunity for 24 participants to present their soldering skills. The contestants received prizes and gadgets from TME.
It was another event in Hungary supported by TME.
Please have a look at the photos!