ÜRITUSED
2016-12-15
TME contributed to creating PUT Lab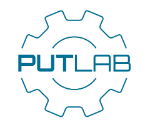 It is the first project of an open-access workshop at the Poznan University of Technology
PUT Lab is a unique place that can be used by all scientific associations and student organisations at the Poznan University of Technology. The basement of the Faculty of Machine Building was equipped with all the necessary hardware. Thanks to that, a new area was born, where students can realize their projects and apply their knowledge in practice. The opening ceremony with the presence of university authorities was held on 24 October, 2016.
On the same year, students designed and developed "Makerspace", which not only facilitates their work, but allows them to share their experiences. Its immense popularity on the day to day basis is the best proof of how badly it was needed.
Congratulations on the excellent idea! We are happy that we could contribute to its realization!