TME offer now includes new supercapacitors by EATON ELECTRIC. Thanks to exceptional properties, this family of components enjoys popularity among professionals as well as amateurs.
Features of supercapacitors by EATON ELECTRIC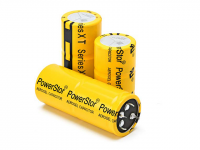 Galvanic cells derive their energy from the chemical reaction which takes place inside them and they can maintain the voltage for a long time, but their service life and current capabilities are very limited. The flow of large currents increases temperature and deteriorates operating conditions – in extreme situations this can lead to the ignition or explosion of the cell. Supercapacitors are a great alternative to other energy sources, their capacity reaches up to 3,000 farads, with maximum current parameters reaching hundreds of amps. However, this comes at a cost – i.e. a relatively small operating voltage range, as such capacitors can typically be charged up to 2.5V – 5.5V. The capacitor discharge curve may be a disadvantage. Initially, it is rather steep, which translates into a rapid initial voltage drop. As in the case of cells, you can connect several supercapacitors into the battery and thus extend the operating time of the entire unit.
Fast charging of supercapacitors
An additional advantage of supercapacitors is their charging time – supercapacitors can be charged with currents reaching the levels of hundreds of amps, which means that such a battery will be fully charged in a few seconds.
Nowadays, supercapacitors are used to recover energy in electric cars, during braking and when sustaining voltage for a short period of time.
Discover supercapacitors
by Eaton Electric »
| | |
| --- | --- |
| Mounting: | THT or Snap In |
| Maximum voltage: | 2.5V or 5.5V |
| Capacitance: | from 100mF to 400F |
| | |
| --- | --- |
| Symbol | Description |
| HB1625-2R5256-R | Capacitor:electrolytic;supercapacitor;25F;2,5VDC;THT |
| HV0820-2R7305-R | Capacitor:electrolytic;supercapacitor;1F;2,7VDC;THT |
| HV1030-2R7106-R | Capacitor:electrolytic;supercapacitor;10F;2.7VDC;THT |
| KR-5R5C105-R | Capacitor:electrolytic;supercapacitor;1F;5.5VDC;THT |
| KR-5R5C224-R | Capacitor:electrolytic;supercapacitor;220mF;5.5VDC |
| KR-5R5C474-R | Capacitor:electrolytic;supercapacitor;470mF;5.5VDC |
| KR-5R5H155-R | Capacitor:electrolytic;supercapacitor;1,5F;5.5VDC |
| KR-5R5H224-R | Capacitor:electrolytic;supercapacitor;220mF;5.5VDC |
| KR-5R5H334-R | Capacitor:electrolytic;supercapacitor;330mF;5.5VDC |
| KR-5R5V334-R | Capacitor:electrolytic;supercapacitor;330mF;5.5VDC |
| PB-5R0H104-R | Capacitor:electrolytic;supercapacitor;100mF;5VDC;THT |
| XV3560-2R7407-R | Capacitor:electrolytic;supercapacitor;400F;2.7VDC |