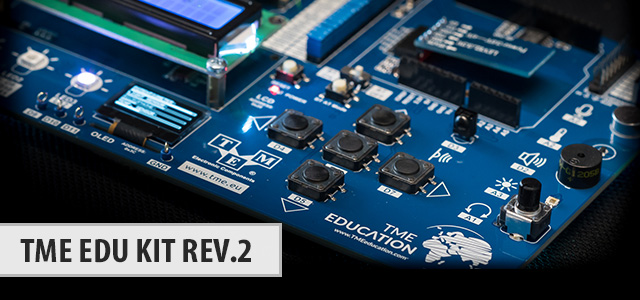 TME-EDU-ARD-2 is educational board that easily allows you to start your journey with modern electronics and programming. The solution is based on the worldwide popular Arduino Uno module and has been improved by addition of numerous peripheral components. What is important, it doesn't require soldering skills and uses free Arduino IDE programming software.
TME-EDU-ARD-2 educational board is adjusted to the skills and needs of users of various age. Easy operation makes it a good choice for basics programming even by students of primary schools. Almost infinite possibilities of using the board allow students to pursue advanced projects (previous version of the board – TME-EDU-ARD-1 – was successfully used by lecturers at the Institute of Electronics of Lodz University of Technology – read more)). Thanks to a rich portfolio of various demo programmes users can easily master all peripheral components of the board. Attached instruction manual (in English) will dispel any doubt concerning the first use of the kit.
TME-EDU-ARD-2 includes the following peripheral components:
microswitches,
potentiometer,
LEDs: single-colour, RGB, programmable RGB,
buzzer,
light sensor,
microphone,
RC5 infrared receiver RC5,
LCD alphanumeric display,
OLED graphic display,
Bluetooth module socket (HC-05, HC-06),
7-segment LED display,
8-port I/O I2C expander.
Such a range of peripheral components opens door to practical learning of electronics and many hours of interesting work. If you need to plug another element in to the board, you can do it by, for example, plugging extension PCBs that are compatible with Arduino (so-called "shields") or by switching off selected peripherals by pulling out their jumpers.
TME-EDU-ARD-2 board was made for the needs of TME Education – a project initiated by the TME company. This programme is implemented especially in those regions of the world where access to modern technical knowledge is limited. The project is also based on other proprietary educational kits, for example, a book and set of basic electronic elements and also an electronic experiments kit.
Find out more about the activities implemented as a part of the TME Education programme and learn about the cooperation opportunities.