Single-board computer UPS-P4-A10-08128 single-board computers by AAEON have become a key element of applications requiring high-performance and compact equipment with x86 architecture, other than industrial computers.
AAEON single-board computer applications
UPS-P4-A10-08128 is a perfect solution for kick-up and start-up applications. It is also used by makers and hobbyists and constitutes a perfect solution for demanding systems. The most common UPS-P4-A10-08128 AAEON single-board computer applications include: drone design, robotics, BMS class systems, IoT control systems (e.g. network gates), equipment for object (colour and shape) detection as well as applications for pedestrian traffic detection and analysis as well as systems used to read out vehicle licence plates.
These computers can be used in solutions requiring low production costs, short start-up times and simple application development. Thus, they facilitate development of devices that cannot be created in a small company's workshop or are beyond amateur electronic engineer's reach.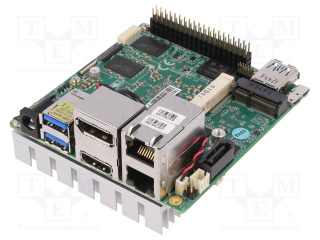 UPS-P4-A10-08128 single-board computer advantages
The key advantage of single-board computers is their small size, which translates into the final device size. Such features as a quad-core processor with communication interfaces and data carriers guarantee outstanding processing power and flexibility. Most importantly, all the above can be obtained at a relatively low price.
Trouble-free operation in challenging environmental conditions is another advantage of UPS-P4-A10-08128. The computer is resistant to impact caused by extreme temperatures, shocks and vibrations. In numerous applications, low power consumption is also a key factor. It results not only into lower energy demand, but equipment durability and reliability as well.
The presented AAEON computer can operate independently or autonomously, and the board-mounted interfaces facilitate data exchange with external devices. It also supports popular operating systems.
UPS-P4-A10-08128 technical specifications
The UPS-P4-A10-08128 single-board computer by AAEON comes with 8GB RAM and 128GB Flash memory. The memories are built-in, which guarantees resistance to vibrations and shocks.
The computer is equipped with Intel® Pentium™ N4200 quad-core processor with 2.5GHz frequency and x86-64 x86 APOLLO Lake architecture. Such factors as microprocessor performance characteristics and Altera MAX10 FPGA system facilitate video stream processing.
The computer supports OS Windows 10, Windows IoT Core, Linux (ubilinux, Yocto) and Android Marshmallow operating systems. It comes with the Intel® Gen 9 HD graphics system. Video is encoded in H.264 BP/MP/HP, HEVC4 and VP8 formats.
The power supply is 5V DC. The computer dimensions are 85.6 x 90mm, weight 0.26kg.
Port and interface types
The UPS-P4-A10-08128 single-board computer comes with the following ports:
40pin;
DP 1.2;
HDMI 1.4;
RJ45;
2 x magnetically shielded ports;
SATA;
3 x USB A;
USB B micro;
mPCIE-e.
It is equipped with the following communication interfaces: Ethernet x2, GPIO, MIPI-CSI2, USB 2.0, USB 3.0 and eDP. Cooperating systems include OPT-UP-DST07-001 and OPT-UP-DST10-001.
The AAEON UPS-P4-A10-08128 single-board computer will be available at least until 2024. The equipment is CE/FCC Class A certified.
A dedicated development tool set ensures the required speed of hardware and installed application operation.