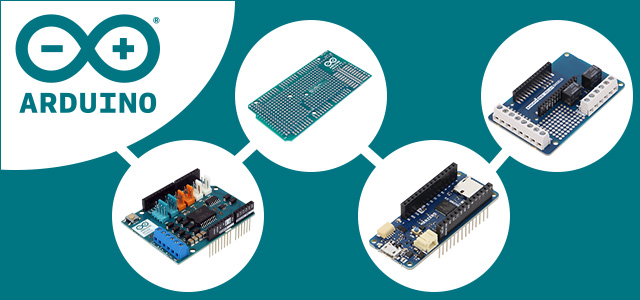 New products, new perspectives
TME is a global partner of Arduino. We are pleased to offer to our customers genuine products of this brand. Arduino is a constantly developing platform whose name is more and more frequently mentioned in the context of industrial applications.
Several years ago, the Italian manufacturer was mainly known for development kits with 8-bit microcontrollers, for educational projects, popularization of programmable electronics, and for a minimalistic, user-friendly Arduino IDE development environment. Thanks to its immense popularity, a wide choice of extensions and open access to thousands of libraries, Arduino is gaining popularity among professional users. The reason is that today's professionals started their adventure with Arduino as adepts of electronics and want to continue using this technology in their work as a well-known, familiar tool. Today, Arduino responds to the expectations of its growing base of customers and adds industrial solutions to its range of products.
UNO – means: number one
Despite several years of presence on the market,the classic base board still enjoys high popularity (currently available in version rev. 3). That is why the manufacturer still produces Arduino Uno as well as dedicated expansion boards known as Arduino shields. Thanks to them, even absolute beginners will be able to complete ambitious projects and broaden their knowledge about the platform itself. These products will also meet the expectations of experienced engineers, e.g. simplify the prototyping process.
4 RELAYS SHIELD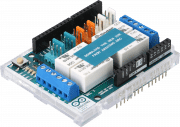 This shield allows your Arduino driving high power (consumption) loads, which would be impossible using only the base board microcontroller. The "4 relays" shield, as the name suggests, is fitted with four relays. Each relay provides 2 pole changeover contacts (NO and NC). The shield is also equipped with LEDs which indicate the on/off status of each relay.
MOTOR SHIELD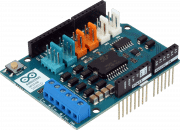 Although easy to implement in Arduino IDE environment, DC motor control requires a suitable driver. The Italian manufacturer based its module on the popular L298, which is a dual full-bridge driver designed to drive motors. With MOTOR SHIELD you can drive two DC motors. Speed control is performed by generating a PWM signal, while the direction of rotation is determined by setting pins "high" or "low".
TINKER KIT BRACCIO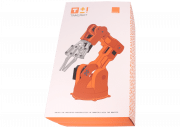 Although it looks like a toy, TINKER KIT is first and foremost an excellent tool for learning mechatronics, and it is on remote mechatronics that the whole idea of Industry 4.0 is based. BRACCIO illustrates how easy to use and at the same time powerful the modules from this Italian manufacturer are. This kit will make the first steps in robotics easier not only for amateurs but also for engineers who want to develop their skills. The included BRACCIO board allows you to connect servos directly to the development kit.
DUE – the first step into the future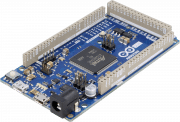 Presented in 2012 Arduino Due was the first development kit by the Italian manufacturer based on a 32-bit microcontroller. It is SAM3X8E (which runs at 84 MHz) featuring the Arm Cortex-M3 architecture. Due remains compatible with all 3.3V Arduino expansion modules with Arduino 1.0 pinout. Thanks to its high computing power and advanced processor (compared to 8-bit models), Due can be used to build high performance equipment like CNC machines or drones.
ARDUINO MKR – compact solutions for professionals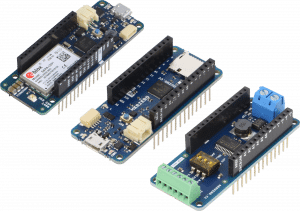 The Arduino MKR is designed for engineers and constructors interested in creating IoT applications. It combines the power of a 32\bit ARM architecture, compact size and ease of use. The kits in this series are small in size (approx. 68x25mm) and most of them feature an integrated chip for wireless communication. Thanks to a variety of models and built-in Arduino IDE libraries, MKR products can connect via standards such as WiFi, GSM, NB-IoT, SigFox or LoRa. They are all characterised by the versatility and ease of use for which the manufacturer is famous.
The capabilities of the individual products can be further expanded by choosing the shields dedicated to the MKR series – e.g. MKR 485, which enables communication in an industrial RS-485 standard. The board allows Arduino to work both as a master and slave, in full or half duplex modes.
The feature that distinguishes MKR products the most is their adaptation to professional, industrial applications. These boards are FCC, RoHS and CE certified and can easily be integrated into existing network infrastructure, e.g. in machine parks or factory halls.
In addition, the advantages of the Arduino MKR family include energy efficiency. The ARM microcontroller offers sleep and wake-on/interrupt modes to minimize power consumption. The kits are are designed to operate with lithium-polymer batteries. Below you can find several solutions and accessories from the MKR family – don't forget to get acquainted with the full offer of kits available in our catalogue.
Discover the MKR family in our catalogue »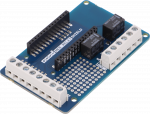 MKR ZERO
MKR ZERO as the only one in the MKR family without a built-in wireless communication system. Instead, it is equipped with an SD card slot. Thanks to DAC converters and Arduino Sound and I2S libraries (used for Inter-IC Sound interface) it can be used to build multimedia devices, especially in the field of music creation, as well as visualization, analysis and sound processing. The board also features a Real Time Clock (RTC).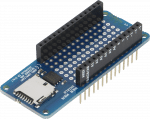 MKR RELAY PROTO SHIELD
ShieldMKR RELAY PROTO allows you to easily add relays to projects based on the MKR board. It is equipped with two relays and analogue inputs A1-A4, I2C and power supply input fitted with convenient screw terminals.
MKR MEM SHIELD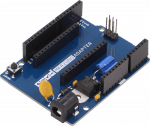 A microcontroller based on a 32\bit architecture allows you to process large amounts of data. In many applications it will be necessary to extend the available memory - here the MEM SHIELD, equipped with 2MB flash memory and a MicroSD connector, will come in handy.
MKR2UNO ADAPTER
Over the years, Arduino and many third party companies have made users accustomed to awide choice of shields.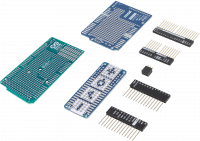 Most of them are adapted to the Arduino 1.0 system (UNO model pinout), which differs from the MKR pinout. Thanks to the MKR2UNO adapter, the user of the MKR1000 base board can use accessories intended for classic development kits. This simple board connects the MKR pins with pin sockets arranged according to the previous standard. With compatible outputs, libraries and networked schematics, the adaptation of legacy shields to new applications should not cause any problems.
PROTOSHIELDS
These boards make it easier to build your own custom circuits that will work with Arduino in the target application. Depending on the model, you can choose the UNO, MEGA or MKR protoshield. These boards are compatible with the outputs of the individual models and give the constructor access to all input/output pins of the development kit. They also contain a prototype PCB area with 2.54mm raster.