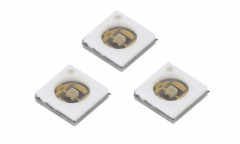 PB2D-1CLA-TC LEDs by Prolight Opto belong to the PB2D series of single-watt Power LED UV diodes. They are available in a small 3.5 x 3.5mm casing and emit long-range ultraviolet radiation (UV-C) of about 10.5mW.
These components are mainly used in solutions designed for disinfection and sterilization of analysers and detectors.
Characteristics:
Colour:
UV-C
λP wave length :
265nm - 285nm
Radiation power :
typ. 10.5mW @ 100mA
Operating voltage:
5V – 8V @100mA
IMPORTANT: PB2D-1CLA-TC LEDs emit UV-C radiation which is harmful to eyes and skin. Wear eye and skin protection when the diode is in operation. Do not look at the front of a working LED without glasses which provide protection against UV radiation.
| | |
| --- | --- |
| Symbol: | Opis: |
| PB2D-1CLA-TC | LED mocy; UV-C; 120°; 150mA; λd: 265-280nm; Pmax: 1W; 3,5x3,5mm; 5÷8V |