DSO1000B is a series of affordable, dual channel oscilloscopes with a built-in battery and a multimeter function. The bandwidth, depending on the model, is 60MHz DSO1062B or 200MHz DSO1202B. A large, colour, 5.7" display with a resolution of 640x480 pixels provides high readability and ease of use. The oscilloscope sample rate is 1Gs/sec and the memory depth is 1Mpts/ch.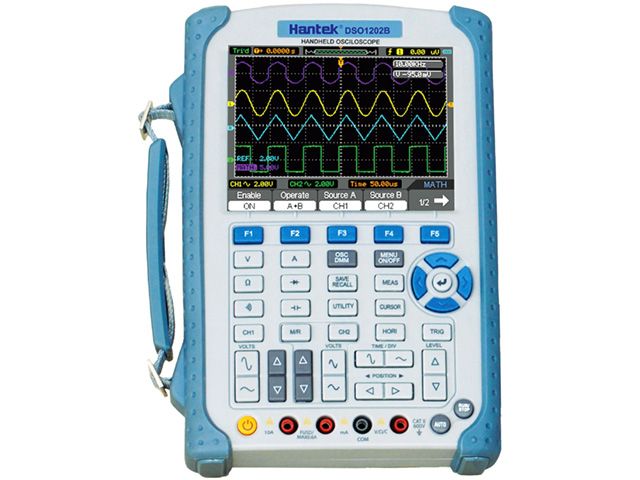 HANTEK DSO1000B series – key features
The devices offer, among others, the following functions: FFT analysis: Hanning, Flattop, Rectangular, Bartletta, Blackman, automatic measurement of numerous parameters, digital filter functions, Pass/Fail, average mode for smoothing waveforms. They also enable cursor tracking measurements and operation in X-Y mode. The built-in multimeter with a bar graph function is galvanically separated and designed for measurement of basic electrical values (AC/DC voltage and current, resistance, capacitance or diode test).
The DSO1000B series oscilloscopes feature extensive data archiving functions. It is possible to save the waveform to .csv or .xls files and then process it further using a spreadsheet. Additionally, it is possible to save the waveforms in .bmp format as a graphic file. The included Windows software allows you to control the oscilloscope from your computer.
Discover the DSO1000B series of oscilloscopes »
Automatic screen calibration with DSO1000B series handheld oscilloscopes HANTEK
One of the most interesting functions of the devices is the AUTOSET, thanks to which the oscilloscope will automatically select the displayed parameters (time base, gain) with a single press of a button, so that the course is clearly visible on the screen.
| | |
| --- | --- |
| Characteristics: | |
| Type of oscilloscope: | handheld oscilloscope |
| No. of channels: | 2 |
| Vertical resolution: | 8bit |
| Max. input voltage: | 30V |
| Dimensions: | 163x52x245mm |
| Weight: | 1.3kg |
Symbol:
Description:
DSO1062B
Handheld oscilloscope; Bandwidth: ≤60MHz; LCD 5,7" (640x480),colour
DSO1202B
Handheld oscilloscope; Bandwidth: ≤200MHz; LCD 5.7" (640x480),colour