Events
2019-05-20
MHL technology – images from your phone on a large screen
Knowing technological innovations around you and methods or manners, in which various devices can be connected together, enables you to take advantage of the possibilities offered by the Mobile High-Definition Link technology. Information on what MHL exactly is and who and how can use it can be found in the article below.
What is the MHL technology?
MHL (Mobile High- Definition Link) technology enables you to connect your mobile device to a monitor or a TV with the use of an MHL adapter (micro USB-HDMI or micro USB-VGA). The new audio/video interface standard allows you to transmit sound and HD videos from your phone with the speed of up to 60fps, transforming your mobile device into a source of sound and image. Movies, TV series, or mobile games can be displayed on your home screen, and your phone can be turned into a remote or a controller. This can significantly cut the costs of buying new games or a new console. One of the biggest advantages of this standard is a two-way information exchange, as data is not only sent, but also received. Receiver control function with the use of a built-in MHL technology is available in latest TV models. Those who own an older home device can use a wide range of cables and adapters offering identical functionality.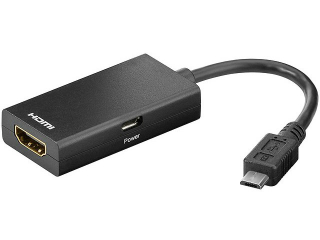 On what devices can Mobile High-Definition Link be used?
The innovative MHL standard has been implemented on Android and Apple iOS devices, and it is the mobile device, not the TV, that is required to support this standard. The quality of transmitted data depends mainly on your smartphone's computing power, and it is possible to transmit images with maximum resolution of Ultra HD (4K). However, it does not mean that this technology is aimed exclusively at users with smartphones from the higher price segment. For instance, quadcore Samsung S3, presented in May 2012 and currently available in the low price segment, is still able to transmit images in absolutely acceptable High Definition (HD).
Selecting MHL connection
The user can select from two methods of connecting the phone to a target device. To do that, an HDMI cable or an MHL adapter can be used. Unlike the MHL cable, i.e. a direct connection between your smartphone and the TV via USB, Micro and HDMI, the adapter with an additional supply cable lets you charge your battery as well. Depending on the mobile device and its capabilities, several connection solutions are available on the market. If you own a smartphone with a USB-C port, you can use the USB-C/USB-B micro adapter. This is used because the MHL adapter is powered via a USB port of this type. At the moment, home devices for displaying images use two types of connectors: HDMI or VGA (D-Sub15). Therefore, users have to select an MHL adapter that matches the type of connector they have.
When thinking about connecting a mobile device with relatively low computing power to a large screen, you need to consider a noticeable deterioration of the quality of image, especially when mirroring mobile games that heavily use your phone's memory.
On its webpage, TME offers adapters and other components necessary to connect devices via the Mobile High-Definition Link technology. From the USB cables and adapters tab, buyers can adjust the device to their needs by selecting desired parameters.