EVENTS
2013-12-10
¡Bienvenidos a España!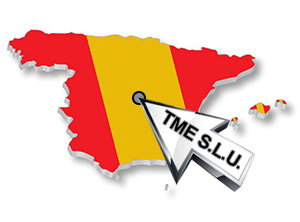 We are proud to inform that TME has opened their office in Spain. This is our sixth foreign office.
Office's address:
Transfer Multisort Elektronik S.L.U.
Calle Rejas, 2
Oficina 16
28821 Coslada (Madrid)
TME S.L.U. offer includes complete assortment of products offered by Transfer Multisort Elektronik sp. z o.o.
Spanish Customers can now get technical assistance:
• at the telephone No. (0034) 911 234 771
• or at the email address: iberica@tme.eu
Now, invoices will be issued by a Spanish branch with a VAT rate binding in Spain.
The bank account data will also change:
Deutsche Bank
Sociedad Anónima Española,
Paseo de la Castellana, 18 - 28046 Madrid
IBAN: ES0600190335174010031186
SWIFT: DEUTESBB