SUNON

Sunonwealth Electric Machine Co. (SUNON) was founded in 1980. The corporate headquarters is located in Taiwan, and the production is mainly realized in China.
SUNON products are characterized by excellent craftsmanship and reliability. After over 30 years of operations, SUNON has become a brand that is recognized and valued all over the world.
SUNON concentrates its operation on enhancing three pillars: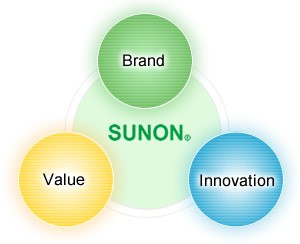 Brand – high quality and latest technologies;
Value – constant product enhancement through research and development works;
Innovation – focusing on progress as the factor that enables the company to keep its position as a market leader.
SUNON patented numerous innovative solutions, such as Maglev magnetic bearing or the series of the world's smallest fans – Mighty Mini.
SUNON operates in various branches of industry and delivers solutions for:
Portable computers,
Automotive industry,
LED cooling.
Currently, SUNON's offer includes:
AC and DC axial fans,
Blower fans,
EC fans,
LED cooling modules,
Accessories for fans: power cables and guards,
Products made in accordance with individual needs.
SUNON offers its customers support from over 400 engineers in the R&D Dept., thanks to which it is able to design even very complicated solutions in accordance with individual requirements.

This manufacturer's products were found in: