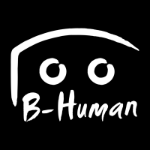 B-Human wins the RoboCup German Open 2017
B-Human team, sponsored by TME, finished 1st in the RoboCup German Open 2017. RoboCup is an international initiative aimed at promoting research in the field of robotics and artificial intelligence. As a part of it, numerous robot football matches are played. The Magdeburg competition was held from 5 to 7 May 2017. B-Human beat eight other teams.
B-Human players are autonomous robots that move on their own. Creating the B-Human team is a joint project of the IT Department of University of Bremen and German Research Center for Artificial Intelligence (DFKI).
We're very happy and we're keeping out fingers crossed for the unique B-Human team!