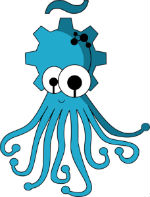 The Open Source HardWare Demonstration (OSHWDem) technology fair took place on 11 November 2017. During this event, visitors could not only watch spectacular races and fights of autonomous robots, but also talk with their builders, learn how they work and what the construction process looked like.
Almost 2.5 thousand people took part in the event. They had a chance to see 150 projects, take part in interesting conferences and workshops, and cheer the contestants competing in six robotic competitions.
The symbol of the fair was an octopus, which could be won during the fair in the form of a rather specific, "programmed" mascot (capable of connecting to the Internet).
We're glad that we could be a part of this incredible event!