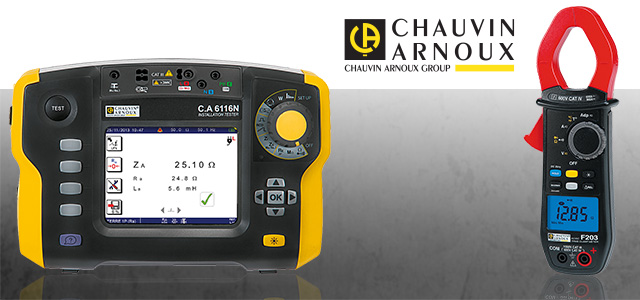 In 1893, Raphael Chauvin and René Arnoux founded a company specialising in the measurement of electrical and physical quantities. Already in the first decades of its existence, Chauvin Arnoux revolutionised metrology. The invention of a current transformer (i.e. the first current measuring clamps) completely changed the world of measurement.
With the aim of expanding its business, in 1997 Chauvin Arnoux acquired Metrix, which specialized in the manufacture of measuring instruments for industrial, laboratory and educational purposes.
During the 125 years of its activity, Chauvin Arnoux has made its way into the intercontinental market. The company owns subsidiaries in the United States, Italy, China, United Kingdom, Sweden, Germany, Austria, Spain, Lebanon and Switzerland, and continues to grow. Five R&D laboratories (2 of which are located in France) work on expanding the already wide product portfolio. Moreover, the policy of locating the majority of production in three French plants constantly ensures the highest quality of products, which is confirmed by ISO 9001 and ISO 14001 certification.
Chauvin Arnoux's portfolio includes devices that will satisfy the needs of both amateurs and the most demanding professionals: staring from electrical testers, through multimeters and a wide range of meters and clamp probes (manufacturer's specialty), up to meters for electrical installations (insulation and earth resistance testers, ohmmeters) or power analysers and loggers. You can choose between standalone digital multimeters, which are equipped with numerous additional functions, such as voltage, temperature, power and even harmonics measurement, and a wide selection of clamp probes (designed for multimeters, oscilloscopes, specialised analysers and electric power recorders). Among them there are probes enabling measurement of low (e.g. CA-MINI-02 from 50mA) and extremally high (e.g. CA-A193-800 to 10 000A) currents. Selected probes perfectly cope with measurements, even if the current is characterized by high frequency (e.g. CA-MINI-103 to 10 000Hz).
The ASYC IV multimeter series is particularly noteworthy: it consists of waterproof multimeters with a low impedance measurement function and a special operating mode adapted to work with clamp probes, compatible with PT100 and PT1000 temperature probes ensuring high accuracy of the sensors. Higher models can save up to 6500 measurement results, with the communication possible via USB interface. Versions with Bluetooth connectivity are also available.
In addition, Chauvin Arnoux is developing product lines designed to measure other physical quantities such as illuminance, humidity, wind speed and temperature (including infrared cameras).
  See Chauvin Arnoux products available in the TME catalogue »