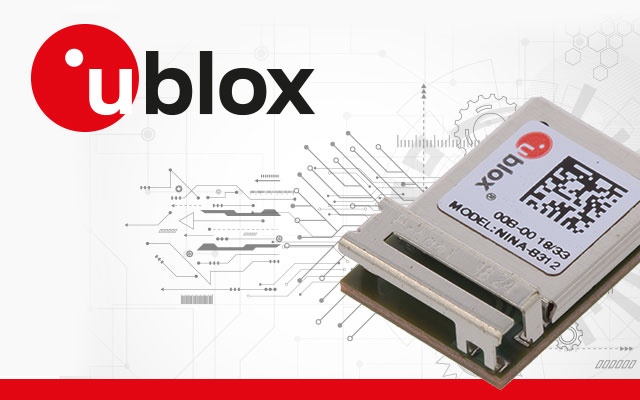 Due to a rapid growth of the number and functionality of IoT (Internet of Things) apps, providing secure and reliable wireless communication becomes a necessity. Apart from realizing its own functions, it should also enable remote firmware upgrades from reliable sources. Wireless communication can currently be found on the consumer market (entertainment, wearables, patient monitoring), automotive market (infotainment, positioning, autonomous vehicles), and industrial solutions (Industry 4.0, smart city).
U-blox, a company from Switzerland, provides its customers with advanced, compact, and energy-efficient solutions for embedded systems, enabling the expansion of app/device functionalities with accurate satellite positioning and wireless communication via short-range (Bluetooth, Wi-Fi) and long-range (cellular telephony) networks.
U-blox offering at TME includes easy to implement, efficient, and secure communication modules, as well as dedicated development kits.
Below you can find an overview of u-blox solutions for wireless communication from the SARA, ANNA, NINA, EVA, and NEO families of products.
Cellular telephony modules (C)
SARA-R410M is a small LTE Cat M1/NB1 and EGPRS module with a global coverage.
Product features:
programmable network carrier profile and selection of LTE band
flexible selection of preferred network: LTE Cat M1; LTE Cat NB 1; EGPRS exclusive/preferred
over-the-air (OTA) software updates via the uFOTA client-server web solution with the use of the LWM2M protocol
low current consumption and long working time when powered by batteries
increased coverage indoors and in basements, and underground thanks to NB1
The GSM/GPRS SARA-G450-00C quad-band module, perfect for cost-effective applications.
Product features:
it comes in the industry-acclaimed SARA standard, which enables easy integration between u-blox modules supporting 2G, 3G, LPWA (Cat M1 and Cat NB1), and LTE Cat 4 and LTE Cat 6
easy integration with solutions with embedded Internet connection
optimised power consumption for IoT applications
modules applied in cellular telephony networks (C)
Short Range Radio modules (S)
ANNA-B112-00B is a standalone Bluetooth 5 Low Energy module with the Cortex®-M4 microcontroller.
Product features:
the smallest Bluetooth 5 industrial module
dimensions: 6,5 x 6,5 x 1,2 mm
compliant with Bluetooth 5 and Bluetooth mesh specifications
available with u-connectXpress firmware or OpenCPU architecture
embedded antenna/pad
global certification
NINA-B30 and NINA-B31 are standalone Bluetooth 5 Low Energy modules with the Cortex®-M4 microcontroller.
Product features:
full support of long-range Bluetooth 5, Bluetooth mesh, 802.15.4 Thread, and Zigbee specifications
Open CPU architecture for advanced client applications (NINA-B30)
u-connectXpress firmware – perfect for creating quick solutions (NINA-B31)
optimised for high efficiency and low power consumption
pin layout compatible with other NINA modules
extended security functionalities
secure boot (NINA-B31)
multiple antenna options
Positioning modules (P)
EVA-M8Q is a cost-effective SiP M8 GNSS module.
Product features:
7 x 7 mm package
cost-effective module for multiple applications
the highest level of accuracy due to simultaneous data reception from three networks (GPS and Gallileo with GLONASS or BeiDou)
versatile product for various applications
NEO-M8M is a versatile SiP M8 GNSS module.
Product features:
simultaneous data reception from three GNSS networks (GPS and Gallileo with GLONASS or BeiDou)
high sensitivity of the receiver – 167dBm
extended security and integrity functionalities
supports all satellite systems enhancing positioning accuracy
advanced detection and filtering out distorting and interrupting signals
compatible with the NEO-7 and NEO-6 families of modules