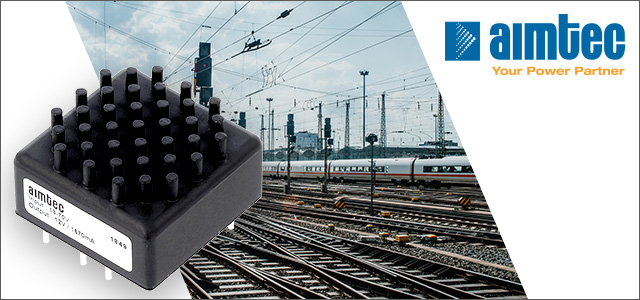 New 20W Aimtec AM20CWR-ZK converters are designed for railway applications. Their most important features include safety, reliability and a relatively low cost. The new Aimtec converters can be used in a wide variety of railway operating systems, both in on-board and off-board applications such as:
counters,
ticket machines,
remote control,
cameras,
sliding doors,
lifts and hoists
GSM-R track control systems.
The AM20CWR-ZK has been designed to be compatible with the 100V DC input voltage used in on-board railway batteries. The models with 12 and 24V DC output voltages are ideal for powering on-board equipment. The AM20CWR-ZK series are lightweight and compact (1x1") converters. They are designed in accordance with the railway standards for electronic on-board equipment, including those specified in the EN50155 standard. Great emphasis has been placed on the mechanical strength of the converters, which is to ensure their reliable operation in difficult environmental conditions throughout the product's lifetime.
Integrated heat sinks improve the downgrading of equipment and are an affordable solution compared to external heat sinks. The AM20CWR-ZK complies with the IEC 60068 Class B thermal resistance standard and the IEC/EN 61373 shock and vibration requirements. In addition, the converters comply with the EN50121-3-2 Class A (conductivity and radiation) electromagnetic compatibility (EMC) standard for railway applications.
Use with COTS devices
The AM20CWR-ZK series can be used as a power source for devices that do not comply with the EN 50155 standard, such as interference filters and galvanic isolation (tested I/O voltage is 3000V DC) of Aimtec DC/DC converters for EMC shielding. Thanks to this, commercial off-the-shelf equipment (the so-called COTS) can be used in the railway sector.
Furthermore, with an operating temperature range from -40°C to +85°C and an integrated EMI output, these converters meet a wide range of resistance requirements for railway equipment, which are offered by only a few solutions available on the market. This allows you to distribute and route the output to components that do not meet EN 50155 standard for input variability.
AM20CWR-ZK series built-in protections
MTBF >19000000h,
output short-circuit protection (OSCP),
output overcurrent protection (OCP),
in compact size (1x1") output overvoltage protection (OVP),
The following table shows how the Aimtec AM20CWR-ZK can withstand large input voltage fluctuations (with reference to the latest version of EN50155)
Nominal input voltage
EN50155
AIMTEC AM20CWR-ZK
Input range
Min. input (0.1s)
Max. input (1s)
Input range
Min. input
Max. input (0.1s)
24V
16.8 -30V
14.4V
33.6V
13 – 70V
13V
100V
48V
33.6 – 60V
28.8V
67.2V
13 – 70V
13V
100V
72V
50.4 – 90V
43.2V
100.8V
42 – 176V
42V
185V
96V
67.2 – 120V
57.6V
134.4V
42 – 176V
42V
185V
110V
77 – 137.5V
66V
154V
42 – 176V
42V
185V