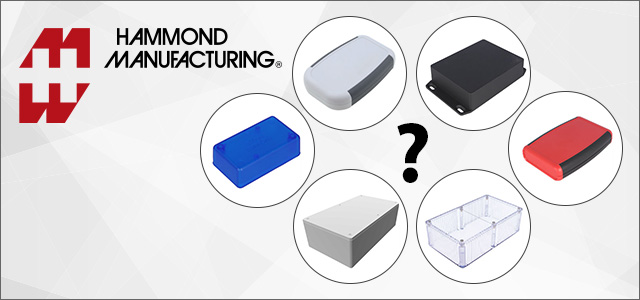 Is your new industrial project ready? The product has passed the testing and debugging stages and has been accepted for production? The only thing left to do is to choose the enclosure – in order to do so, you need to consider a few factors. The 7 most important ones are listed below.
1. Dimensions
The starting point in choosing the right enclosure are its dimensions, which are determined by, among others, all the elements mounted on the PCB, as well as the number of PCBs (whether there is only one or more boards) placed horizontally in the enclosure. The mounting method is also important – many plastic enclosures have embossed grooves to allow vertical mounting of PCBs (on the sides of the enclosure) or special elements to allow horizontal mounting (at the top and base of the enclosure). These include for instance1455 series universal extruded housings, in which PCBs can be mounted horizontally. It is also important to estimate how much free space must be available on the external surface of the enclosure in order to place indicators, switches, connectors, wire inputs and other components on it, and whether such space is needed at all.
2. Installation environment
Another issue are the conditions in which the product will operate and which may significantly affect its efficiency. In order to find the right enclosure, consider the following issues:
Where will the product be used – indoors, outdoors or both?
Will it be exposed to UV radiation?
Wil the enclosure be exposed to contaminants such as oils, chemicals, etc.?
Is resistance to impact, shock and vibration from e.g. mounting on moving parts required?
Should you take into account the ingress of dust and water into the enclosure?
Will the enclosure be exposed to very high or low temperatures?
Answering these questions raises another issue that needs to be taken into account, namely....
3. Material
Enclosures can be divided into those made of plastic or aluminium.
Plastic enclosures:
Material: ABS, polycarbonate or GRP,
lighter than aluminium enclosures,
fire resistance – UL95 standard: V0, V1, V2,
polycarbonates and GRP show higher resistance to brittleness and colour fading under the influence of UV radiation, compared to ABS.
Aluminium enclosures:
high impact resistance and electromagnetic attenuation,
cast or extruded, easy to process,
a suitable gasket guarantees IP68 rating,
thinner than plastic enclosures,
effective protection against high temperatures, dust and water.
The most popular plastic enclosures manufactured by Hammond are the 1551 series miniature enclosuresmade of ABS, available in a standard version, with a key ring, as well as with or without a hole for the USB connector. The 1591 series enclosures have embossed grooves for mounting PCBs. They are available with or without flanged covers and are made of transparent or opaque plastic. The 1591XX series enclosures are made of ABS and have PCB mounting parts on the cover and base instead of the PCB mounting grooves. The 1553 series portable enclosures, also available in the ABS version, have an ergonomic shape and soft handles for increased comfort of use.
The 1590 series universal cast enclosures and Eddystone enclosures are available in a variety of sizes, making them suitable for a wide range of applications requiring durable enclosures. The 1590 series enclosures are available in the Stomp Box version, as well as in octagonal and trapezoidal varieties.

4. Resistance to external factors
Sealings are typically tongue and groove structures between the joined components. Flexible gaskets are also used to provide greater tightness. The international standard IEC 60529 specifies the requirements in this respect:
IP54 – for general applications,
IP66,67 or 68 – suitable for areas exposed to dust and water,
IP69K – provide resistance to high-pressure steam cleaning.
In North America, the resistance of enclosures to external factors is usually referred to as NEMA (National Electrical Manufacturers Association). NEMA conducts its own tests that are not covered by IEC 60529, e.g. ice tests, hazardous area enclosure tests, cable gland tests, etc.
Many Hammond plastic and metal enclosures are available in versions with increased resistance to external factors.
5. Appearance/design
Plastic enclosures are available in transparent and opaque versions, as well as in many colour variants. They can also be made of transparent materials or have stylised covers with recesses for membrane keyboards and displays. Cast aluminum enclosures can be finished and painted in a variety of ways. On the other hand, extruded enclosures may have coloured or transparent anodised finishes.
6. Electromagnetic compatibility
Plastic enclosures do not provide any electromagnetic attenuation. If the electromagnetic radiation emitted by the electronic components inside the enclosure or their susceptibility to external fields is a potential problem, the internal surface of the plastic enclosure may be covered with coatings made of different materials to provide a degree of attenuation that is appropriate for the requirements of the design. A wide range of materials with many thicknesses is the key when it comes to finding the most economical and efficient solution.
Metal enclosures provide electromagnetic compatibility at a level that is quite sufficient for most applications, providing that they are designed to ensure electrical continuity between the top of the enclosure, the base and removable panels, and if any painted or anodised finishes are used for decorative purposes only. Two halves of the enclosure are connected by an electrically conductive gasket.
7. Mounting – captive screws/materials/threaded sleeves placed directly in the plastic enclosure
Panels and enclosure covers may be attached to the connecting surfaces in two ways:
The first method is to place a self-tapping screw directly in the base of the enclosure. Self-tapping screws are suitable for enclosures that will not be opened.

The second method is to place a cylindrical screw in a threaded sleeve in the base of the enclosure. This is more convenient if the enclosure is to be opened and closed frequently. An additional safeguard for this solution are captive screws, which eliminate the possibility of losing the screws when the enclosure is opened.
Discover the full offer of Hammond
enclosures available at TME »