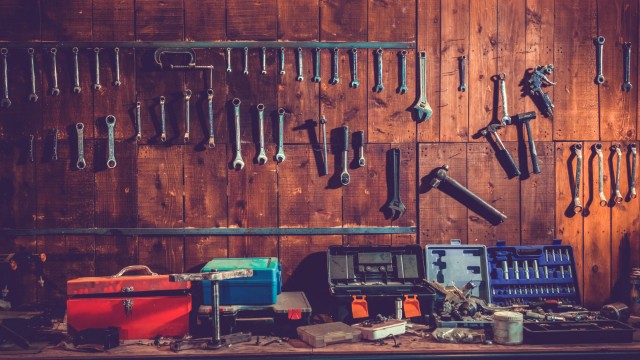 Basic workshop tools are often not enough to repair modern devices anymore. Specialised diagnostics are becoming increasingly necessary, and it's best to perform those diagnostics in a well-equipped workshop. In this article, you will learn all about the tools you should be keeping handy at your workshop.
Here's what we'll discuss:
What should be included in a modern workshop?
There are of course many types of workshops. What tools will find their place in one depends largely on individual needs. In specialist workshops, for example car workshops, you will need – among others – specialist wrenches, stands, car jacks and lamps, in addition to basic tools. Specialist lamps let car mechanics notice leaks and cracks in the car's chassis.
A good, comprehensive set of workshop equipment is crucial, but proper room layout is just as important – it makes the whole operation safe, practical, functional, and relatively aesthetically pleasing. You should also consider the location of your workshop. After all, the sounds of tools whirring and banging away can really upset your family and neighbours.
When designing and setting up your workshop space, pay particular attention to safety issues. All protruding objects must be properly marked. Electrical sockets and devices must be secured. Same goes for power tools such as digital multimeters or electrical installation testers. You must also always follow the guidelines laid out in a device's manual when taking measurements with it. You can learn more about electrical installations in one of our other articles — How to test an electrical installation.
What are the dangers you can encounter in a workshop?
You may encounter various dangers in a workshop. Some of them are caused by carelessness or incorrect use of workshop tools. That's why you should always follow all instructions and guidelines, especially when using power tools like drills, electric screwdrivers, soldering guns or grinders that can permanently or partially damage hearing and eyesight of their users.
Eye protection when using tools
Lots of tiny debris is projected in the air when grinding or drilling. Those particles can easily get into your eyes and damage them. Safety glasses reduce the risk of this injury. It's also absolutely crucial to wear eye protection when soldering since this work requires looking at a very bright light. That's why wide, dark safety goggles must be worn when soldering.
Hearing protection in a workshop

Ears must also be protected from noise, especially during cutting. There are many different earmuffs and earplugs available, suitable for each type of work and any personal preferences. It's important to pick a model that will make workshop operations unrestricted and comfortable. We high recommend the BACOU-DALLOZ 1010922 ear defenders.
Securing and preparing your workshop
Securing the workshop itself is a less obvious thing. Beyond having a proper set up that was already mentioned, it's just as important to mark dangerous areas such as distribution boards or flammable materials. Warning signs placed near those spots can be really helpful with solving this issue. You must also remember to properly mark the emergency exit as well as the route leading to it.
What are the types of workshop tools?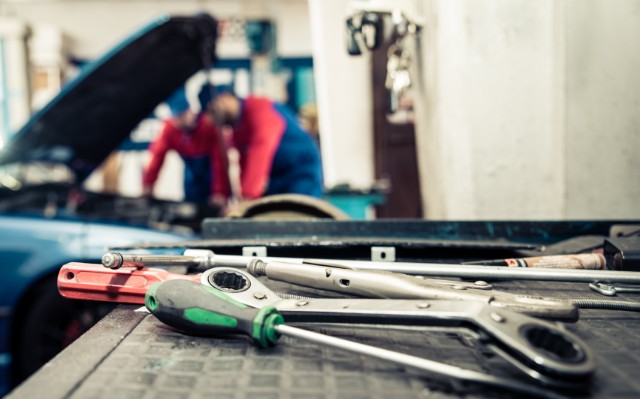 Workshop tools is a broad term encompassing a vast variety of components that should be available in any workshop. This set of equipment should be extremely versatile, letting you fix as many defects as possible and – if you're a hobbyist – create more interesting designs. The old-school hammers, clamps and screwdrivers are now often used together with power tools that have made workshop operations much faster and more enjoyable. In recent years, all kinds of digital multimeters – devices that let you check electrical installation parameters – have become quite popular.
Drills and screwdrivers
One of the most interesting groups of workshop tools are drills, screwdrivers, and devices that combine both those functions, i.e. drill/drivers.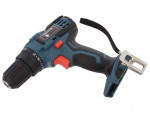 The primary task for drills is to make holes in surfaces of various types, such as wood or concrete. With the use of an impact mechanism, the drilling process is a lot easier.
Electric screwdrivers partially replace traditional screwdrivers and wrenches, as they allow you to quickly mount a bolt or a screw even in hardened surfaces. They also make it easier to unscrew rusted elements, which is especially handy in any automotive workshop. Drill/drivers are universal, as the name suggests, and can be used both for drilling holes and fastening screws. They are appreciated by people who have limited space in their workshops and don't want to spend money on two different tools. TRYTON TJV10 is an interesting choice.
Soldering guns and welding machines
When you need to join two metals permanently, consider equipping your workshop with a soldering tool or a welder. Both these tools work in a similar way, so think about which of them will be a better fit for you.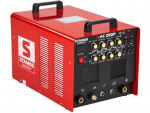 Welding is a process of joining two metals by using high heat to melt the parts together and allowing them to cool. Materials are heated with the use of an electrode. Inverter welders become increasingly popular, such as STAMOS 2094.
Soldering requires using an additional material with the melting temperature lower than the remaining two, which works as a solder. There are several types of soldering tools, the most common being transformer soldering irons and resistance soldering units. These power tools are a perfect fit in any hobbyist's workshop, as despite their compact size, they allow you to join together damaged wires.
Multimeters and meters
A multimeter is an interesting device, especially for hobbyists. It allows you to easily and safely measure voltage and current in a circuit. In the past, analogue devices were used, which were transforming the signal with the use of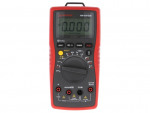 electromechanical systems, but currently digital multimeters are the most popular solution. They are far easier to use, and their measurement results can be easily processed. One multimeter worth considering is - BEHA-AMPROBE AM-510-EUR.
When buying a multimeter, it is a good idea to equip yourself with spare test leads and accessories. Clamps, crocodile clips, probes, and test leads will make it easier to conduct your tests, especially of compact installations where high precision is required.
How to safely store your workshop tools?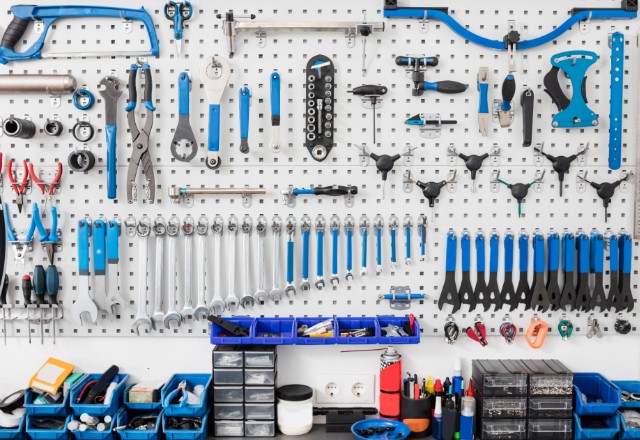 Apart from getting yourself a proper toolset, you should also consider a storage location for them.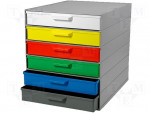 Safety during works in your workshop is of paramount importance, and by putting your tools in the right places, you minimize the risk of an incident.
Both traditional and power tools should be stored in a dry place. This will prolong their life and limit failures, and you will be able to enjoy them for many years to come. Spare screws and nuts are usually kept in marked containers, so that you can easily find them, whereas wrenches, hammers, and screwdrivers are stored in tool cases or in drawers. One interesting choice is the LICEFA A1-2/6BUNT kit.
Which additional tools should you choose for a hobbyist's workshop?
People interested in modelling and DIY should think about printed circuit boards and components needed to produce them. Such PCBs serve as a base for various electronic circuits that can be used in models built at home.
| | |
| --- | --- |
| TME Symbol | Description |
| BAC-L1 | Ear defenders; Attenuation level: 38.5dB |
| TRT-TJV10 | Drill/driver; battery; max.25Nm; 20V; 0.8÷10mm |
| S-AC200P-BASIC | Inverter welder; 4.1kVA; 230VAC; 19A; 50/60Hz; MMA,TIG; IP21 |
| AM-510-EUR | Digital multimeter; LCD (3999),backlight; VDC: 1m÷600V |
| A1-2/6BUNT | Stationary set with drawers; Drawers in module: 6; grey |
Full offer of workshop equipment available at TME can be found here.