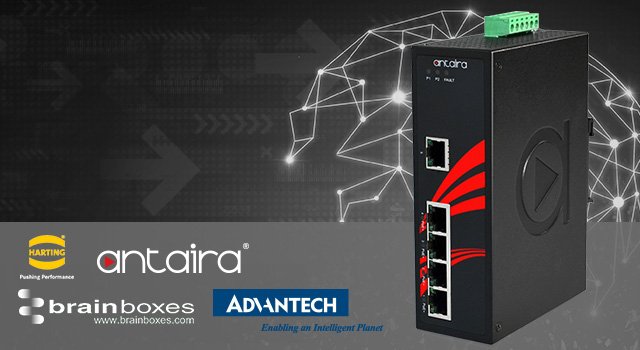 The use of machines and devices controlled by computers and microcontrollers (which are essentially smaller, more specialised computers) has become commonplace. However, as the Internet keeps growing, another revolution – Industry 4.0 – is becoming a popular topic. Advantech and Brainboxes products support this revolution.
What is Industry 4.0?
Industry 4.0 is about using cutting edge components that support automation and about being able to process and share data between separate machines or even entire technological blocks. This will help with continuous improvement of manufacturing processes and ensuring that products manufactured this way meet all customer needs. Communication at two levels – horizontal and vertical – is necessary to achieve this. It enables constant connectivity and exchange of information between all parties involved in the manufacturing process. With this solution, a "party" won't be a factory department or a worker, but a specific series of products or a machine that manufactures and further processes those products.
Such detailed communication is made possible by using principles of value chain operation based on cyber-physical systems, cloud processing, and IoT. But to make this idea a reality, we need special interfaces and devices. Communication cards compatible with various bus types, industrial modules, connection leads, modern interfaces in the form of efficient and lightweight panel computers – these are just a few examples of devices that will soon become the new standard and be responsible for controlling production lines.
Vertical information flow
This transmission is two-way (so-called duplex), which means it enables simultaneous transmission, reception, and later use of the information. In this case, components communicate with a technological department comprised of engineers responsible for interpreting the data. This transmission requires communication cards compatible with various types of buses.

Currently, one of the more popular buses is the PCI Express bus, supported by the IX-100 card from Brainboxes. The IX-100 also has overvoltage protection. Moreover, it's compatible with i.a. Linux and Windows, so you shouldn't have any problems integrating it with a pre-existing system.
In the later development stages of Industry 4.0, it will be possible to share data directly with decision-makers. An integrated system will process the information by itself and suggest a convenient option or several actions to choose from.
Horizontal information flow
This is also an example of two-way communication, but in this case, machines that are actively involved in the production process communicate with the operating system used by a company. Data gets uploaded into the cloud, making it available from anywhere in the world as long as you have a device that can access the company's intranet.
Converters and industrial modules as essential parts of Industry 4.0
One of the main ideas of Industry 4.0 is the ability to constantly share information. That's why it's crucial for all participants of this "dialogue" to be able to gather the data and share it later.

This necessitates the use of IoT (Internet of Things) – the idea, according to which all devices connected to a network (with more or less restricted access) should be able to gather their operational data and then upload it into the cloud.
Not only does this facilitate the manufacturing process, it also lets you communicate with your business partners easily. To use this technology, however, you need converters and IN/OUT modules that must be connected to devices. We highly recommend the ADAM-4520-EE converter in a durable ABS enclosure.

The use of industrial computers – that can process large amounts of data and are resistant to hostile environments of industrial halls, dirt and humidity – becomes increasingly widespread. Those computers have cutting edge, efficient Flash memories with the client's OS of choice and other useful applications installed. The HARTING 2095000000300 industrial computer with an Ethernet port and 32GB Flash memory is an interesting proposition. Its IP67 rating ensures excellent protection against dirt and humidity.

According to the idea of Industry 4.0, all devices should be connected to the same network. That means you should also be able to power them all from a single source. The Power over Ethernet technology facilitates such installations – you can do this with the use of the same network cable used to transfer data across devices in the network. This can help reduce the costs of electrical installations. We highly recommend the ANTAIRA LNP-0500G-24 PoE switch with a metal housing and 5 access ports.