What kind of vibrations are electronic components exposed to?
Device vibrations, even if they result from normal operation, can lead to damage to parts of the device. Mechanical equipment can be made immune by traditional methods such as locking components down with extra fixings or by using anti-vibration mountings. However, when electronics is introduced, things get complicated – there can be thousands of small components that may be susceptible to damage. Vehicles are the best example of an environment that contains many electronic components but is also vulnerable to shock. Today, they contain many digital components that are co-responsible for the operation of a car – from drive assist or brake control to infotainment systems. Some of these components are also located in the "unsprung mass" of the vehicle, e.g. in the wheel hubs, where mechanical stresses are most severe. The situation is even more complicated in the case of electric vehicles. Electronics is often critical to safety and therefore must be highly reliable – but not too expensive. It was necessary to find a solution that would allow mass-produced components to meet the restrictive requirements imposed by e.g. the automotive industry.
Vibration-resistant hybrid capacitors from Panasonic
Due to their size, capacitors are usually susceptible to vibration damage. This especially applies to high value electrolytic capacitors. Typical THT models feature relatively low parameters. Usually, their vibration tolerance is a maximum acceleration of 10g, i.e. about 100 m/s2, and 1.5mm peak to peak displacement over a swept frequency range of 10 to 55Hz. This may be acceptable for non-critical commercial equipment, but other applications, such as vehicles, construction equipment and agricultural machinery require higher ratings.
A solution to this problem has been offered by Panasonic in their FK, FP, FT and TP series surface-mount, aluminium electrolytic capacitors, as well as the ZA, ZC, ZE, ZK, ZKU, and ZS series hybrid capacitors. Components of these capacitors are characterized by high vibration resistance, have more durable, thicker connections, high "walls" on the plastic base plate and more stable terminals with auxiliary contacts.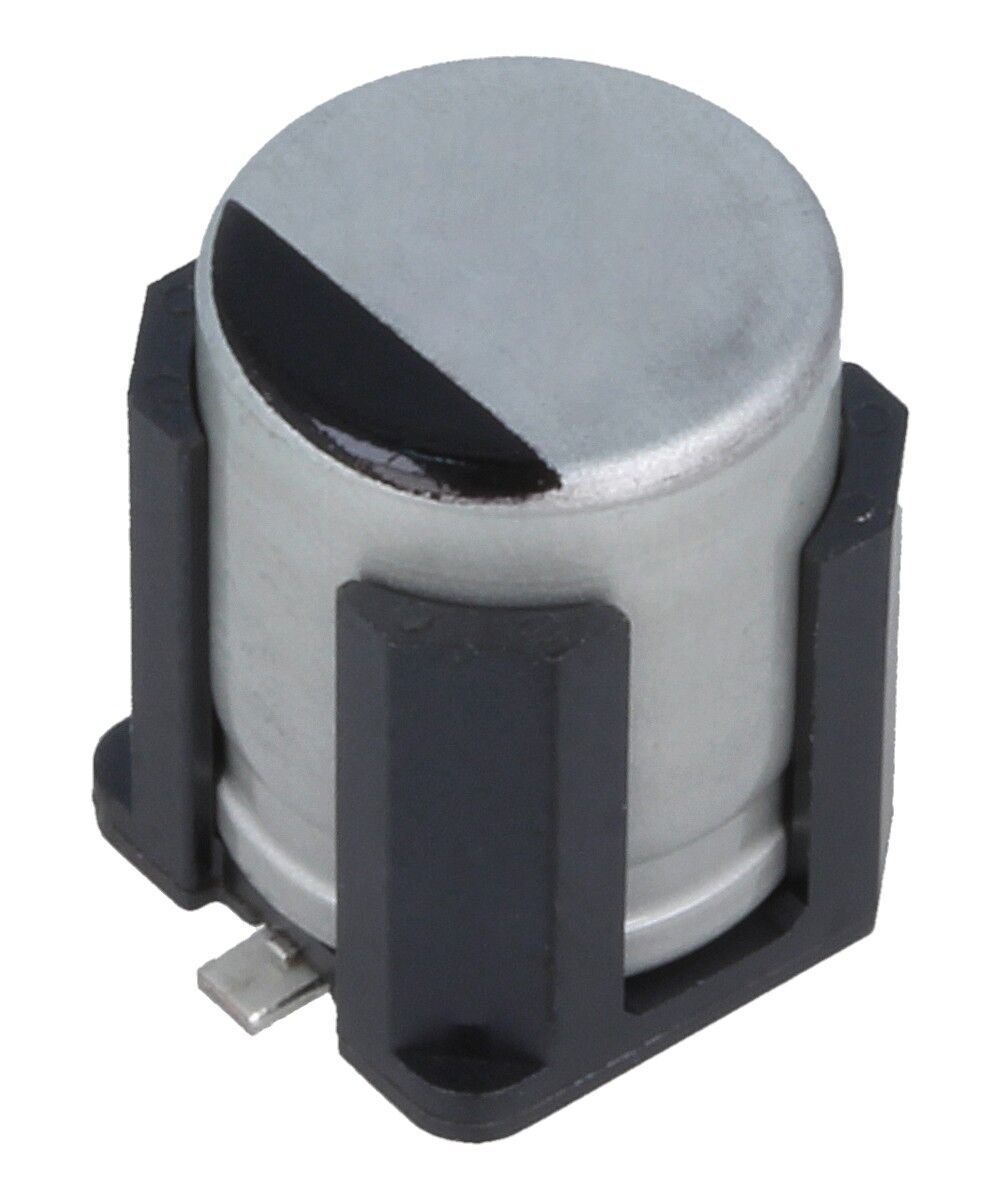 Vibration-proof types of capacitors by Panasonic are able to withstand 294m/s2 (30g) acceleration and a peak to peak displacement of 5mm with vibration excitation from 5 to 2000Hz. The capacitors were tested in each of the X, Y and Z axes for two hours. The components did not show any damage. It is worth noting at this point that the same Panasonic products offer AEC-Q200 compliance and high durability, typically 10000 hours at 105°C, 4000 hours at 125°C and 2000 hours at 145°C (depending on the series).
Hybrid Panasonic capacitor technology and vibration resistance
The greatest risk of damage caused by vibration occurs in applications involving high capacitance – the components are large and often connected in parallel. Examples include connections in inverters or motor controllers, output filters or high power AC/DC and DC/DC converters. However, in these applications, especially at high switching frequencies, the capacity value alone is often not the key parameter. What is more important is the equivalent series resistance (ESR) and high ripple current handling capability. They are crucial for the performance and durability of the converter. "Standard" electrolytic capacitors may have good ESR and ripple current ratings, but they are no match for Panasonic hybrid capacitors, which deliver higher performance, but are much smaller. For example, in a DC-link of an inverter operating at 12V, if the specification requires at least 1500µF with a total ESR of 3mΩ and a ripple current of 11A (RMS), you can use either four standard electrolytic capacitors with a diameter of 16mm and a height of 25mm, or three Panasonic ZS series hybrid capacitors with the following dimensions: 10mm diameter and 16.5mm height. This means that you can build a circuit at only 20% volume and a fraction of weight. The reduced size will also improve the vibration resistance of the circuit.
Discover the Panasonic hybrid capacitor range
Applications where vibration resistance is of particular importance are becoming increasingly popular. Panasonic has worked out an answer to this demand and introduced the latest generation of its capacitors. Their specification and shock resistance will meet the most demanding applications and Panasonic's hybrid, polymer technology reduces weight and size. Compared to standard electrolytic models, Japanese manufacturer's hybrid capacitors offer additional benefits such as: stability, durability, performance, safety and cost reduction. It is worth noting that Panasonic products are available to our customers directly from TME's warehouses, so we warmly invite you to take a look at the products in our catalogue.
Discover Panasonic hybrid capacitors available in our catalogue