In TME's offer, devices and components designed for the broadly understood automation sector play a special role. Our catalogue is being constantly expanded with such products, intended for modern machine parks. When modernising factories, assembly/production lines or warehouses, we are turning towards the future, with energy savings, industrial networks, remote access and universal solutions in mind. Below you will find products that address all of these challenges. These are products by Omron, a world leader in automation components. We'll focus on two product families: Q2V inverters and S8VK power supplies.

Q2V series inverters by Omron – why is it a good choice?
The Q2V series inverters have a number of features that installation and maintenance engineers will appreciate. In the case of other inverters, due to the need to dissipate heat, the units must be installed with minimal spacing. This is not the case with Q2V series inverters, whose design allows them to be installed in series (one next to the other) without the risk of overheating individual devices. They can handle a variety of motor types (inductive asynchronous, permanent magnet, synchronous reluctance), using scalar(constant U/f) or vector control, in open loop (i.e. no feedback). The devices are equipped with advanced control algorithms that ensure high efficiency of the entire system. In HD (Heavy Duty) mode they tolerate temporary overloads of 150%.
The Q2V series products have, of course, a number of key protection features. The basic one is the EMC filter, which eliminates sharp slopes of current and voltage values, i.e. typical disturbances occurring when controlling motors. A related function is a braking transistor - an element that limits the voltage increase in the intermediate circuit of the inverter, and thus additionally protects the device from failure. The safety of machine operators is related to the built-in Safe Torque Off (STO) function, i.e. the ability to completely disconnect the motor from the power supply (resulting in zero torque).
Discover the Q2V series in our catalogue
The new series also features a number of accessories dedicated to Q2V products, including EtherCAT, Ethernet/IP, Profinet and PowerLink communication cards. But that's not all. Typically, programming advanced inverters involves expensive cables and equally costly software. Again, the Q2V series stands out from the competition, allowing for savings. By implementing a USB protocol and Bluetooth wireless module (requires the purchase of an additional LCD operator console), Omron has eliminated the need for special cables. The advantage of the new series is also the fact that when programming with a PC via USB, it does not require the inverter to be powered, which is very useful for larger 3x400VAC power supplies. The manufacturer provides customers with free PC applications (Q2Edit, Q2Dev) and mobile devices with Android and iOS system (Q2App). They provide advanced control over the program performed by the inverter. It is also possible to control the operation of the motor by means of the on-site JVOP-KPLCA04AEZ control panel located in the control cabinet. An example of its operation is shown in the video below.
S8VK series power supplies by Omron – and overview
Omron is also one of the leading manufacturers of power supplies. In the case of S8VK, these are various devices for DIN rail mounting. Their common features include: resistance to environmental factors (e.g. wide operating temperature range); ease of installation (multiple terminals) for easy wiring; as in the case of the above mentioned inverters – compact size, which saves space in control cabinets and makes them easier to organize. This series consists of four product families. In addition to the two models described below, it also includes S8VK-T power supplies for three-phase installations, as well as S8VK-R. power supplies designed for redundant, emergency and back-up power supply.
Among the range of these devices, the most noteworthy are the affordable, compact S8VK-C solutions. They can be supplied with universal AC voltage from 100VAC to 240VAC or DC voltage from 90VDC to 350VDC. They deliver 24VDC with an efficiency of up to 92.5%. The range includes power supplies from 60W to 480W. They are equipped with overload protections which are activated when the output current exceeds 105% of the nominal value. The internal protection will also not allow the output voltage to increase more than up to 130% of the nominal value.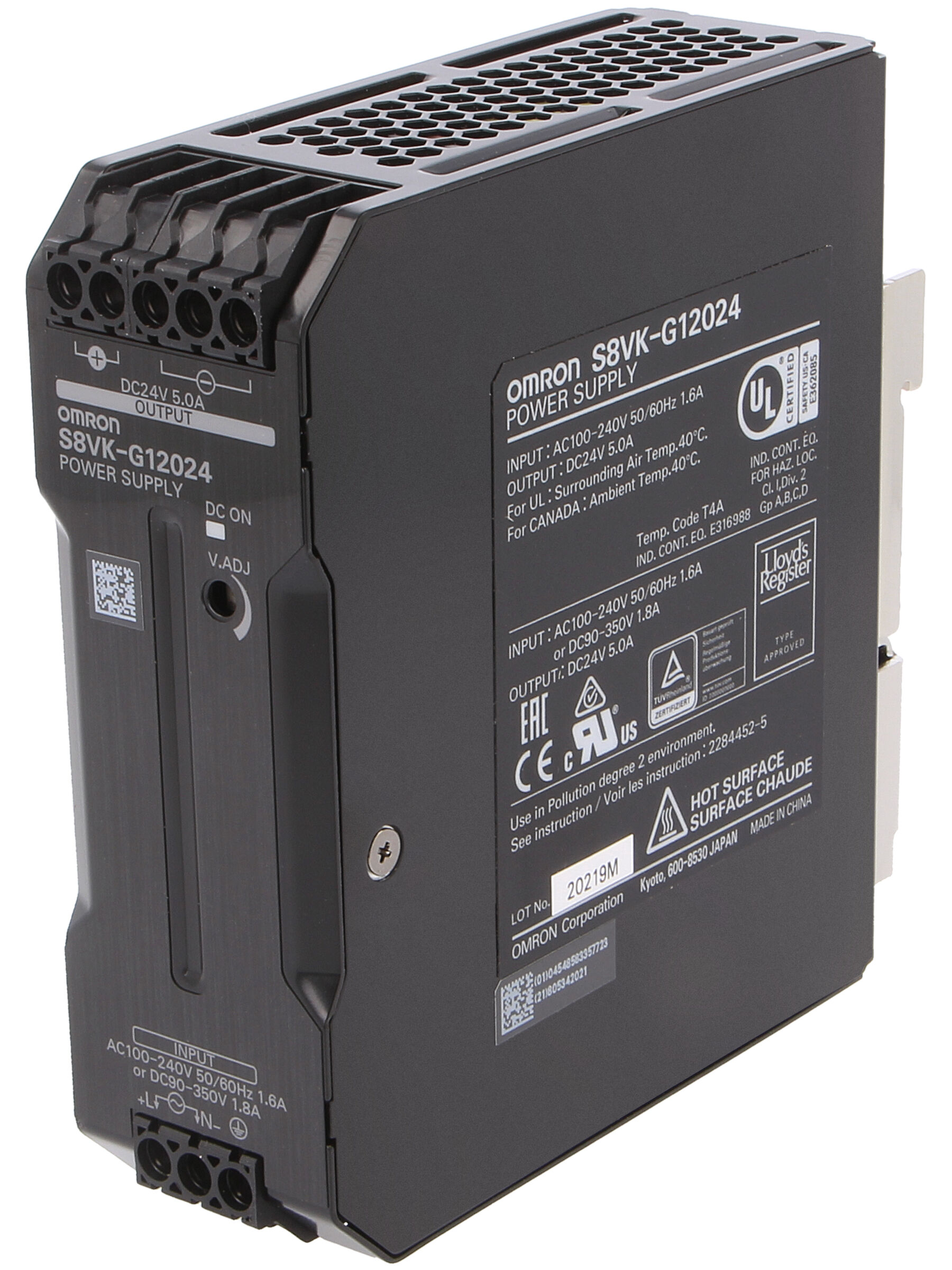 Discover the S8VK-C series in our catalogue
The S8VK-G power supplies feature similar protections. These power supplies provide an output voltage of 5VDC, 12VDC, 24VDC or 48VDC. These are extremely durable, compact devices designed for harsh conditions (from -40°C to 70°C), and are resistant to vibrations. They ensure the safety of power transformers in accordance with the EN61558-2-16 standard. With the Power Boost function it is possible to temporarily increase the output current to 120% of the rated current. S8VK-G output powers range from 15W to 480W. It should also be noted that the manufacturer has provided for the possibility of parallel connection of these power supplies to obtain more power. However, due to the heating of the units, such connection is only possible in ambient temperatures from -25°C to 40°C.
Discover the S8VK-G series in our catalogue
All power supplies by Omron are designed with safety and compliance with international standards in mind. Detailed information can be found in our catalogue and in the manufacturer's documentation available on our website.