ALPEN-MAYKESTAG is a recognised Austrian brand, whose products are manufactured entirely in Europe. It is probably the last such manufacturer based in the Old Continent. The core of its offer are drill bits (also called drills) for metal, stone and wood. A great care for the quality of drill bits has made it possible for ALPEN-MAYKESTAG to gain numerous loyal customers from all branches and sectors of economy (industry, crafts, construction, woodworking etc.).
Discover all products by ALPEN-MAYKESTAG available at TME
---
Types and specification of ALPEN-MAYKESTAG drill bits
The available range of drill bits is remarkably diverse, because each material has its own, different characteristics and requires a different type of a drill bit. Hence the great variety of categories, types and subtypes of drill bits. Classification of drill bits is also determined by the type of material they are made of (e.g. tool steel, high speed steel, hard alloy steel), the method of their production (milled or rolled bits) and the type of a tool (machine) in which the drill bit is clamped. However, the most common and important classification of drills has been developed according to the type of the drill bit material. Each manufacturer of brand products distinguishes the following types of drill bits:
drill bits for metal, steel and cast iron,
drill bits for concrete, masonry and stone – divided into hammer and standard types,
drill bits for wood,
drill bits for ceramics, tiles and glass,
multipurpose drill bits – for several materials at once.
Due to the specificity of the industry, the most important group of drill bits available at TME are drill bits for metal, which are additionally divided according to two properties: the material from which the drill bits are made and how they are constructed. The classification according to the first property includes standard drill bits made of pure HSS, HSS drill bits coated with titanium nitride (often marked with the suffix "TIN") and HSS drill bits with cobalt admixture (from 5% to even 8%). However, with regard to the construction of the drill bit itself – and especially its shank, with which the bit is fixed in a power tool or machine, we can distinguish the following types:
standard twist drill bits with a standard cylindrical shank (NWKa / DIN 338),
long twist drill bits with a standard cylindrical shank (NWKb / DIN 340),
extra-long twist drill bits with a standard cylindrical shank (NWKp / DIN 1869),
twist drill bits with a Morse taper shank (NWKc / DIN 345),
extra-long twist drill bits with a Morse taper shank (NWKy / DIN 341).
With the growing popularity of cordless drill drivers, manufacturers have begun to gradually introduce drills in the ¼" (E 6.3) standard version with a hexagonal shank. Originally, this was especially true for NWKa drill bits, but today, when mobile power tools are equipped with self-clamping drill chucks made of high-quality steel, such versions are available for almost all types of drill bits for metal, wood, as well as tiles, glass and even stone and concrete (for hammer drill drivers). HSS drill bits for metal are offered with point angles in two standards: 118° and 130° (in fact it is 131°). The principle is that the harder the material to be machined, the larger the drill bit's point angle should be, so the 130° angle is most common for cobalt drill bits, which are designed for drilling in harder materials, such as stainless steel or acid resistant steel, among others. Some specialist series of drill bits even have a 135° point angle and are dedicated to work with the toughest materials under high feed pressure.
---
The offer of HSS DIN 338 drill bits (called short bits) for drilling in metals such as aluminium, steel, cast iron, brass and copper alloys includes the ALPEN series of "Sprint Master" drill bits. These rolled twist drill bits with the 118° point angle are ideal for hand-held drilling and do not require much pressure as their cutting edges are extremely sharp. They are characterised by their flexibility and resistance to mechanical stress – typical in the case of manual drilling – so they rarely break. The special design of the spiral flute makes chip removal easier and faster, which speeds up work. This series is highly appreciated for its excellent performance, durability and good value for money.
Drill bits for metal, steel and cast iron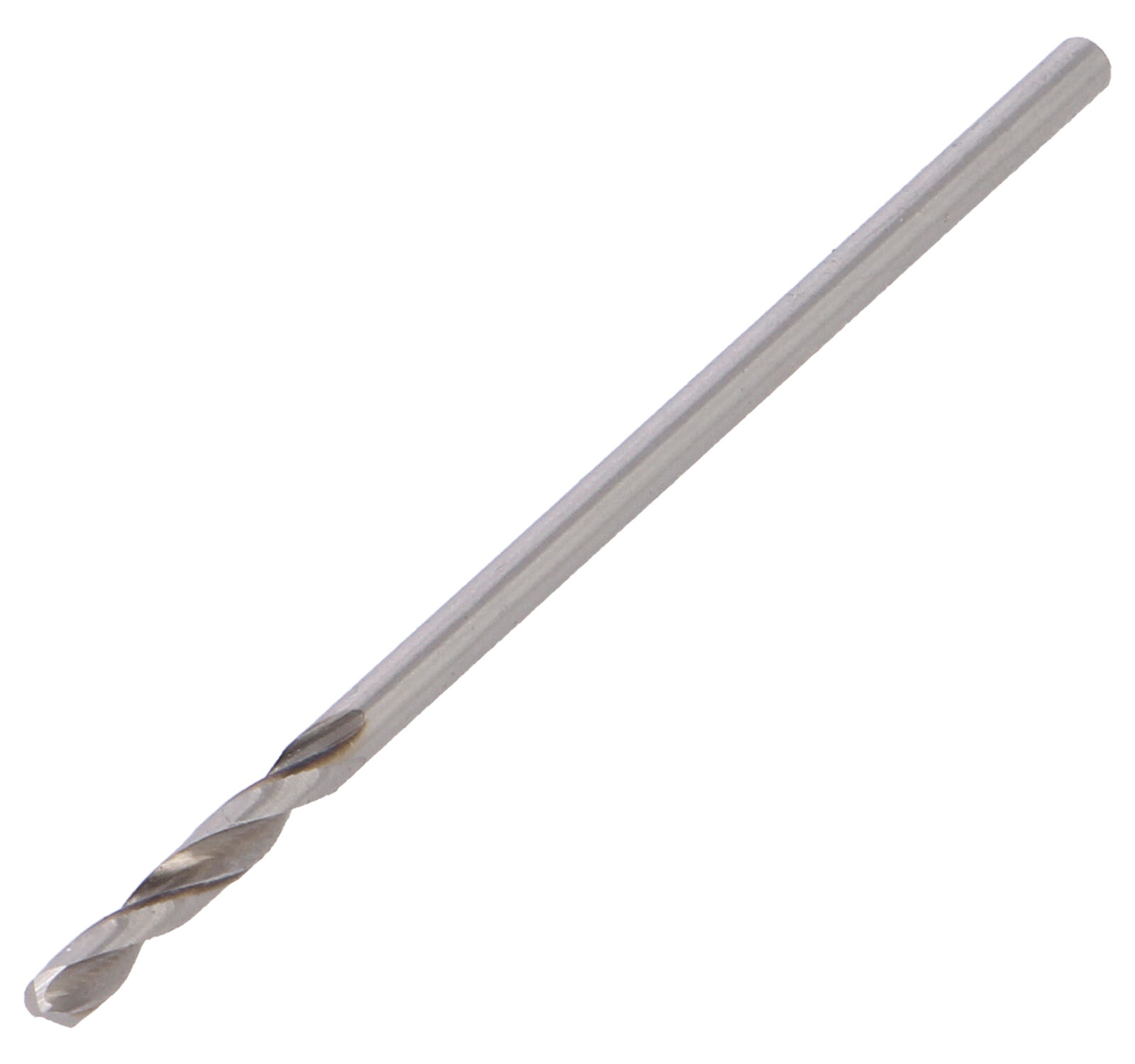 ALP.63800200100 of the Hardox series
Another important series are "Hardox" short cobalt drill bits (5% cobalt content), which are designed for hard and tensile materials such as stainless and acid-resistant steel (the so-called acid-resistant chrome-nickel steel) or wear-resistant building materials such as Hardox or Xar metal sheets.
A similar series of slightly longer "Forte Cobalt" drill bits (also 5% of cobalt content in steel) is characterized by higher thermal resistance and a special drill grinding, which allows for efficient operation even when chip removal is limited, for example when drilling extremely deep holes. The temperature resistance of the drill bits has been increased thanks to coating the chamfer of the drill bit with nitrogen oxide, which simultaneously reduces friction and resistance.
The "HSS PZ-Cobalt" series includes very short and durable drills with 5% cobalt admixture, which are suitable for stainless and acid resistant steels that are very difficult to process. The increased diameter of the core increases the durability, making them suitable for both machine and manual drilling.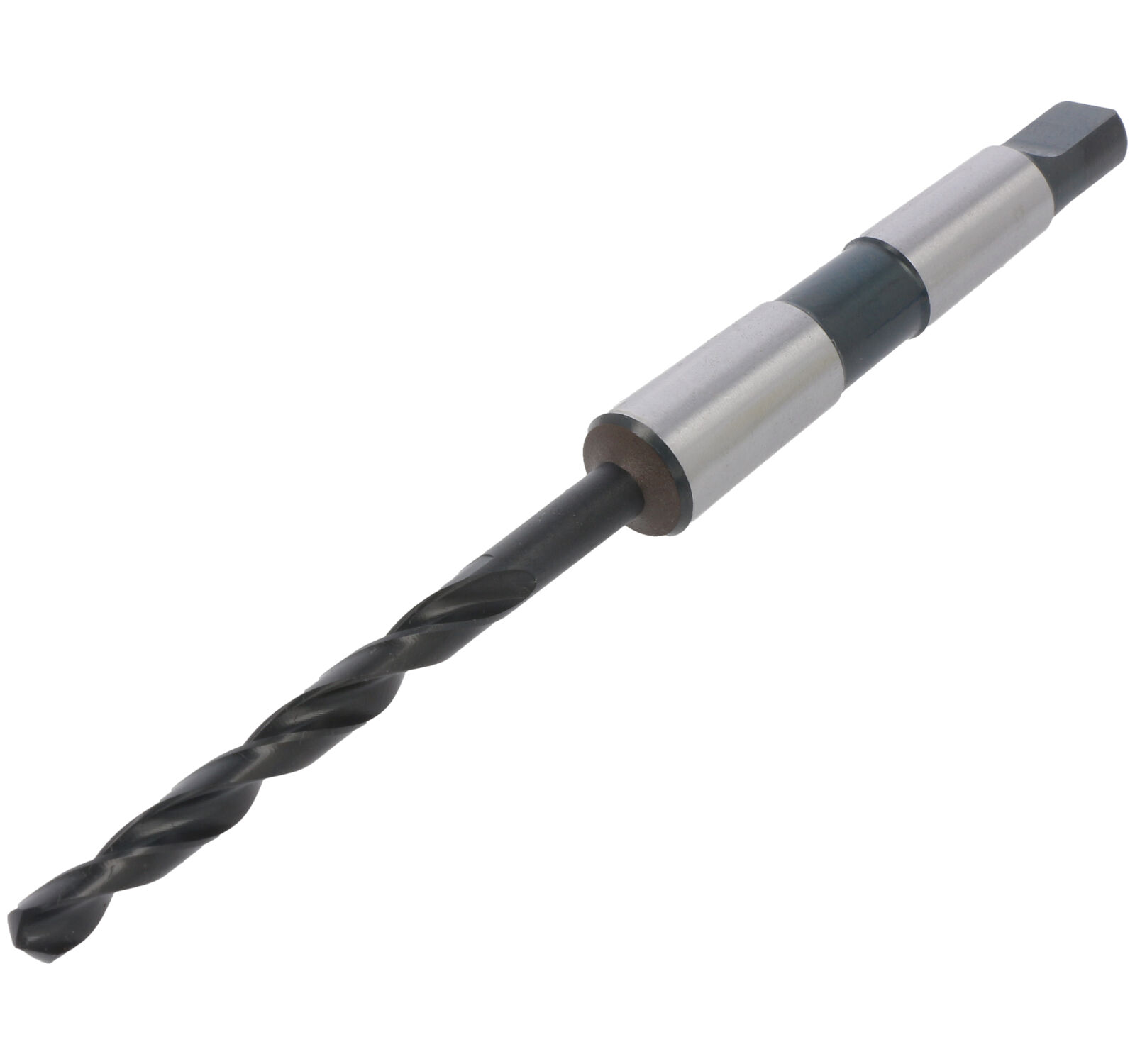 ALP.20200550100 of the Maykestag series
The "Maykestag" series includes long HSS drill bits – DIN 340 RN (NWKb) – with cross-ground finish and (due to their industrial quality) designed for drilling in alloy and non-alloy steels, cast iron (grey and malleable) and graphite, sintered iron, copper alloys and brass with high nickel content. The "PRO" series of drill bits also features the cross-ground finish, which, in addition to the reduced chisel edge length, has a 135° point angle and a split point manufactured to DIN 1412 C (for easy centering and drilling deep holes).
The last one among the most important series of ALPEN-MAYKESTAG drill bits for HSS steel available at TME is the "HSS Super" series of double-ended, ground drill bits suitable for drilling thin materials, for example in car body and repair shops (e.g. drilling holes for rivets in a car body). They are a perfect solution for handheld drills or drill drivers at higher RPM. All the drill bits described above are offered both in single blisters and in the form of sets containing the most popular diameters and packed in plastic or metal cases.
---
ALPEN-MAYKESTAG drill bits for concrete, masonry and stone
Drill bits for concrete, masonry and stone make up a range of products that are completely different from those described above. First of all, these drill bits usually work with hammer drills, although some of them are not suitable for such an operation and require only rotary motion, and there are also ones that are suitable for both hammer and standard drilling. Secondly, the principle of their operation is not so much about cutting out the material, but rather about crushing and efficient removal of loose material, which does not take the form of twisted chips, as in the case of drill bits for metal.
ALPEN-MAYKESTAG SDS-PLUS & SDS-MAX series of drill bits for concrete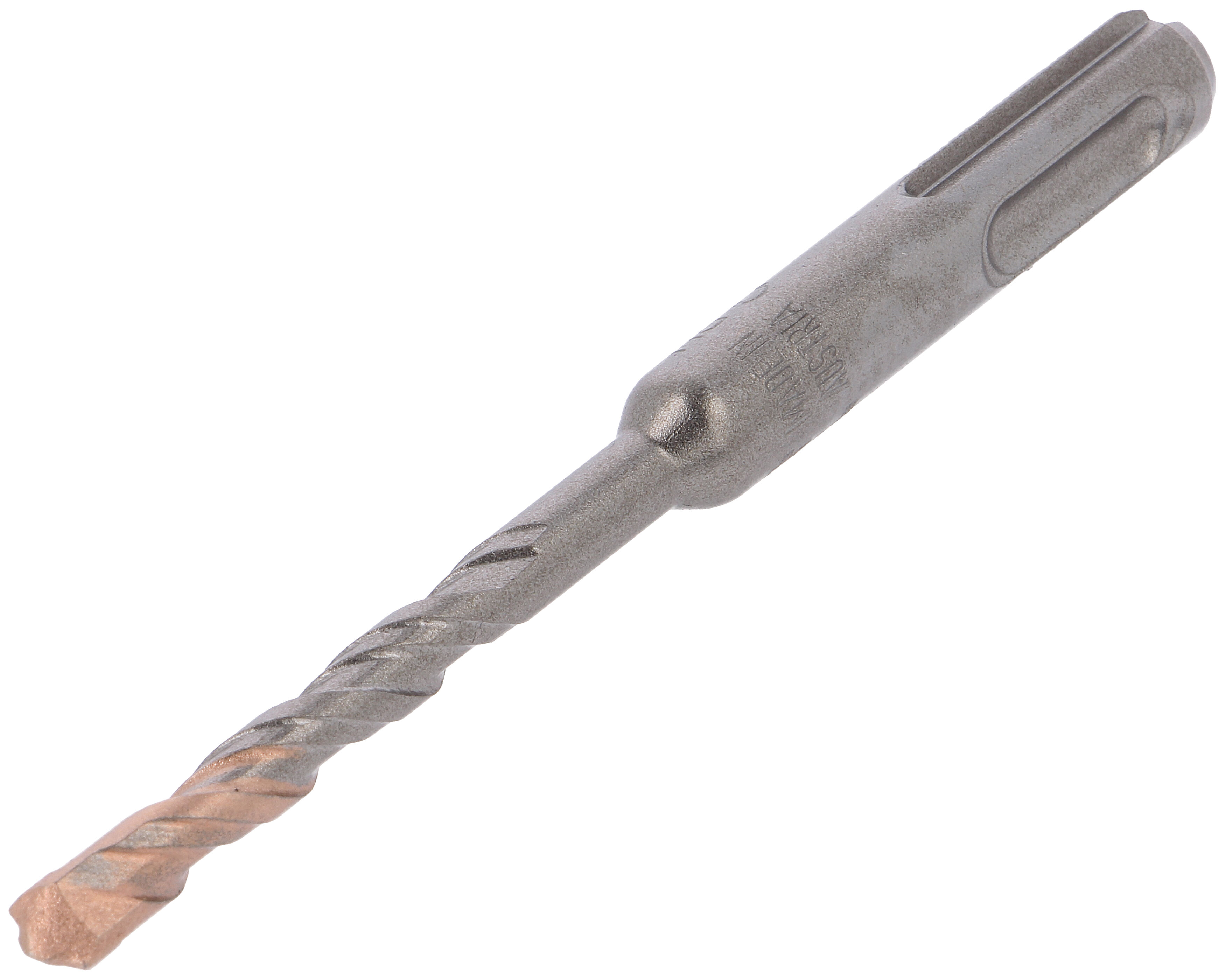 ALP.80700600100 of the F4 Forte series
The most important hammer drill bits for concrete are those with the SDS-PLUS and SDS-MAX chucking system, the former being the premium choice. In the SDS-PLUS standard, TME offers two slightly different series described as "F4 Forte" (2-cutting edge hammer drill bits with SDS-Plus shank) and "Force X". (4-cutting edge drill bits). The first one encompasses standard SDS-Plus drill bits with a single tungsten carbide plate and a spiral in the form of a 4-step profile for efficient removal of drilled material. Apart from concrete, they are also suitable for natural stone and masonry. The second series is equipped with 4 tungsten carbide cutting edges, a progressive spiral design (the density of flutes increases towards the tip) and drilling depth indicators (corresponding to the lengths of typical dowels).
The geometry of plates embedded in the tip of the drill bit has been developed in such a way that the bit can handle the reinforcement embedded in concrete. The SDS-MAX series of drill bits includes standard 4-cutting edge bits for reinforced concrete, stone and masonry, which are exceptionally durable thanks to vacuum hardening.
ALPEN-MAYKESTAG tungsten carbide drill bits
The range of tungsten carbide drills, suitable for both impact and non-impact drilling, opens with the "Profi Beton" series, which can be used for hammer drilling in concrete and natural stone (in the case of the hardest types of these materials, it is better to choose SDS-Plus / SDS-Max drill bits – even for drilling small diameter holes) and for standard drilling in marble and ceramics. "Profi Beton" drill bits owe their versatility and ability to drill holes in ceramic materials to the appropriately shaped tip which ensures perfect centering. The high durability results from the use of the same shank material as in ALPEN-MAYKESTAG SDS-Plus drill bits.
The popularity of this series of drills has led to the development of their "twin series", with the E6.3 hexagonal shank, so they can be fitted in standard cordless drills, also using special hexagonal chucks with bits socket. Another interesting series of tungsten carbide drills is the "LongLife" for masonry and natural stone. These are short and multipurpose drill bits manufactured in accordance with the German standard DIN 5468, suitable for hammer and standard drilling.
Drilling in concrete also involves using milling crowns and hole saw drilling bits, which TME offers in SDS-Plus and SDS-Max standards. These are classic milling crowns with a centre drill and tungsten carbide teeth (blades) suitable for hammer drilling. Particularly noteworthy are the specialized SDS-Max milling crowns, which are in fact penetration tools (e.g. for routing pipes through walls), equipped with a long and interchangeable centre drill, which makes it possible to drill even in corners. ALPEN-MAYKESTAG milling crowns are characterised by an asynchronous head design for fast removal of drilled material and exceptional resistance to vibrations and mechanical stress.
The ALPEN-MAYKESTAG range of accessories for concrete, masonry and stone also includes chisels manufactured according to the SDS-Plus and SDS-Max standards, both of which are divided into two sub-series: standard and short chisels. Standard SDS-Plus chisels are actually a set of three chisels – point, flat and wide – whose tips offer increased durability thanks to a modified hardening process. Their short counterparts are only 140 mm long chisels, which, thanks to their ability to accumulate energy, are ideal for demolition works in tight spaces and corners, especially when mounted on battery-powered hammers. The SDS-Max chisels in standard lengths represent a slightly wider range, as they include several variants of the point, flat and wide chisel, as well as a gouge chisel. They are all suitable for typical applications in general demolition works. For particularly difficult and demanding working conditions and chiselling in very hard materials, it is recommended to use reinforced chisels of the "Demolisher Max" series, which, like short SDS-Plus chisels, are subjected to a modified hardening process, ensuring unprecedented durability.
Of course, as in the case of the previously described drill bits for metal, ALPEN-MAYKESTAG offers accessories for concrete, masonry and stone not only single blisters but also universal sets containing tool with the most popular diameters, packed in plastic or metal cases.
---
ALPEN-MAYKESTAG drill bits for tiles, ceramics, gres tiles and multipurpose drill bits
Although the "Profi Beton" series discussed in the previous section performs quite well in drilling ceramic materials, it is not specifically designed for such tasks, unlike the "Keramo Extreme" series. The drills of this series offer the highest level of quality and efficiency. They can handle the hardest gres tiles (even those with the hardness level 9 on the Mohs scale, which can be compared to that of corundum), not to mention materials such as standard tiles, porcelain and glass. Their tungsten carbide cutting plates do not require cooling, provided that the operator does not exceed a speed of 200 rpm.
The range of multi-purpose and universal drill bits is represented by the "Profi Multicut" series, which includes products for standard drilling in tiles, masonry, metal, wood and plastics, although it is worth mentioning that classic HSS drill bits also work well with plastics, provided that the rotation speed is not high and no great amount of heat is generated during the drilling process, since it melts the drilled plastic. "Profi Multicut" multi-purpose drill bits are fitted with a tungsten carbide cutting edge and are available with cylindrical, hexagonal E6.3 mm and SDS-Plus shanks. They are ideal for use on construction sites where operators often have to drill through several different materials at the same time or quickly switch from one material to another (e.g. work on formwork, reinforcement, etc.).
ALPEN-MAYKESTAG drill bits for wood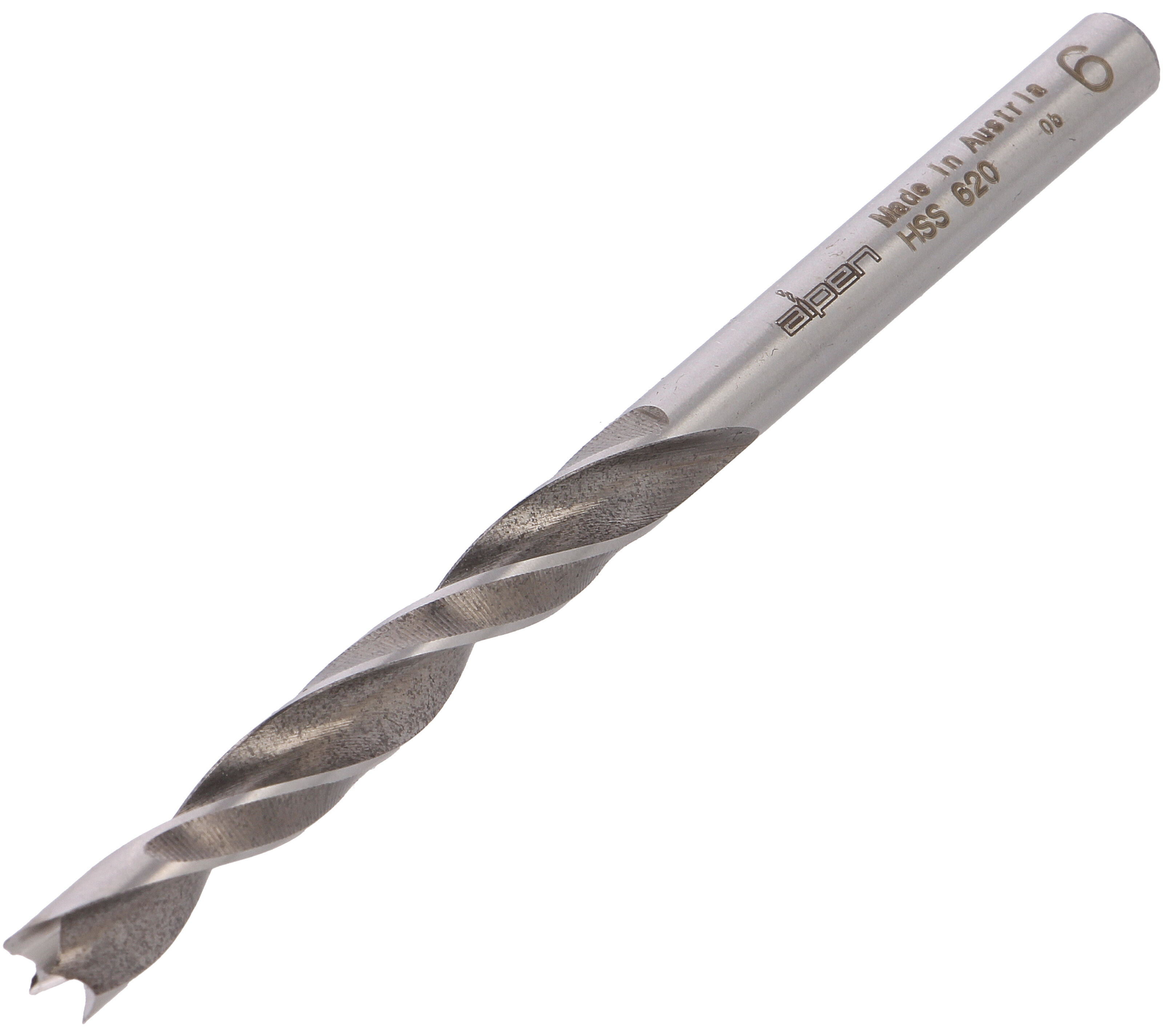 ALP.62000600100 of the Profi Holz series
The ALPEN-MAYKESTAG range of drill bits for wood is particularly wide. However, there are several series and types of drills that are particularly noteworthy, the most important of which is the "Profi Holz" series. It includes standard twist drill bits for wood with a central spur and two lateral cutting corners. These products are made of HSS steel and are suitable for use with hand or machine chuck. The maximum working temperature of 450°C allows these bits to make holes in hard and soft wood, OSB, chipboard and fibreboard. Like many other types of bits, these are also offered with the standard cylindrical shank as well as hexagonal shank for battery-powered hand tools.
The "Sharp Shark" series is suitable for drilling precision flat-bottom holes with diameters of 8-10 mm. It includes a range of Forstner drills (designed by Benjamin Forstner, an American gunsmith). These drills are not suitable for manual work and should be mounted on vertical drilling machines or lathes, where they can process wood in any position in relation to the grain of the wood, whether the material is soft or very hard.
The application of "Lewis" auger drill bits is completely different. These long drills machined into a helix shape are used for fast drilling into square edge timber and thick logs, thus they are mostly applied in the roofing and carpentry industry.
Finally, it is worth mentioning that TME also offers standard (flat) spade drill bits with a 152 mm shank, designed for fast drilling in all types of wood, hinge boring bits (furniture industry), classic bits for formwork and hole saws with tungsten carbide blades, which handle not only all types of wood and wood-based boards, but also plasterboard and bricks. As in the case of previous groups of drills, TME customers can enjoy multi-purpose sets of drills in cases and boxes.