Superseal connectors from TE Connectivity are well-known thanks to their durability. They are widely used in the automotive and heavy industries, agriculture and wherever wires may be exposed to adverse conditions.
Check the offer of Superseal connectors from TE Connectivity
Superseal connectors and dedicated tools
When designing systems based on Superseal connectors, it is worth learning about some of the most important features that characterize them.
Connectors are compliant with the DIN 40050 and IEC 529 standards.
Sockets intended for the Automotive industry can be mounted on PCBs.
The operating temperature of the connectors ranges from -40°C to +125°C.
Manufactured to meet the IPX9K rating.
Connector insulation resistance amounts to <100MΩ.
Insulation does not breakdown at 1000V AC or 1600V DC. The insulation between the contacts and between the contact and earth is tested.
Connector covers are made of durable thermoplastic, while the connector itself is made of polyester.
The contacts used in Superseal connectors may be tin-plated or gold-plated.
Connectors have a latch locking system.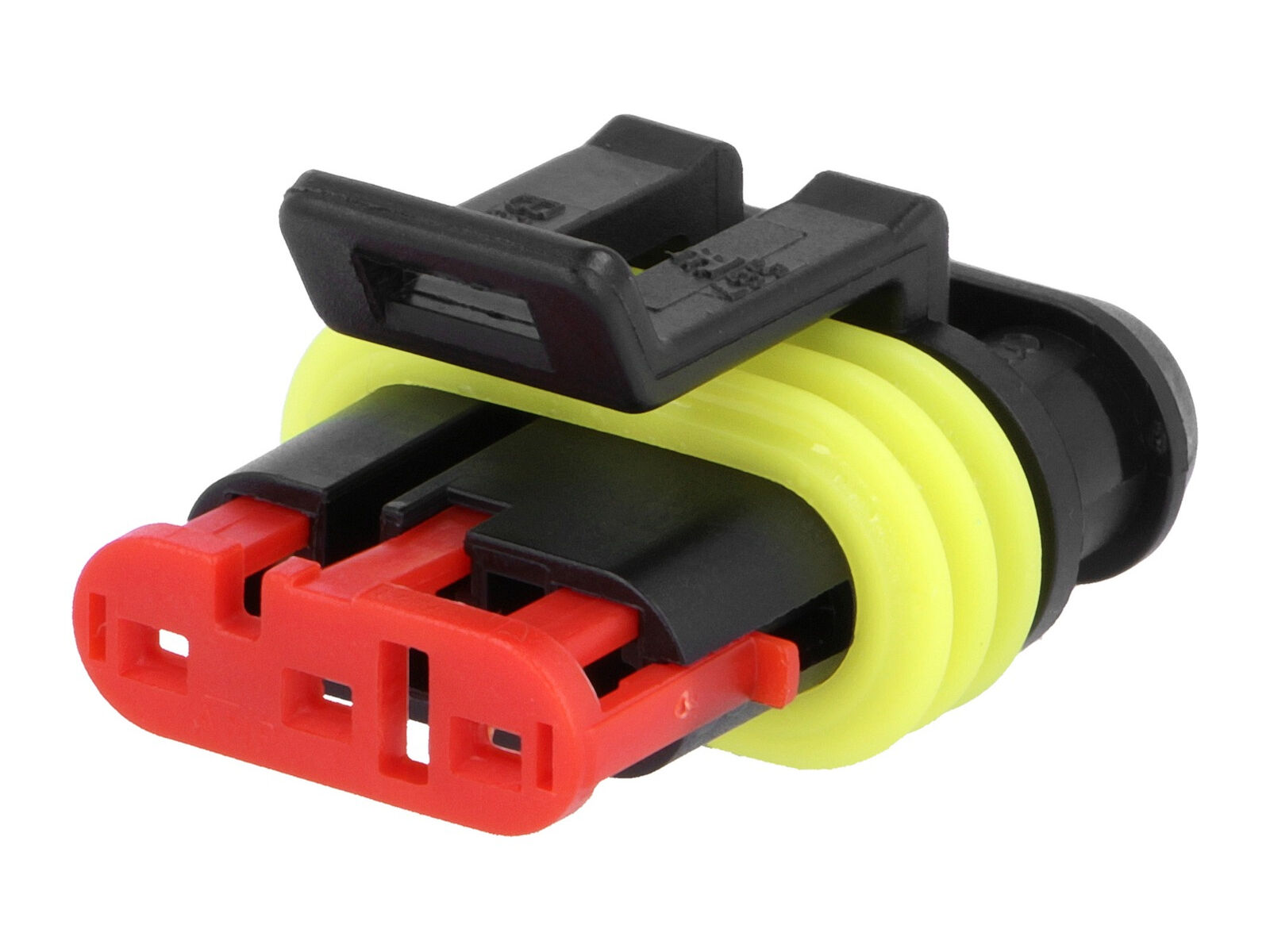 Wire-wire connector; Superseal; AMP-0-0282087-1
All these features make Superseal connectors commonly used in many industries and widely appreciated by numerous specialists. However, in order to work efficiently and comfortably with them, it is worth equipping yourself with an appropriate crimper and an insulation stripper.
Superseal connectors
TME catalogue includes many types of Superseal connectors by TE Connectivity. The first parameter that should be taken into account when choosing connectors is the number of pins. Depending on the number of transmitted signals, we should choose a connector with an appropriate number of contacts. Another selection criterion for Superseal connectors is the place where they are to be installed. We can choose between connectors intended for mounting on printed circuit boards, used in the automotive industry, and wire-to-wire sockets and plugs. Additionally, it is worth paying attention to the standard in which the connector was made. This can be Superseal 1.0 or 1.5 – this designation indicates the contact size used in a given connector (1mm and 1.5mm, respectively).
Contacts and accessories for Superseal connectors
In addition to the Superseal connector itself, we also need to equip ourselves with appropriate contacts, plugs and accessories. Contacts dedicated to Superseal connectors are available in both female and male versions, in the 1.0 or 1.5 standard. When selecting them, it is worth paying attention to the wire cross-section and its outer diameter, because the contacts are dedicated to wires with specific dimensions.
In all their applications, Superseal connectors are subjected to rigorous durability tests – both in the heavy industry and in the automotive industry, they are exposed to water, dust and other pollutants, as well as to mechanical damage. Therefore, it is worth paying attention to elements such as strain reliefs, sealing pins and wire gaskets, which are available at TME. It should be noted here that they are also dedicated to a specific type and size of the connector. By using dedicated strain reliefs we can protect the connector and the cable itself from damage or tearing at the exit of the housing. On the other hand, the application of Superseal connectors in places exposed to undesirable substances, such as oil or grease, requires the use of appropriate sealers, including sealing pins and wire gaskets.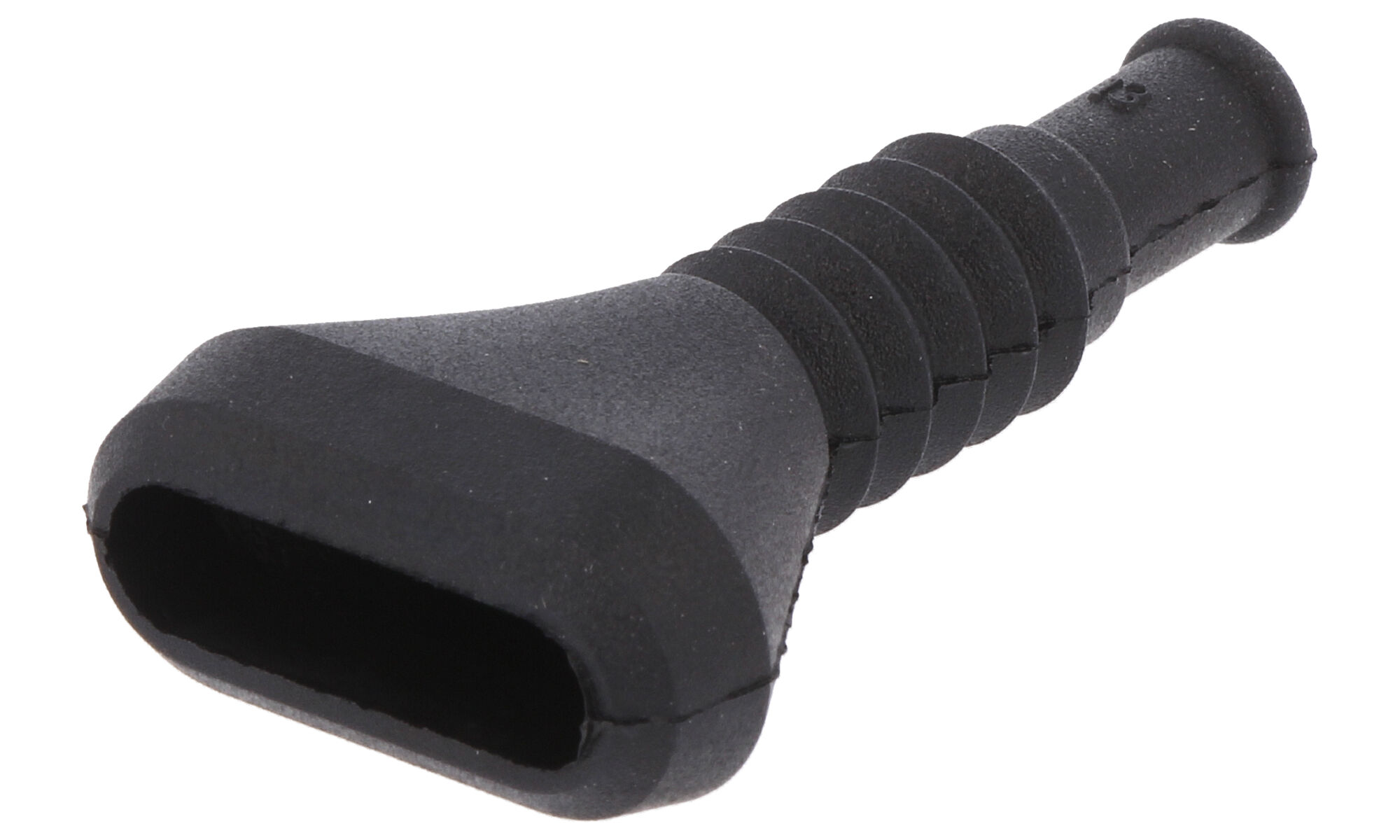 Strain relief; Superseal; AMP-493581-1
How to crimp and connect Superseal connectors?
The durability and efficiency of the connector largely depend on the careful and correct crimping and connection. It is worth using dedicated tools for crimping connectors. The process of crimping and connecting Superseal connectors is very easy with the 58583-1 crimper. Watch a video to see step-by-step how to prepare a connector to work quickly and efficiently: