Cable ties, also known as zip ties, are a part of the basic workshop equipment. Every maintenance engineer knows the advantages of this simple product. They are used to organize cables in cable runs and ducts, as well as to fix other installation elements, e.g. PVC pipes. They are also a helpful accessory in mounting tasks (they fix the installed elements in place). In addition, they work well as a temporary solution in the case of breakdowns and repairs, due to the ease of use and removal. Ultimately, cable ties have become an indispensable part of many products, such as home appliances, electronics and cars, where they are used to hold hoses and cables in place.
Cable ties from a leading manufacturer
Even among products as common and simple as cable ties, branded products of exceptional quality can be found. In other words, these are products that stand out from the competition thanks to their additional properties, designed for specific solutions, and at the same time they are characterized by durability. Where the efficient operation of the machine or the comfort of users depends on the connection made with a cable tie, it is worth choosing professional solutions with extended functionalities.
One of the leading manufacturers of professional cable ties is Panduit. This American company has been focusing on the production of innovative solutions for electrical engineering, electronics and telecommunications for over 60 years. Below, you will find an overview of this manufacturer's cable ties.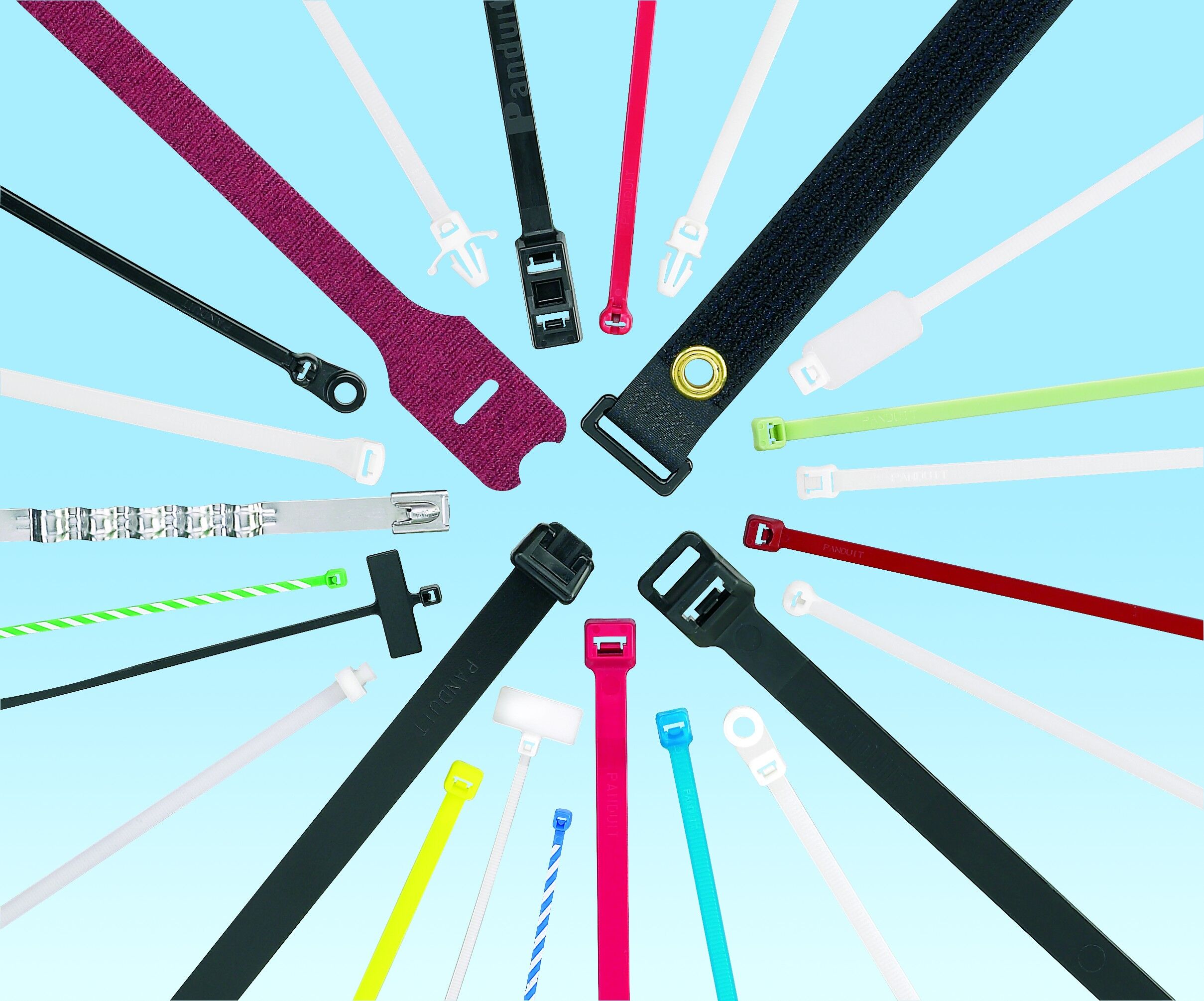 For professional applications, choosing the right tie will be the key to success. Photo belongs to Panduit Corp.
Professional cable ties
First of all, it is worth paying attention to the solution known as Dome-Top®. It is Panduit's round head that appears in many series of cable ties. Thanks to its shape, it does not expose the installer and user to injury. It also protects the insulation of adjacent wires from damage which may occur when cables are pulled through densely packed cable runs.
Another simple solution is offered by double ties. They enable e.g. connecting pipes with each other or routing two (or more) cable bundles while keeping them separate from one another.
An example of a successful innovation can be the Dome-Top® Barb Ty series. These are seemingly ordinary plastic zip ties in which the tie-locking barb is made of metal. In this way, the effectiveness of the fastener is increased and the service life of the entire joint is extended. Additionally, this type of a tie is smooth on both sides along its entire length. The lack of ribbed surface reduces the risk of mechanical damage at the point of contact of the tie with, for example, cable insulation, which is particularly important in an environment that is exposed to vibrations. Such ties are used in the railway and aviation industries.
Ties containing metal particles are used for a completely different purpose.The addition of metal in the plastic tie is of particular importance in the pharmaceutical, but also chemical and food industries. If, due to damage, the tie ends up on a production line, thanks to the content of metal filings it can be detected at the quality control stage. This type of ties is also available on our offer.
Of course, you can also use all-metal ties for your application. It will be necessary in the case of joints exposed to factors that may weaken the materials. The TME catalogue includes extremely durable Pan-Steel® series of products made of acid-resistant and stainless steel. Another area where the use of classic zip ties can be troublesome is in places with high temperature. Classic ties, e.g. made of nylon, can melt. That is why Panduit offers ties made of materials with increased resistance to harsh thermal conditions. They are made of TEFZEL (fluoropolymer) and PEEK (polyetheretherketone), which can be used in temperatures from -60°C to 170°C and from -60°C up to 260°C, respectively.
As we know, cable ties are often used to route cables inside various devices. This could be e.g. a washing machine or other appliance that is frequently subjected to vibration. In this case, it is necessary to immobilize the cables laid. That is why our catalogue includes locking clamp ties. Depending on the needs, you can choose a tie with an eyelet (for a bolt or a rivet), as well as models combined with an expanding latch. With the help of the latter, the tie is seated in the housing opening.
Crimping tools for ties
The last product example was for a situation where cable ties are used on a large scale (production line). Crimping a large number of ties is a tiresome activity. Ensuring a strong crimp and cutting off any excess is more than tedious. On a large scale, it is a real effort and involves the risk of injury. For engineers, machine park workers and installers, the right crimper may be a necessary tool. Panduit offers, via TME, several models of this tool.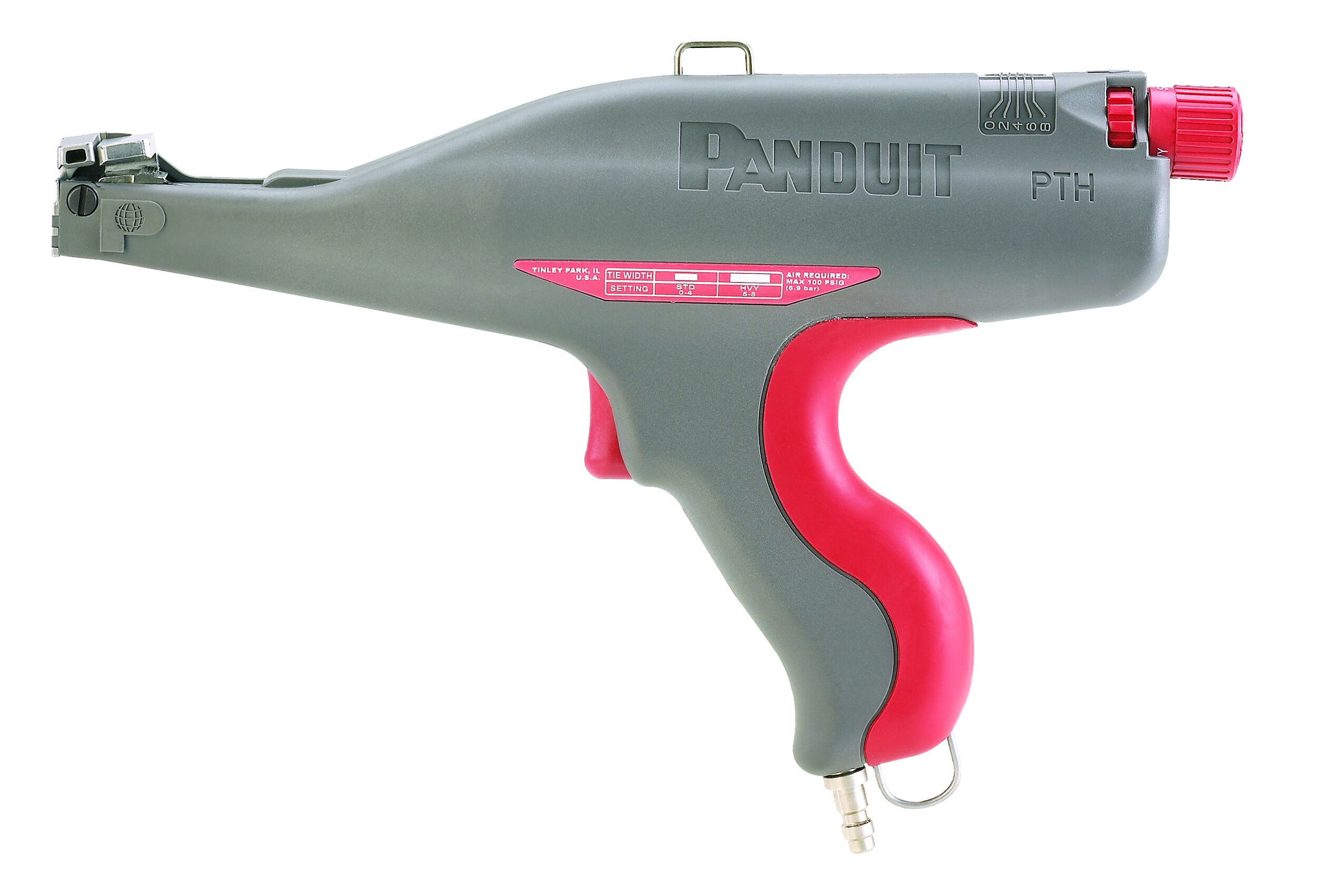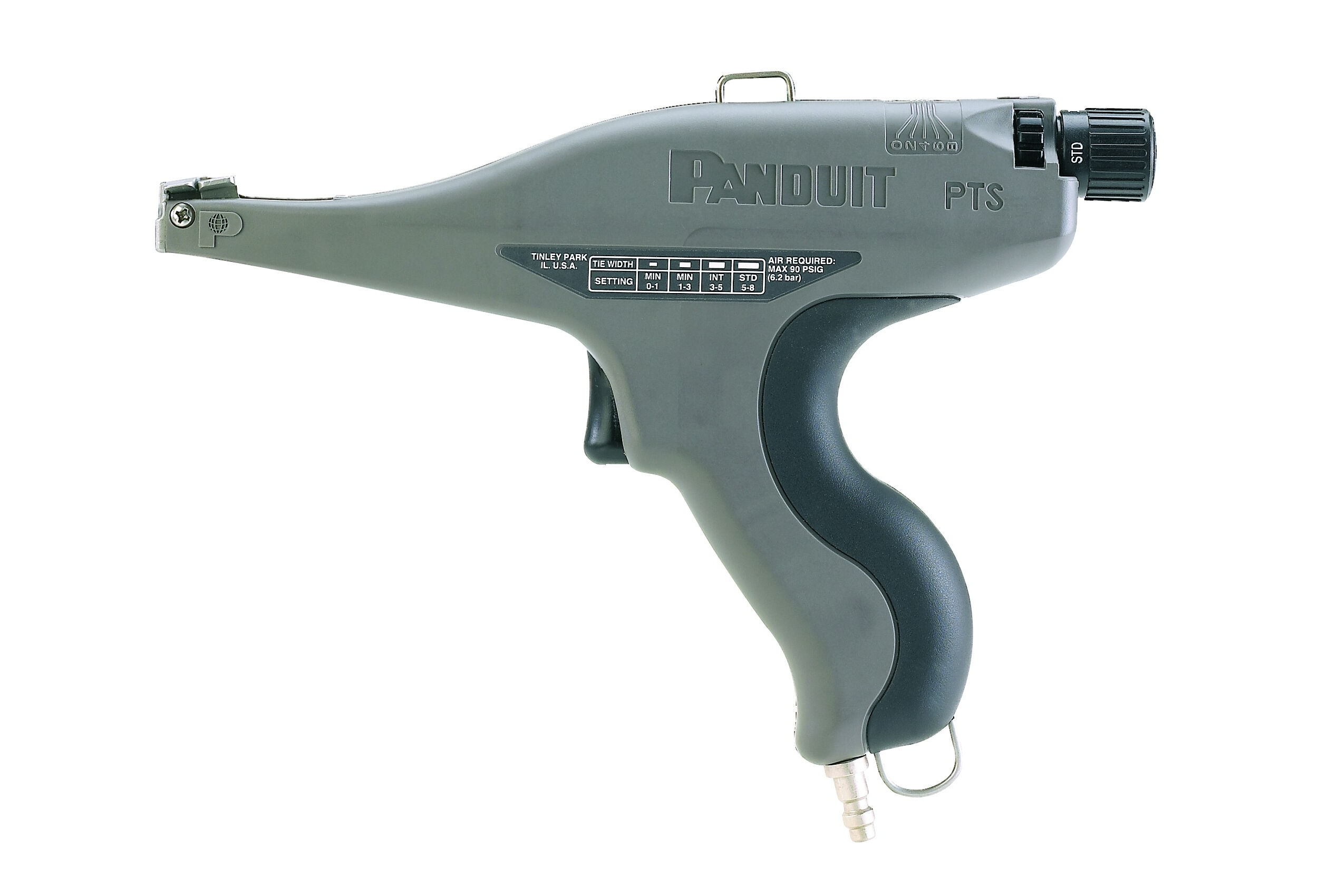 Cable clamps are an indispensable tool when installing thick bundles of cables. Photo belongs to Panduit Corp.
The first type are crimping tools for plastic ties, and the second are products intended for metal fastenings. Both types allow to tighten the loops with an adjustable force and then cut off the excess tie length. However, these are hand tools, based on the operation of a lever; Although they will greatly improve the work of a maintenance engineer or a technician, they will not meet the expectations of a fitter or an installer who works on thousands of connections every day. That is why our offer also includes Panduit pneumatic crimping tools. When connected to the pressure system, after pressing the trigger they automatically and repeatably fix the tie. This repeatability is a particularly desirable feature for production lines (e.g. in a car factory) as it translates into the consistent quality of the end products.
Crimping tools for ties are available on request.