Twenty years ago, there were many competitive interfaces for transmitting video and sound between audio & video devices. This posed some problems for consumers and also caused certain difficulties for professionals. The most serious challenge was the development of technology. Manufacturers of computers and audio-video equipment, and also television broadcasters, recognised the potential inherent in high definition images. The trouble was not so much the production or transmission of images in such a quality, but their reception and display on the consumer's screen. In particular, the transmission of the signal between individual devices – receiver, video recorder, TV, computer, monitor, and so on. Previous standards (composite image or VGA standard, and even DVI) already reached the maximum of their technical capabilities.
Although at the beginning of the 21st century there were several competitive solutions on the market, it is now clear that the winner was a multimedia standard originating from Japan, developed in cooperation with, among others, companies such as: Hitachi, Panasonic, Sony or Toshiba. We know it by its abbreviation: HDMI.
How does HDMI work?
HDMI is an interface, i.e. it defines not only the transmission protocols and their electrical properties, but also the mechanical specifications of the connectors. The latter are available in several sizes: HDMI standard, HDMI mini, and HDMI micro. Plugs and sockets have identical capabilities, regardless of size, and their miniaturised variants are used in devices that require the use of small connectors. For example, HDMI mini is used in a number of Canon and Nikon's LR (DSLR) models, and the Raspberry Pi 4B board features as many as two HDMI micro sockets.
Unlike its predecessors, HDMI was developed as a multimedia standard, which means that it allows the transmission of video as well as audio and other data. Therefore, even a general description of HDMI requires taking a look at several aspects of this interface.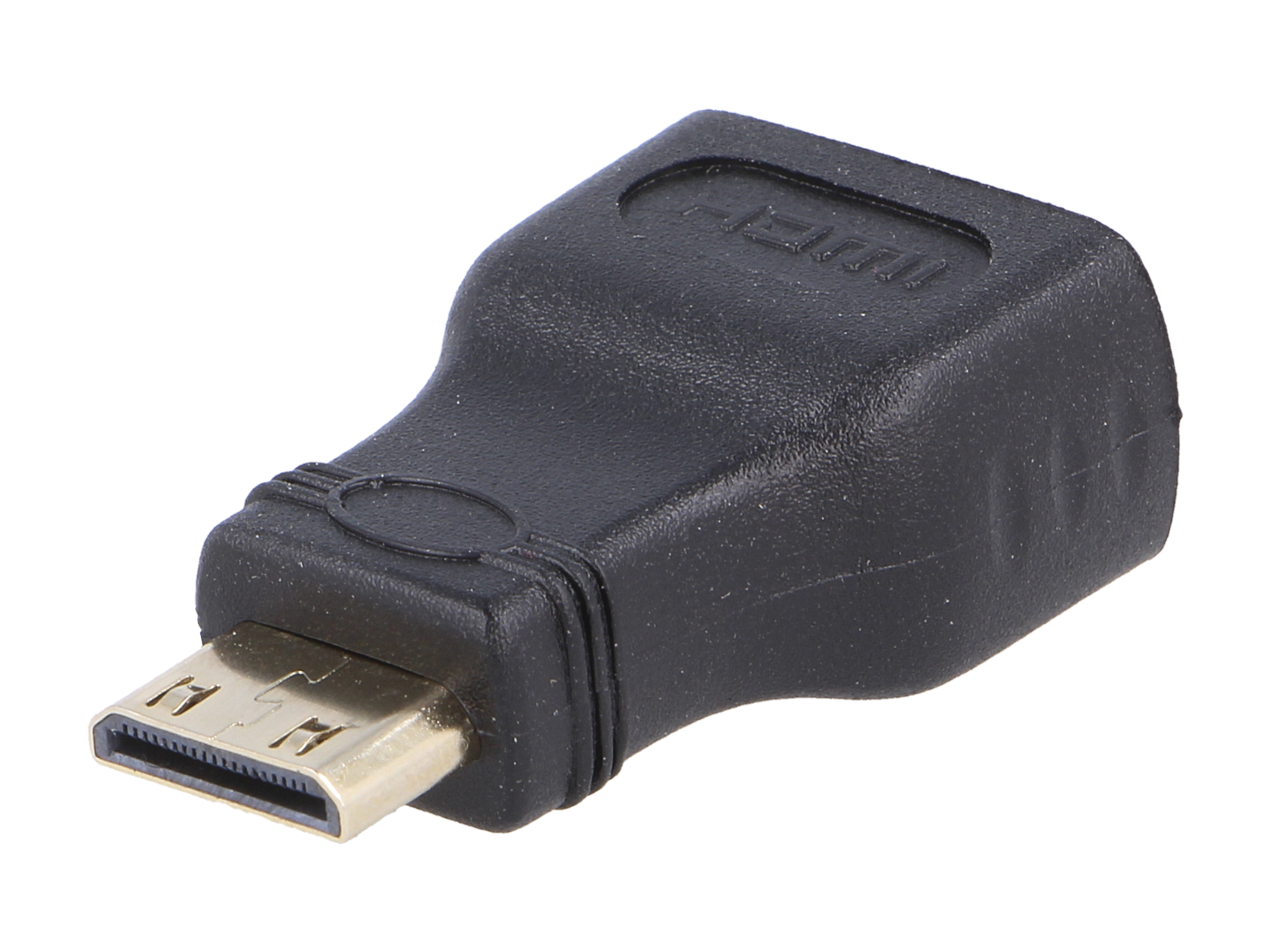 Akyga adapter to connect a standard HDMI cable to an HDMI mini socket.
What audio-video formats does the HDMI interface use?
Metadata and audio-video data are transmitted in any format, respecting the minimum requirements of the CEA-861 standards. Depending on the version of the interface (HDMI 1.0, HDMI 1.1 etc.), it uses successive revisions of this data structure. As it is constantly evolving, along with display technology, the HDMI standard itself remains up-to-date and adapted to the needs of the most modern products, while being backward compatible. Uncompressed video data is mostly transmitted with the sRGB colour space (8 bits per channel), but the image can be described in even deeper colour spaces (xvYCC 4:4:4, Y′CBCR 4:4:4 etc.). Newer versions of the interface included compatibility with ever-increasing image resolutions, from FullHD (i.e. 1920x1080) to 4K and even 8K and 10K, which is now beginning to be adapted by manufacturers of TVs, monitors and related displays.
The sound transmitted via HDMI cable comprises uncompressed samples in PCM format. In other words, it is transmitted using bits that go directly to the DAC (D/A) converter in the target device. Of course, the lossless signal can be pre-processed, either in an analogue or a digital process, similar to compact discs played over a digital connection. HDMI supports up to 8 audio channels sampled at up to 192 kHz, with a resolution of up to 24 bits. It is worth noting for comparison here that music is recorded on a compact disc with 16-bit accuracy at 44.1kHz.
How does HDMI transmission work?
It should be noted that the HDMI interface does not compress data itself. This has two consequences. Firstly, the image and sound are transmitted losslessly. Secondly (and here comes the challenge) the possibilities of HDMI are proportional to the speed of data transmission. Successive HDMI revisions, adapted to support ever higher resolutions of video and sound, as well as ever larger metadata packets, do not change the method of transmission, but only increase its throughput. While the first generation of the interface reached a speed of approx. 5Gb/s, the latest version (HDMI 2.1) operates at up to 48Gb/s. Moreover, this evolution is taking place in the consumer segment, where connectors and cables are sometimes used in sub-optimal (or even totally unfavourable) conditions. The HDMI standard still remains valid and backwards compatible thanks to the transmission technology used, namely TMDS.
TMDS – what is it and how does it work?
TMDS stands for transition-minimized differential signalling. This technology is used in the HDMI standard to limit the impact of electromagnetic radiation on the transmitted data. In this method, each byte requires two 10-bit frames to be sent, and communication takes place via three channels, each consisting of two lines according to the principles of differential signalling (which itself provides some signal protection). Each byte of data is processed, bit by bit, by the Exclusive-OR or Exclusive-NOR function (XOR or XNOR) to ensure as few transitions between logical states as possible. The lowered switching frequency further reduces interference between the conductors as well as the influence of external factors. In the second phase, during the retransmission of the byte, if it is required to maintain the average current, the data are logically negated. In each 10-bit data frame, apart from the transmitted byte, there are two bits specifying which logical operations were performed.
What data can HDMI transmit?
Modern television sets, fashionably described as "smart", are slowly taking over the role played until recently by players, recorders and tuner amplifiers – they are gradually becoming entertainment centres. To receive content from popular platforms such as YouTube or Netflix, you don't have to buy additional devices anymore, all you need is a modular computer with a controller, tuner, amplifier and power supply hidden inside your TV. With this breakthrough came a problem known from the computer industry – how to eliminate excess cables? Connecting several antennas, audio-video sources, audio output, control signal, Internet – all these required separate cables. And here, once again, the HDMI interface proves helpful.
The functions that HDMI can perform are strictly dependent on the capabilities defined in the CEA-861 standard. Since it is based, among other things, on the format of transmitted metadata, it was possible to develop the technology without the need to interfere with its physical specification.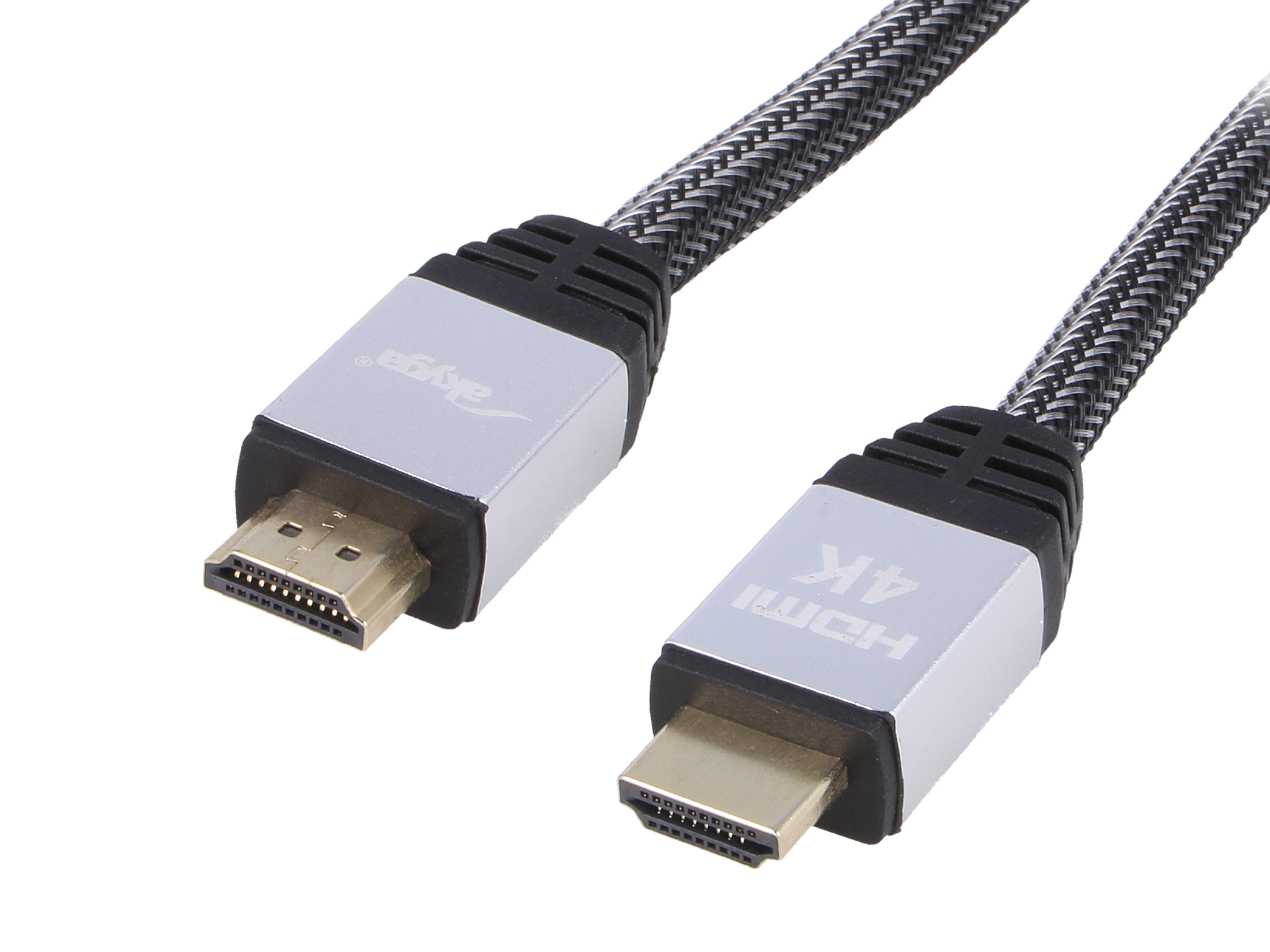 Newer generation HDMI cable (by Akyga). Although on the outside it looks identical to its predecessors, its construction is different.
In subsequent iterations of the interface, it was extended with such features as CEC, i.e. transmission of the control signal (e.g. from the remote control), automatic synchronization of the sound with the image, support for newer Dolby (TrueHD) standards. One of the biggest breakthroughs was HDMI 1.4 with the addition of an audio return channel, allowing the audio track to be sent back to e.g. a receiver, and an Ethernet channel with a speed of up to 100 Mbit/s. The latter functionality was a response to the growing importance of the Internet in home entertainment centres. However, all these innovations required an increasingly better quality of cables.
Does the cable affect the HDMI signal quality?
The short answer is: no. The long answer is: it depends.
Unlike, for example, consecutive generations of USB connectors, HDMI plugs, sockets and cables still have the same number of contacts and wires. However, the capacity of modern HDMI cables has been upgraded to a certain extent. For example, Ethernet communication was implemented by a pair of conductors previously used for other purposes. In order for the cables to transmit data at a satisfactory speed, two of these conductors were twisted and placed (optionally) in a separate braid. Older generations of cables, in which the conductors were run in parallel, will not be able to perform an efficient network connection.
It is worth remembering that while the digital video signal in the resolution of 1980x1080 can be successfully, losslessly transmitted to the latest generation of TVs using an old HDMI cable, higher resolutions and the latest features offered by this interface require investment in better cabling.
Akyga HDMI 1.4 cables
The TME catalogue includes many products that are compatible with the latest generation of HDMI. The Akyga cables and accessories deserve a special mention. They are available at affordable prices, made with many years of reliable operation in mind, proven on many world markets. Akyga cables in the TME catalogue have been carefully classified in order to facilitate the selection of appropriate products.
We offer up to 20 meters long cables, enabling communication of devices over Ethernet, made in High Speed standard, i.e. compatible with the highest resolutions of monitors and TVs (4K, UHD etc.). Longer HDMI cables require the use of repeater amplifiers. We have also included Akyga cables with HDMI 2.0 standard, i.e. supporting Dual View technology allowing data transfer to two independent displays.
The plugs and sockets of the Akyga products have gold-plated contacts, thus they are protected against corrosion and provide a perfect connection. With a digital signal this is important, because an imprecise connection of even one contact can result in total lack of signal. Additionally, we have in our warehouses products described by the manufacturer as Pro (those whose symbol ends with the letter P) – they have an additional layer of braid protecting the signals against interference.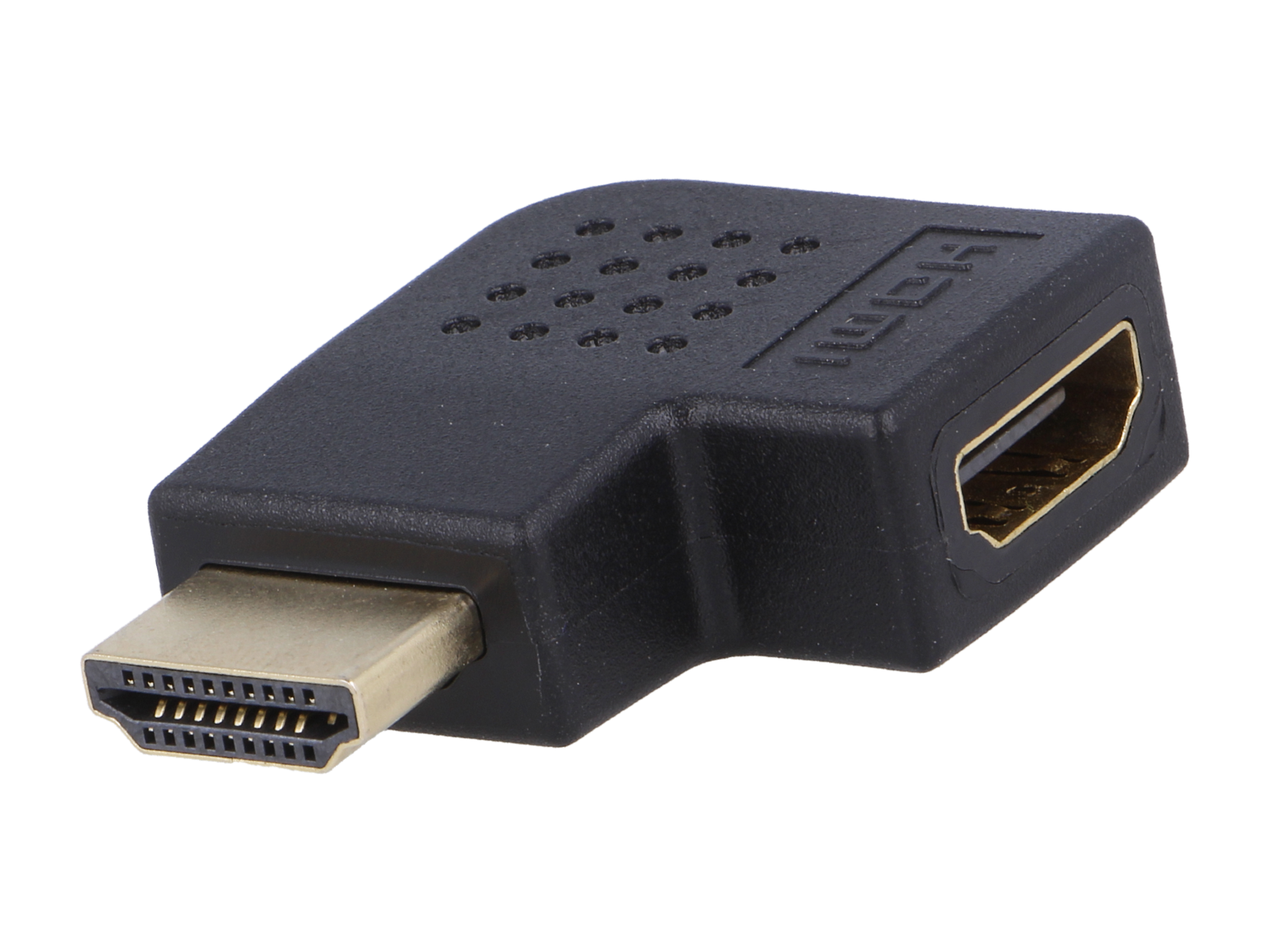 Akyga angle adapter.
Akyga also manufactures many HDMI accessories, such as adapters, for example, angle adapters, or special adapters that allow you to connect cables to hard-to-reach outlets. They will be useful, for example, when mounting your TV or receiver close to a wall, when it is difficult to access the output/input sockets, or when you need to connect an HDMI cable to a compatible DVI socket.
All Akyga products meet the requirements of at least the 1.4 version of the HDMI interface.
Akyga cables and adapters available in our catalogue