Environmental Information
Dear Customer,
We would like to inform you that Transfer Multisort Elektronik Limited, as a company which is introducing electronic equipment and batteries to the United Kingdom, has its own environmental responsibilities.
Transfer Multisort Elektronik Limited has a registration with the Environment Agency, and our registration numbers are:
WEEE registration number: WEE/MM0305AA
Batteries registration number: BPRN06239
We just want to inform you that on the electronic and electrical equipment there is a special sign - "crossed out wheeled bin symbol and a black line underneath" (below), which informs about the ban on throwing away waste electrical and electronic equipment together with other waste. This means that used equipment should be collected selectively.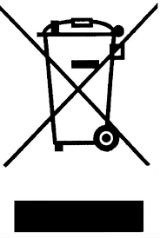 We all need to remember that households have a very important role in the proper management of waste. The transfer of waste electrical and electronic equipment (WEEE) and batteries to collection points contributes to the re-use, recycling or recovery of equipment and environmental protection.
The user is obliged to ensure its proper disposal otherwise, electrowaste could be a source of dangerous substances for human and animal health and affects changes in the natural environment.
The end user is able to return waste industrial batteries to Transfer Multisort Elektronik Limited, if we are supplying you with new industrial batteries, if they are the same chemistry as batteries Transfer Multisort Elektronik Limited supply or if the industrial batteries cannot be returned to another producer.
Users who have bought electrical and electronic equipment and batteries for their home can leave them (when they are used) in specially adapted collection points.
The addresses of collection points, where you can hand over used electronic and electric equipment as well as batteries and accumulators are available at the following links:
http://www.erp-batteries.co.uk
STATEMENT
As an importer of industrial batteries under the Waste Batteries and Accumulators Regulations 2009, we Transfer Multisort Elektronik Limited import and introduce to the market Ag, Li, Li-Ion, Ni-MH, Zn-C, Zn-Cl, ZnO2, alkaline batteries. We are obliged to take back free of charge, waste industrial batteries supplied to an end user for treatment and recycling. We are required to do this in any calendar year we place new industrial batteries on the market. If any of our customers or in certain cases other end users, require us to take back Industrial batteries, they should contact our partner at http://www.erp-batteries.co.uk or http://www.erp-ewaste.co.uk for details.
News

Environmental information