Events
2019-03-15
TME EDU KIT rev.2. – innovative educational tool offered by TME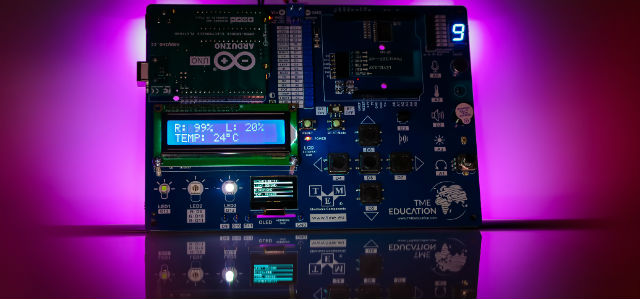 TME EDU KIT educational boards are a professional educational tool designed especially for the needs of the TME Education programme. The aim of the programme, which has been in operation for over 2 years, it to promote technical knowledge, especially electronics-related knowledge, in the countries where access to appropriate educational aids is limited.
TME-EDU-ARD-2 is an educational board that easily allows users to start their journey with modern electronics and programming. The solution is based on the popular Arduino Uno module. Thanks to easy operation and numerous embedded peripheral components, TME-EDU-ARD-2 is a good choice for both students of primary schools who are at the beginning of their programming educational journey, and university students who pursue advanced projects.
The new TME EDU KIT rev.2 is an improved version of a solution which was successfully used by lecturers at workshops organized as a part of the TME Education programme in Tanzania, Kenia, Ethiopia, the Republic of South Africa and India, among others.
Learn more about the TME EDU KIT rev.2.