EVENTS
2019-03-18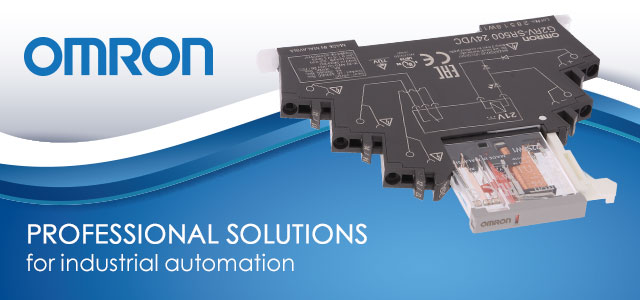 Industrial automation is the present and future of all manufacturing companies that want to be competitive in their industry. With the increase in sales, the development of the assortment and infrastructure or operations with new markets, there is a need to produce even more goods in even shorter time, while reducing costs.
Omron offer in TME meets these needs and provides comprehensive solutions for industrial automation. They make the production process innovative and safe and optimize it, among others by allowing communication with machines and controlling them.
Particularly noteworthy in our offer is the wide range of Omron sensors, relays and switches, including the series of products described below.
Inductive sensors series E2A, one of the most reliable in the industry, are characterized by:
extended detection range
high level of mechanical resistance – both in the sensors themselves and their cables
resistance to electromagnetic interference and vibrations
universal use in many applications
Photoelectric sensors E3Z with a compact housing made of mechanically resistant material:
are equipped with a high power LED
they are resistant to electromagnetic interference
very good value for money
used in standard industrial applications
they have screwless terminals from the front, so it's easy to connect them
they have narrow housing – 17.5mm or 22.5mm
the response time is 15ms
they have new, lower stands
they are available with Push-in Plus screwless connectors
they are equipped with double, reinforced latches for DIN rail and double markings on the terminals
Micro switches SNAP ACTION with IP67 series D2VW, D2SW and D2HW
they have a stable seal that protects against ingress of water or excessive dust due to the use of epoxy resin
internal mechanism ensures high precision and durability
ideal for cars, agricultural machinery, large-scale household and industrial appliances and equipment that requires a high level of environmental protection
they have a stable seal that protects against ingress of water or excessive dust due to the use of epoxy resin
ideal for cars, vending machines, machines, refrigerators, ice-making equipment, bathing equipment, hot water and air supply systems as well as industrial equipment that require high resistance to environmental conditions
the size of the mechanical modules is smaller compared to conventional models
very long stroke even for products without leverage
they are made of environmentally friendly materials
all models are lead-free