Events
2019-03-08
Nichicon capacitors in the TME offer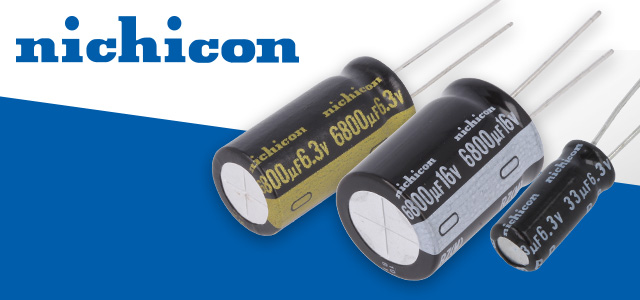 Nichicon is one of the largest manufacturers in the world specializing in capacitors. For 70 years, the company from Kyoto has been constantly improving products in the offer, remaining a leader in its field. The components of this brand can be found, among others, in Apple, Dell or Hewlett-Packard products, but they are used in virtually all branches of the electronics industry. One of the applications for which the manufacturer places particular emphasis are ecological cars, especially fully electric ones – requiring durable, certified components (compliance with the automotive standard AEC-Q200).
The most numerous branch of Nichicon products present in TME's offer are electrolytic capacitors. One of the newest series in this group are the elements of the UCA series, suitable for voltages from 160V to 450V. They stand out primarily with long lifetime, for most products up to 12,000 hours (at operating temperatures above 100°C). Other noteworthy parameters are the high impulse current and the relatively small size, allowing miniaturization of the circuits, even for applications operating under heavy load. These elements can be successfully used as ballast capacitors.
TME also offers components belonging to the MUSE acoustic series, by which the manufacturer marks the highest quality, precise electrolytic capacitors. Their purpose is audio applications and they allow to obtain excellent sound parameters. Among these elements our catalog contains elements of the Fine Gold and KZ series in a wide range of capacities. Intended for professional class of audio equipment, as well as audio-video (Blu-ray players, DVD players etc.). From TME, these elements can be purchased even in small amounts (for example for testing and prototyping). They are also suitable for personalized home HiFi systems.
For industrial applications, in mass production, Nichicon also offers capacitors for surface mounting and snap-in. A particularly wide range of parameters can be found in the UCD series (SMD assembly). It is characterized by low impedance and a lifetime of up to 5000 hours. The capacitors in this series have been adapted to work in a wide range of voltages (from 6.3V to 100V) and temperatures (from -55°C to 105°C). TME has been an official distributor of Nichicon products since 2014. Use our catalog and get to know the full offer of the Japanese manufacturer available directly from our warehouse.