Events
2019-03-01
An ecological change in the KONTAKT CHEMIE offer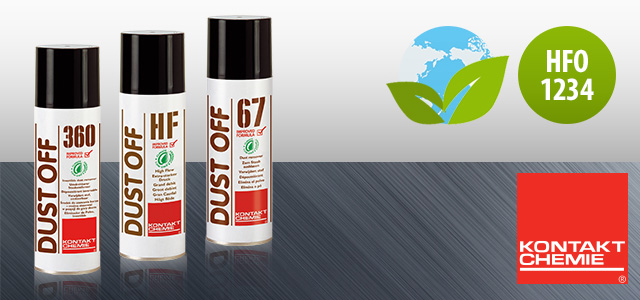 Fully engaging in climate protection KONTAKT CHEMIE introduces new chemical preparations to its offer.
At the beginning of this year, an EU directive banning the use of R134a gas entered into force. Due to new regulations aimed at reducing greenhouse gases emission, the propellant gas used in preparations with compressed air (DUST OFF HF, DUST OFF 360, DUST OFF 67) and a freezer (FREEZE 75) from KONTAKT CHEMIE offer has been changed. These aerosols use HFO-1234 gas with a lower climate hazard factor. Known preparations in the new version are characterized as much less harmfulness for the environment, their impact on the ozone layer has been significantly reduced.
A cheaper alternative to compressed air using HFO-1234 are agents using propane-butane – but due to their high flammability, they are not recommended for critical applications.
KONTAKT CHEMIE is one of the brands of CRC company, which offers a range of products with a variety of applications, mainly in the electronics industry. Thanks to the wide range of good quality preparations, KONTAKT CHEMIE can be considered as one of the leaders on the market of chemical products for electronics.
The company has been very popular and trusted by professionals all over the world for years. Aerosols such as a freezer, compressed air and a wide range of cleaning products are used in manufacturing companies from various industries, computer services or home workshops of electronics enthusiasts.
TME offer includes both new freezers and compressed air, adapted to the current regulations, as well as well-known in the market cleaning, preservative, varnish and aerosol preparations.