Events
2019-02-20
Reliability in safety applications with DILMS contactors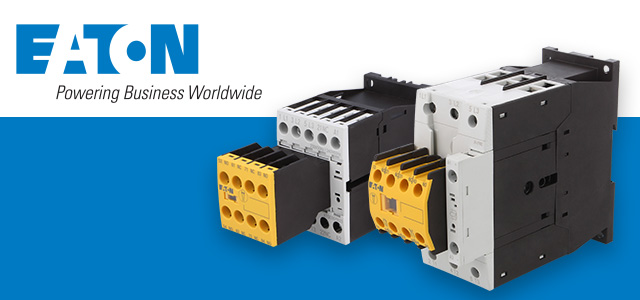 Increase the safety of machinery and devices
Discover DILMS safety contactors
DILMS safety connectors manufactured by Eaton are designed to increase the safety of machinery and devices.
Advantages of DILMS safety contactors:
• monitoring open, danger areas with light barriers
• manual control ensures safe operation
• monitoring movable guards
• emergency stop circuits
All versions of DILMS safety contactors are fitted with a non-detachable auxiliary contact block. Contactor's yellow cover allows for quick and easy identification of safety circuits. The built-in inspection window makes it possible to monitor machine's or system's operating status at any point in time – this prevents the contactor from being activated manually. The DILMS series of safety contactors comprises of four different sizes and covers the power range between 7 and 150 A.
DILMS safety contactors can be supplemented with DILMS safety relays with three coil voltage options:
• 110V 50Hz, 120V 60Hz
• 230V 50Hz, 240V 60Hz
• 24VDC (RDC24)
The safety contactors have been approved and certified for global use (including CE, UL, CSA, and SUVA certification). Main features of DILMS contactors:
• safe status monitoring of the contactor (inspection window)
• front-mounted and non-detachable auxiliary contact
• mirror contacts
• eligible to be used for emergency-stop application with controlled start (category 4)
• reliable and self-monitoring machine-control circuits
• interlocking opposing contacts, in line with IEC 60947-5-1
• highlighted in yellow (RAL1004)
• reliable screw terminals
• certificates (including SUVA certification)
Download DILMS series information leaflet