Events
2019-04-02
More than 60 years of experience in design and manufacture.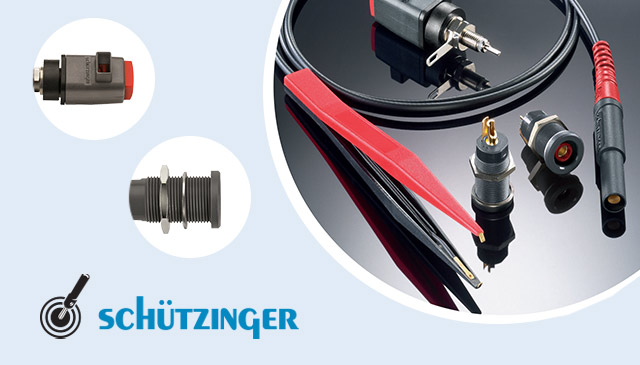 Schützinger measuring accessories
Schützinger is a German designer and manufacturer of a wide range of measuring accessories and non-standard electrical connectors for sectors such as railway engineering, mechanical engineering, medicine, automotive and lighting industries. Schützinger measuring accessories are manufactured with high precision, using top-quality materials.
See Schützinger products available in our offer

Schützinger measuring accessories available at TME:
2mm and 4mm banana plugs – optionally with soldered, screwed or crimped connector.
2mm and 4mm banana sockets – fully insulated or uninsulated versions. Available in panel-mounted (screw and push-in mounting) or PCB-mounted versions.
Test leads – mostly adapted to work in accordance with the standard up to 1000V CAT IV and with direct current up to 32A. The offer includes leads with parallel and axial connectors.
Crocodile clips – both insulated and non-insulated, with 2 and 4mm socket
Measuring probes – compliance with the standard up to 1000V CAT IV. Available with exchangeable test probes and as a set with leads.
Catalogue of Schützinger accessories

Kelvin system in Schützinger's offer
Schützinger offers a wide range of measuring accessories compatible with the Kelvin system. This standard allows for measurement of current and voltage through 2 opposite measurements channels. In this way, the internal resistance of the wires does not affect the measurement, which significantly increases its accuracy.
Other advantages of the Kelvin system include simple design and space saving. Due to the coaxial arrangement of the connectors, the Kelvin system requires less space in the housing of the measuring tool and provides simpler arrangement of the measuring cables. Due to its compatibility with standard 4mm plugs, it allows measurement with several connected cables.
The offer includes test leads, banana sockets and plugs, as well as crocodile clips.