EVENTS
2019-04-16
ZP series of hermetic enclosures from KRADEX
For years, multipurpose enclosures for electronic devices and automation have been very popular among constructors. The development of 3D printing technologies has caused some engineers to switch to custom 3D printed enclosures. While that is a very interesting alternative solution, it cannot fully replace prefabricated enclosures. 3D printing is not optimal for e.g. applications that require high enclosure impermeability. In those cases, it's better to choose ready-made products – like the ZP line of enclosures from the Polish manufacturer KRADEX.
As customer expectations regarding efficiency and reliability of electric and electronic devices grow, such installations needs to be more and more resistant to severe weather conditions. Using ready-made, hermetic enclosures is a good way of ensuring high water resistance and impermeability.
Impermeability in practice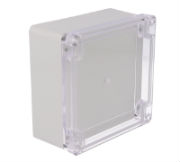 The ZP enclosures from KRADEX are designed for the most popular solutions that increasingly require impermeability. Made of plastics: ABS or polycarbonate (depending on their version), ranging in size from 105mm x 105mm to 150mm x 150mm. They are 60mm high in standard configurations. Made out of several components: main enclosure body, cover with a gasket, and a set of screws. The main body is always bright gray. The cover can have the same colour or be transparent. Covers are available in various heights, letting you adjust enclosure size to your application. The lid can have an indentation perfect for a label or even a keyboard.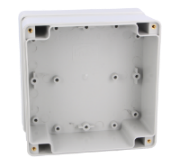 When designing the ZP line, KRADEX engineers have considered the feedback from customers they cooperate with every day. Thanks to this approach, new enclosures have special features that make them easier to use in practical situations. For example: all screws have been specially selected to prevent them from falling out of mounting posts, making enclosure assembly in hard-to-reach places much easier. The cover has a flange, making it easier to adjust to the base.
Accessories
Accessories designed exclusively for ZP enclosures offer many additional benefits. The mounting plates made of 2mm galvanised steel are an excellent example. Those plates are adapted to individual enclosure sizes and let you perform preliminary assembly of modules before placing them inside an enclosure. This is especially important for devices made out of many different, separate, small and large components. Assembling them in a limited space between walls would be very uncomfortable. Instead, you can pre-mount components on the plate, place the entire module inside your enclosure, and then fix the plate with screws.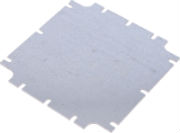 Another type of accessories are the DIN rails than can be placed within enclosures and fixed to mounting posts with screws. These rails will let you easily install DIN-mounted automation components. What's more, this is a fast and easy way of increasing the safety of such devices to the level required in a facility. We should also bring your attention to the transparent covers that let you take readings directly from devices inside the enclosure without opening it, maintaining impermeability.
Parameters
These new enclosures are designed to comply with IP65 dust resistance and water resistance requirements, which means they are rated as dust-tight and protected against water projected from a nozzle from any direction. They are also mechanically resistant to impact: the 150mm x 150mm enclosure complies with IP06 requirements, while the 135mm x 135mm enclosure complies with IK07 requirements, which means it can withstand a 0.5kg hammer free-dropped from a height of 40cm. KRADEX is also planning to introduce ZP enclosures with cast gaskets.