Events
2019-08-30
Precise measurements with FLUKE testers and multimeters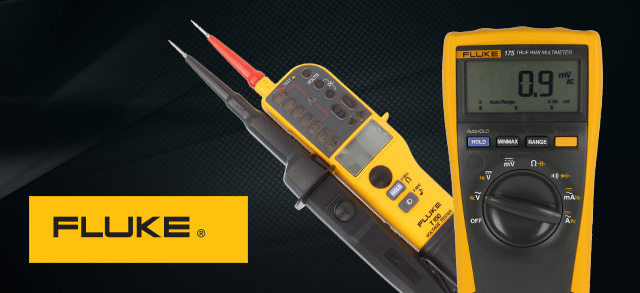 Proper control of the operation of installations, electronic and electrical equipment requires the use of professional and reliable measuring instruments. An example of such dependable instruments are FLUKE products. Get to know some of the best multimeters and testers on the market.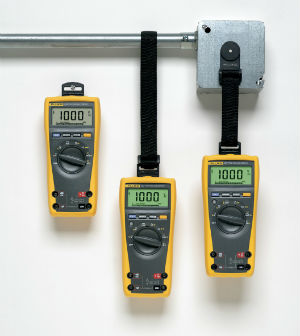 The 170 series are instruments for high accuracy troubleshooting and repairing faults in electrical and electronic systems by measuring the true rms value. The multimeters are simple to use and extremely robust. In addition, they contain a bar graph that facilitates the observation of trends for changing signals. All FLUKE 170 series digital multimeters have manufacturer's limited lifetime warranty.
TME offer includes 175, 177 and 179 FLUKE digital multimeters with a very good value for money.

Download PDF
Model
175
177
179
TME product symbol
FLK-175
FLK-177
FLK-179
Basic functions
Indication range
6000
6000
6000
True-rms measurement
AC
AC
AC
Basic DC accuracy
0.09%
0.09%
0.09%
Automatic/manual range switching
✔ / ✔
✔ / ✔
✔ / ✔
Measurements
AC/DC voltage
1000 V
1000 V
1000 V
AC/DC current
10 A
10 A
10 A
Resistance
50 MΩ
50 MΩ
50 MΩ
Frequency
100 kHz
100 kHz
100 kHz
Capacitance
10 000 μF
10 000 μF
10 000 μF
Temperature
-
-
(+) 400°C
Diode/continuity test
✔
✔
✔ Display
Other functions
Built-in holster
✔
✔
✔
Backlight
-
✔
✔
Operating temperature range
-10°C, +50°C
-10°C, +50°C
-10°C, +50°C
Hazardous voltage indication
✔
✔
✔
EN61010-1 CAT III
1000 V
1000 V
1000 V
EN61010-1 CAT IV
600 V
600 V
600 V
Recommended test leads
TL75, TL175
TL75, TL175
TL75, TL175
FLUKE two-pole voltage and continuity testers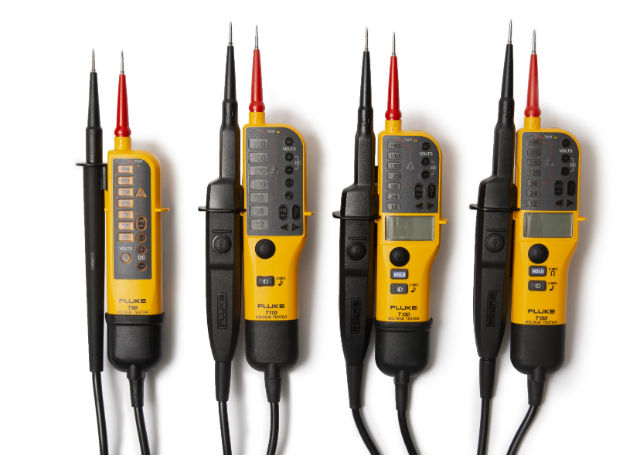 These are devices which are used to perform measurements of current voltage and electrical continuity with the phase rotation indicator function. They measure the voltage level, but also check whether it is present in a given circuit at all - even before starting work.
FLUKE voltage and continuity testers ensure user safety, ease of use and reliability, regardless of whether in an industrial, commercial or home working environment. These devices are covered by a 3-year manufacturer's warranty.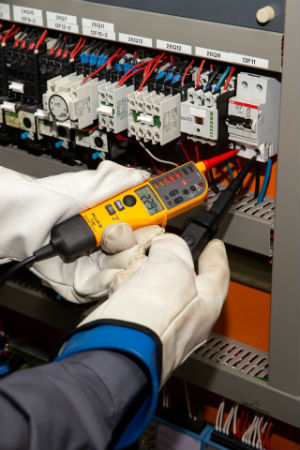 Features of T90, T110, T130, T150 FLUKE devices:
fast test results,
improved ergonomics,
very good value for money,
four ways to indicate the presence of voltage - LED indicator, LCD display, audible tone or tactile feedback, always know if hazardous voltage is present,
dummy load of 30mA, which eliminates incorrect displays,
designed according to IEC EN 61243-3:2014 to verify the absence of voltage – even with discharged batteries,
CAT IV 600 V, CAT III 690 V safety rating,
dual insulated cable tested to 3x the required bend angle provides increased reliability and durability,
improved probe connection,
built-in flashlight,
easy to use.
| | | | | |
| --- | --- | --- | --- | --- |
| Model | T90 | T110 | T130 | T150 |
| TME product symbol | FLK-T90 | FLK-T110 | FLK-T130 | FLK-T150 |
| Functions | | | | |
| Backlit LED indicator | ✔ | ✔ | ✔ | ✔ |
| Backlit digital LCD display | - | - | ✔ | ✔ |
| Continuity test — visual results | ✔ | ✔ | ✔ | ✔ |
| Continuity test — audible results | ✔ | ✔ with on/off | ✔ with on/off | ✔ with on/off |
| Vibration under load indicator | - | ✔ | ✔ | ✔ |
| Voltage test | ✔ | ✔ | ✔ | ✔ |
| Polarity indication | ✔ | ✔ | ✔ | ✔ |
| Resistance measurement | - | - | - | ✔ |
| Switchable load | - | ✔ | ✔ | ✔ |
| Single-pole phase detection test | ✔ | ✔ | ✔ | ✔ |
| Phase rotation/order indicator | - | ✔ | ✔ | ✔ |
| Probe tip protection | ✔ | ✔ | ✔ | ✔ |
| Electric flashlight | - | ✔ | ✔ | ✔ |