Events
2019-10-14
Robotics and hobby in TME Catalogue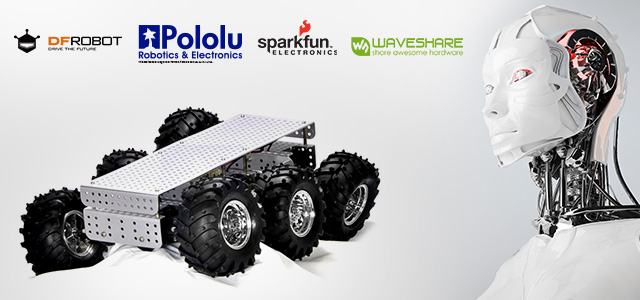 TME is known as an international distributor of electronic components for industries and professionals. However, our catalogue is full of easy-to-use components and electro-mechanical elements that can be used by students or beginners.
We make sure that it contains the latest modules from leading manufacturers, such as Pololu, Sparkfun, DFROBOT, or Waveshare. It's a good idea to browse through TME Catalogue, either to find a particular component or to be inspired.

A leading American manufacturer of DC micromotors, chassis for robots, and electronic modules such as programmable controllers, distance sensors, DC motor controllers, or DC/DC converters. POLOLU's offer includes all components needed for building an educational robot and more.

One of the most popular manufacturers of universal electronic modules that enable fast design and building of prototypes. Due to direct cooperation with the giants in the ICT industry, Sparkfun offers products compliant with the most common platforms on the market.

A leading manufacturer of universal electronic modules. The offer also includes numerous mechanical components, such as servos, DC motors, or robot chassis. The high versatility of the offer and high quality of the products are the main reasons behind this brand's popularity among both hobbyists and engineers looking for solutions enabling them to quickly build prototypes.

AChinese manufacturer of development kits, universal modules, and smart and e-paper displays. A broad offer of modules compliant with the most common platforms, along with simple connections and setup means that with WAVESHARE products your work is nothing but pleasure.