EVENTS
2019-10-29
Steel ropes and associated accessories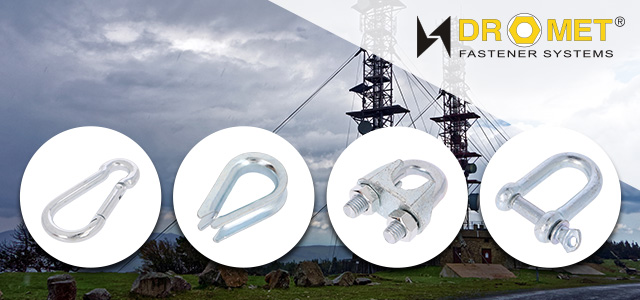 A few months ago a selection of steel ropes was added to the TME catalogue. In response to the growing interest, we decided to further develop our range of these products on offer. Currently, we offer our customers over a hundred rope accessories, as well as a wide selection of related products (e.g. U-bolts, hooks, eyebolts, etc.). Most of these items available from TME are manufactured by DROMET.
DROMET is a Polish manufacturer of steel products with over 20 years of experience. Initially, the company produced elements used in the construction industry. Currently, DROMET offers a wide range of products, including steel rope accessories available at TME, such as shackles, thimbles or clamps. These are top quality products – perfect solutions for a variety of applications: from sailing to construction and maintenance of antenna masts.
Quality accessories complement our offer of steel ropes (KRAFTBERG). 10- and 50-meter ropes are ready for immediate shipping. They are available with a cross-section of 1.5 to 8 mm. All ropes are made of A4 steel (containing an addition of molybdenum), long-lasting, acid resistant and stainless.
Discover the full offer of steel ropes and convenient shopping of not only electronic, but also mechanical components.