EVENTS
2019-10-25
Reliable detection with photoelectric sensors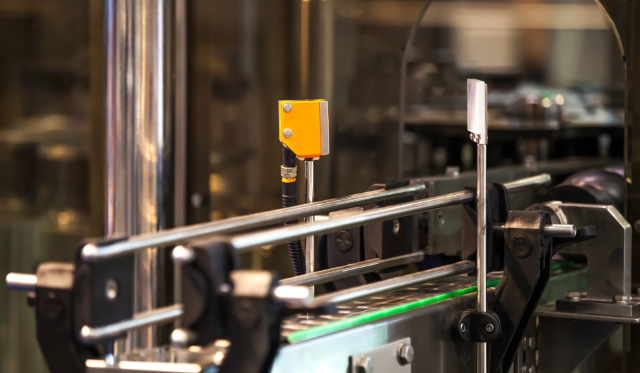 Brands such as Panasonic, Omron or Autonics are leading manufacturers of automation components, including photoelectric sensors used in various industries. As a distributor of products made by these three companies, TME offers both standard and specialist models of such devices.
How does a photoelectric sensor work?
This kind of detector responds to the intensity of electromagnetic waves falling onto it (visible light, infrared, or laser beam). It is composed of two elements — a transmitter and a receiver — fitted to eliminate interference from other sources of radiation. When an appropriately modulated beam stumbles across an obstacle, the device sends an electric signal to a controlling or executive device. Depending on the range of the device, three types of photoelectric sensors can be distinguished:
transmitter and receiver enclosed in a single casing, which saves mounting space, but only enables detection of close objects
for mid-ranges, a reflector is added besides the transmitter and the receiver
for large distances, it is necessary to use photoelectric sensors, with transmitter and receiver being two separate components
What should you pay attention to when choosing a photoelectric sensor?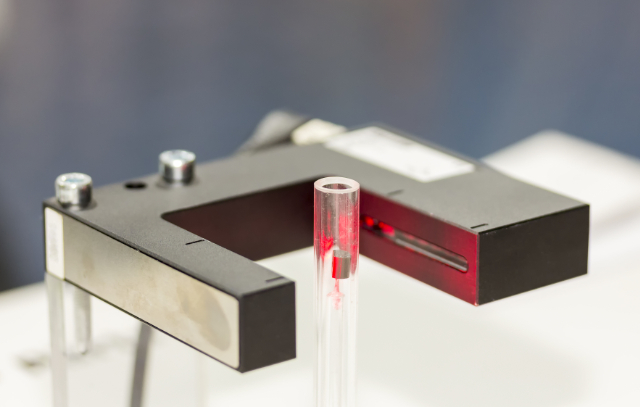 When you decide to buy a photoelectric sensor, you should focus on the area of application. For instance, if your sensor should react to large objects made of a lightproof material, you should choose products from the CX-411-x range from Panasonic. Sensors for general applications are small (11,2x31x20mm) and work well in objects with poor lighting conditions. Depending on the model, photoelectric sensors in this series are adapted to be used with various ports or inputs, including M8 or M12 connectors with a 300 mm cable.

Specialist photoelectric sensors enable detection of objects that are transparent or have uncommon sizes or shapes. Transparent objects are easily detected by the BTS30-LDTL-P detector from Autonics that offers fast response times under 1ms. For small objects, a photoelectric sensor using precise laser beam is the perfect choice. In this case, especially worth mentioning is the EX-L2xx series from Panasonic or the E3Z-LL series from Omron, available at TME. Sensors in both of those series are characterised by high effectiveness, and are equipped with a long, 2m cable, thanks to which they can be positioned away from the control cabinet.
Photoelectric sensors and working environment
Due to the fact that photoelectric sensors are a part of industrial automation, they are exposed to harmful environmental factors. Dust, humidity, high temperatures, or hazardous substances are just a few threats that you can find in any plant. Therefore, sensors in the BJR series from Autonics come in high quality IP67-compliant enclosures.

Apart from the above, you should also pay attention to the material of the objects to be detected or even their colour. Numerous sensors use the laws of light reflection and refraction, and different colours absorb and refract light waves in different ways. This hugely impacts the effective range of a photoelectric sensor — which is from 0 to 60 m for products in TME's offer. If you need a more advanced colour detection, e.g. a certain colour of a product on the production line means that it's defective, you should consider purchasing a colour sensor. One series that's particularly worth recommending is the BC15-LDT-C series of sensors developed by Autonics.
Photoelectric sensors at TME
Both standard and specialist photoelectric sensors from Panasonic, Omron, and Autonics are available at TME off the shelf. Due to their multifunctionality and reliability, these detectors are perfect for both large factories and small production plants.