Events
2019-11-18
Save space with RMQ Flat Design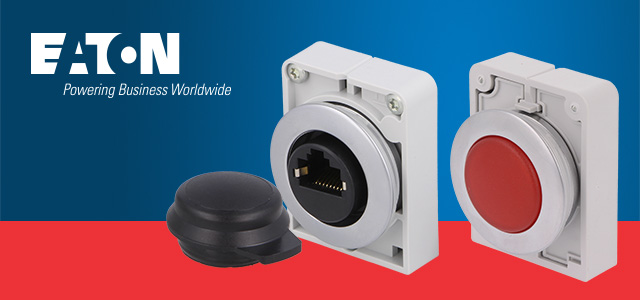 Eaton is a highly respected manufacturer of industrial and consumer automation, whose portfolio is being continuously expanded. RMQ-Titan is a series of control and signalling equipment components. EATON has recently launched its subseries – the RMQ Flat Design, which features all the original RMQ-Titan solutions, however, the new versions are much more space efficient.
Switches and contacts – basic components of industrial devices
Although touch screen panel interfaces increasingly often applied as control devices for various machines, they are often unreliable and prone to failures. In manufacturing plants and other industrial facilities, they are particularly vulnerable to damage, mainly due to the possibility of coming into contact with hazardous substances.
Therefore, many devices are still equipped with standard start-up, control and emergency shutdown buttons. Thanks to its high degree of versatility and a wide range of applications, the RMQ-Titan series of switches and contacts is chosen by users around the world. The new RMQ Flat Design solutions are based on a similar technology and manufactured with the same attention to detail, but were also given a more elegant look.
The RMQ Flat Design series includes two categories of products: the RMQ Flat Front and the RMQ Flat Rear. The former is a wide range of switches, buttons, knobs, potentiometers, joysticks, as well as USB ports. The latter is a series of flat and modular contacts and LEDs, which make it easy to signalise various operating statuses of the machine using only one indicator. They not only save space on the control board but, thanks to their flat design, the contacts are much more compact and easier to mount.
RMQ Flat Front switches – modern design and elegant look
This series is designed for applications where space is scarce, and the buttons should not protrude too much in order to prevent accidental pressing or damage.

In addition, it is worth mentioning that all labels and symbols are wear-resistant and look like brand new even after multiple use.
Beside its flat design, the RMQ Flat Front series is also easy to implement, since it features a sophisticated RMQ-AFX mounting system. The M30 series is designed for 30mm openings that do not require a special anti-rotation notch, which is not always easy to cut out. Once the button is in place, you simply have to tighten an appropriate fixing nut so that the housing is rigidly fastened before the mounting screws are tightened. The thickness of the sheet metal is also not a problem – a special spring mechanism automatically adjusts to the housing or door thickness.
The RMQ Flat Front series is fitted with a special IP69K protection system that is compliant with international certificates. It is also worth noting that the RMQ Flat Front solutions are fully compatible with the RMQ-Titan series.
RMQ Flat Rear contacts and LEDs for considerable mounting space efficiency

RMQ Flat Rear contacts are designed to save mounting space. Thanks to the use of high quality materials and modern manufacturing technologies, the size of the standard RMQ-Titan contact has been reduced by 50%, while retaining its core efficiency. This is particularly important when mounting an emergency button on a power switchboard door. In such situations, it is imperative that the contacts do not touch fuses and other components inside the box. The mounting method itself has also been simplified, thanks to the use of tool-less wiring and <30 mm diameter holes.
Apart from contacts, the RMQ Flat Rear series also includes LEDs, which provide much greater possibilities of signalling various machine statuses than standard light bulbs. The cost of such illumination is comparable to standard illumination solutions, but it is far more universal. In addition, the LEDs are more durable (11.5 years of continuous operation), have a more appealing look and consume less energy, so they can be used in temperatures of up to 70°C.
The RMQ Flat Front series buttons and switches can be combined with the aforementioned contacts and LEDs to create compact and efficient systems which can be applied in various branches of industry all over the world.