Events
2017-09-14
TME at the Subcontracting Trade Fair in Finland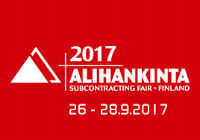 Subcontracting Trade Fair is the leading exhibition event in Finland. It is an excellent opportunity to meet representatives and experts from technology companies. Participation in the fair enables establishing new business contacts with manufacturers and suppliers and meeting not only companies with established market position but also newly started ones. Event's organisers emphasise that building effective cooperation is the cornerstone for reinforcing competitiveness. Therefore, this year's main theme revolves around the "partnership network" slogan.
During the fair, you will be able to participate in a free seminar titled "Poland – Your business partner" (28 September 2017, from 9:00 a.m. to 12:00 a.m.). Workshops will enable you to familiarise yourself with Poland's current economic situation. Speakers will demonstrate investment opportunities offered by one of EU's largest member states, which is not only conveniently located in East-Central Europe, but also has highly educated professionals.
We have prepared special gifts, perfect for autumn, for the customers that come to our stand D262. We kindly invite you to visit us!
Venue:
Tampere Exhibition and Sports Centre (TESC)
Ilmailunkatu 20
Tampere
Stand: D262
Opening hours:
| | |
| --- | --- |
| 26–27 September 2017: | From 9:00 a.m. to 5:00 p.m. |
| 28 September 2017: | From 9:00 a.m. to 4:00 p.m. |