EVENTS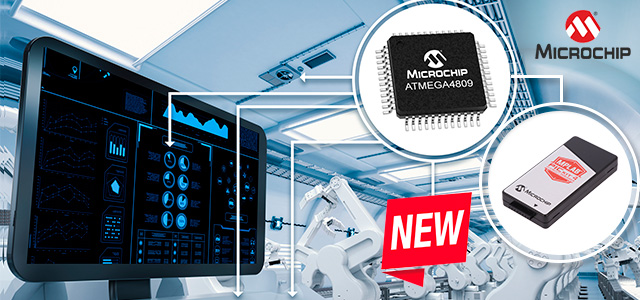 Check out the new Microchip products available at TME
MegaAVR® 0–series microcontroller, MPLAB® PICkitTM 4 for PIC and dsPIC microcontrollers, and ATSAMA5D27-SOM1 SoM module.
ATMEGA4809
ATMEGA4809 is the first microcontroller from the new family of megaAVR® 0 circuits.
It offers a number of interesting functions such as:
internal 20 MHz generator- 48 kB Flash memory- 6 kB SRAM memory
UPDI programming/debugging interface
event system allowing for peripherals to cooperate without using CPU
SleepWalking function – some peripherals have the ability to process incoming data without involving the CPU
Configurable Custom Logic (CCL) function – simple logic functions can be performed without using CPU
PICkit-4-ICD
PICkit-4-ICD is a new programmer/debugger for PIC and dsPIC microcontrollers, designed as a replacement for the older PICkit 3.
Compared to its predecessor, it offers:
5x faster programming of microcontrollers
extended voltage range: 1.2–5.5 V
powering the programmed microcontroller with maximum current of up to 50 mA
ability to program the CEC1702 microcontroller
4-wire JTAG
microSD card slot
The programmer is compatible with previously used 2-wire JTAG and ICSP interfaces.
ATSAMA5D27-SOM1 is an SoM (System on Module) built using the ATSAMA5D27C-D1G System in Package (SiP) that includes:
ARM Cortex A5 SAMA5D27C chip
1 Gbit (128MB) SDRAM DDR2 memory
The module also includes:
10/100 Mbps Mbps Ethernet controller
64 MB QSPI Flash memory
2 kB EEPROM memory
The ATSAMA5D27-SOM1 module is a single-sided PCB with soldering areas along its edges that facilitate installation (even manual soldering is possible). It is designed for easy integration in customers' applications. Additionally, the manufacturer provides users with a Linux distribution and an appropriate software set to help them quickly start developing their own projects.
Download PDF