PRODUCT OF THE WEEK
2020-02-24
Digital temperature and humidity sensor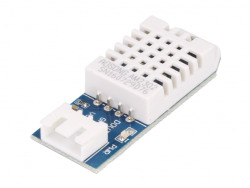 TME offer includes numerous modules by Waveshare. With their help electronic devices can be easily built and prototyped. One of such basic (but often irreplaceable!) modules is the WSH-11092 temperature and humidity sensor.
This simple and small component, which can be powered by 3.3V to 5V DC, is equipped with the AM2302 chip. It can measure temperature in the range from -40⁰C to 80⁰C (with an accuracy of even 0.5⁰C), and humidity in the range from 0% to 99.9% (with an accuracy of even 2%). Additionally, the board is equipped with a LED diode, which signals power supply to the module.
Thanks to a simple protocol, WSH-11092 is compatible with every popular platform available on the market (e.g. Arduino or Nucleo).
See the module
in our catalogue »
This makes it an ideal component for applications which require weather control. For example, it can be used as a sensor in a plant grow system. Another example of usage (in combination with a wind meter) may be a weather station that calculates the apparent temperature.
| | |
| --- | --- |
| Features: | |
| Supply voltage: | from 3.3V to 5V DC |
| Integrated circuit: | DHT22 (AM2302) |
| Dimensions: | 39.92mm x 15.4mm |
| Temperature measurement range: | from -40⁰C to 80⁰C |
| Humidity measurement range: | from 0% to 99.9% RH |
| | |
| --- | --- |
| Symbol: | Description: |
| WSH-11092 | Sensor: atmospheric; temperature, humidity; digital |
Useful links: