PRODUCT OF THE WEEK
2020-03-09
Quiet and reliable cooling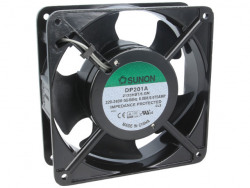 As one of the largest distributors of electronic components in Europe, we offer a wide range of products by SUNON.
We especially recommend DP series axial fans with 230V AC supply voltage. These versatile products are applied in those areas of electronics where cooling of various types of systems is required.
The models are among the most innovative products in the SUNON product portfolio. They are manufactured on a highly automated production line, which ensures the reliability and precision of each fan. A feature that distinguishes DP series models is energy efficiency. The introduction of changes in the production process has made it possible to optimize the fans' energy consumption, while maintaining all other parameters. According to the manufacturer's data, the power consumption of the new models is 18-46% lower.
The size of the fans is 119x119x38mm, and the impeller and housing are made of thermoplastic. They feature ball bearings, which significantly increases the life and reliability of these devices and enables operation in any spatial orientation.
| | |
| --- | --- |
| Supply voltage: | 230V AC |
| Type of fan: | axial |
| Noise level: | from 39dB |
| Type of bearing: | ball |
| Dimensions: | 119 x 119 x 38.5mm |
| | |
| --- | --- |
| Symbol | Description |
| DP201A2123HBTS | Fan: AC; axial; 230VAC; 119x119x38.5mm; 144m3/h; 44dBA |
| DP202A2123MBTS | Fan: AC; axial; 230VAC; 119x119x38.5mm; 134m3/h; 42dBA |
| DP203A2123LBLS | Fan: AC; axial; 230VAC; 119x119x38.5mm; 132.5m3/h; 39dBA |
| DP203A2123LBTS | Fan: AC; axial; 230VAC; 119x119x38.5mm; 132.5m3/h; 39dBA |