PRODUCT OF THE WEEK
2020-04-20
Microchip SPI serial EERAM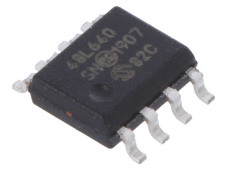 TME offer includes the 48LXX family of MICROHIP memories. These are serial, nonvolatile RAM products which operate in a similar way to SRAM, but do not lose content on any power disruption without the need to use additional power supply source.
MICROCHIP 4L8XX family memories – key information
The chip structure of the 48LXX family is divided into a fast SRAM area mirrored by a non-volatile EEPROM area. During normal operation the components behave like standard SRAM modules with simultaneous read and write operations. When the system detects a power failure, it automatically transfers data from the SRAM area to the EEPROM area. The process of copying the memory content from the volatile part to the non-volatile part is transparent to the user. When the power supply is restored, the stored data is automatically reloaded to the SRAM area. EERAMs by MICROCHIP allow to save the data in case of a failure and restart operation from the point of interruption. The guaranteed number of read cycles at 85°C is min. 100 000.
Discover recommended memories in our catalogue »
| | |
| --- | --- |
| Characteristics: | |
| Communication interface: | SPI |
| Clock frequency: | 66 MHz |
| Memory capacity: | 64kb-1Mb |
| Operating voltage: | 2,7-3,6VDC |
| Operating temperature: | from -40°C to 85°C |
| | |
| --- | --- |
| Symbol: | Description: |
| 48L256-I/SN | SRAM memory; EERAM; 32kx8bit; 2.7÷3.6V; 66MHz; SO8; Interface: SPI |
| 48L512-I/SN | SRAM memory; EERAM; 64kx8bit; 2.7÷3.6V; 66MHz; SO8; Interface: SPI |
| 48L640-I/SN | SRAM memory; EERAM; 8kx8bit; 2.7÷3.6V; 66MHz; SO8; Interface: SPI |
| 48LM01-I/SM | SRAM memory; EERAM; 128kx8bit; 2.7÷3.6V; 66MHz; SO8; Interface: SPI |