RISC-V
RISC-V is an (ISA), which is an interesting alternative for commercial solutions such as ARM or x86. Unlike most of ISAs, RISC-V is not patent-protected and its use does not require purchasing a license. This feature causes growing interest not only among hobbyists but among large electronic industry companies as well.
RISC-V was created in 2010 as an academic project at the University of California, Berkeley ParLab. With the growing number of enthusiasts of this solution, a decision was made to establish a non-profit RISC-V (www.riscv.org) organisation in 2015. Its aim is to create a new, open community developing hardware and software based on the RISC-V architecture. Currently, the foundation consists of over 500 member companies, among others: Google, NXP, Samsung. Orion, Huawei, Microchip Technology, Cortus, GigaDevice Semiconductor and Arduino. RISC-V foundation shares free documentation (through the Github platform) including, among others: a set of instruction manuals, data types, a set of registers, rules concerning the use of threads, levels of privilege, debugging and frameworks for free. The users have the right to use and modify ISAs to suit their applications without the need of any additional payments. It is a crucial advantage for companies wanting to minimise costs and which chip production is counted in millions of copies.
RISC-V architecture has been designed in order to obtain much faster, less expensive, smaller and energy-efficient electronical solutions. RISC-V is not dedicated to a particular kind of microarchitecture and is fully scalable, therefore it is possible to create both a simple FPGA circuit and an advanced processor.
GD32V103 microcontrollers
GigaDevice Semiconductor has created a new series of 32-bit GD32VF103 microcontrollers based on the RISC-V architecture. Winning the embeddedaward2020 competition in the category of hardware proves the quality of this new solution.
GD32VF103 series has been designed to provide a balance between high computing power and low use of energy, as evidenced by the 50% reduction of dynamic power consumption in comparison to GD32 with Cortex-M3 core. This series is fully compatible with 32-bit GigaDevice microcontrollers based on ARM architecture in terms of software and pinout which allows the user to transfer their application much more easily.
GD32VF103 consists of fourteen models with Bumblebee processors with a clock rate up to 108MHz, FLASH memory within of 16-128kB and SRAM memory from 6 to 32kB. Furthermore, those microcontrollers are equipped with a 64-bit real-time clock, 16-bit advanced PWM timer dedicated to controlling the motor, two 12-bit ADC transducers and two 12-bit DAC transducers. The user can use the 16-level interrupt priority system, it is also possible to nest the interrupts and to generate vectored interrupts. Thanks to three low power consumption modes, GD32V103 microcontrollers can be used in applications in which energy-saving is a priority.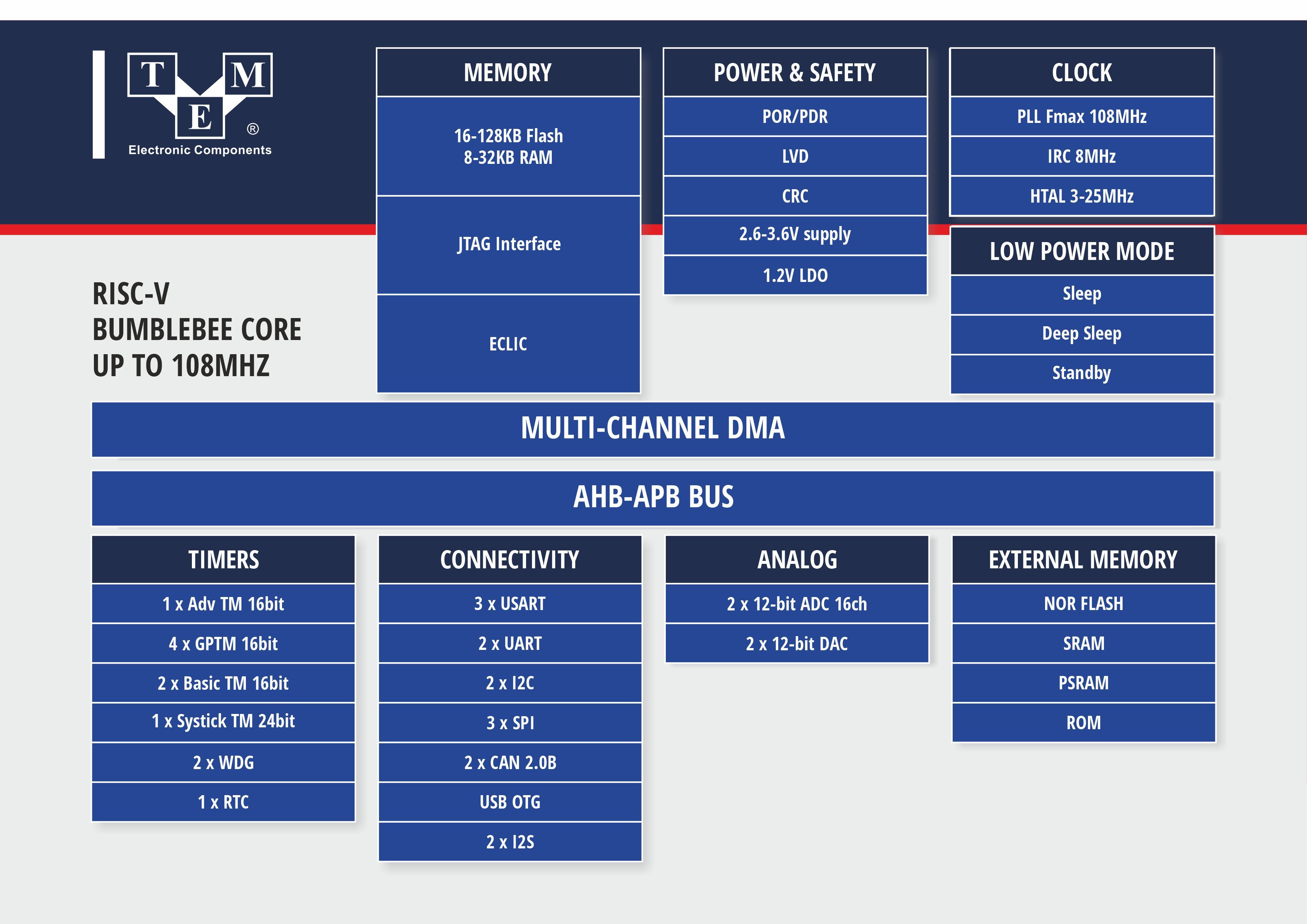 Basic parameters of the GD32VF103 series:
internal generator with the frequency up to 108MHz,
up to 128kB of FLASH memory,
up to 32kB of SRAM
two 12-bit ADC transducers and two 12-bit DAC transducers,
interfaces:

3x USART,
2x UART,
2x I2C,
3x SPI,
2x I2S,
2x CAN 2.0B,
USB OTG,

supply voltage within the range of 2.6 – 3.6V,
up to 80 GPIO pins,
temperature gauge,
integrated multiplier and divider,
4 independent PWM channels,
16-bit advanced PWM timer dedicated to motor applications,
3 low power consumption modes,
working temperature within the range of -40 - 85 °C.
Microcontrollers from the GDVF103 family are available in: QFN36, LQFP48, LQFP64, LQFP100 casings.
Parameters of individual microcontrollers from GD32VF103 series:
| Microcontroller | FLASH memory | SRAM memory | casing |
| --- | --- | --- | --- |
| GD32VF103C4T6 | 16K | 6K | LQFP48 |
| GD32VF103C6T6 | 32K | 10K | LQFP48 |
| GD32VF103C8T6 | 64K | 20K | LQFP48 |
| GD32VF103CBT6 | 128K | 32K | LQFP48 |
| GD32VF103R4T6 | 16K | 6K | LQFP64 |
| GD32VF103R6T6 | 32K | 10K | LQFP64 |
| GD32VF103R8T6 | 64K | 20K | LQFP64 |
| GD32VF103RBT6 | 128K | 32K | LQFP64 |
| GD32VF103T4U6 | 16K | 6K | QFN36 |
| GD32VF103T6U6 | 32K | 10K | QFN36 |
| GD32VF103T8U6 | 64K | 20K | QFN36 |
| GD32VF103TBU6 | 128K | 32K | QFN36 |
| GD32VF103V8T6 | 64K | 20K | LQFP100 |
| GD32VF103VBT6 | 128K | 32K | LQFP100 |
Application
Microcontrollers from the GD32VF103 series can be used, among others, in:
industrial automation devices,
Internet of Things (IoT) applications,
artificial intelligence,
motor propulsions,
consumer electronics,
LED displays,
alarm systems.
Development environment
GigaDevice company has established a cooperation with software development companies such as: Nuclei System Technology, IAR Systems and SEGGER Microcontroller, to give the users a possibility to choose the development environment best suited to their application. Currently, the development of the GD32VF103 series software is possible thanks to:
Nuclei Studio,
SEGGER Embedded Studio,
IoT Studio,
IAR Embedded Workbench.
Those who want to build their own project based on GD32 microcontrollers with the RISC-V architecture can use programming and debugging tools such as:
GD-Link
IAR I-Jet
SEGGER J-Link V10
Evaluation and starter kits
The users of GigaDevice solutions can easily implement their own project not only thanks to new software development tools and libraries but also thanks to diverse evaluation and starter kits. The models that are currently available on the market are:
GD32VF103V-EVAL evaluation kit,
GD32VF103R-START, GD32VF103T-START, GD32VF103C-START starter kits,
IAR Systems and GigaDevice evaluation kits
Parameters of the GD32VF103V-EVAL evaluation kit:
GD32E103VBT6 microcontroller,
GD-Link integrated programmer,
3.2" TFT (320x240) display
16Mbit SPI NOR Flash,
2kb EEPROM,
Interface: 2x USART, USB, 2xCAN
Parameters of the GD32VF103R-START, GD32VF103T-START, GD32VF103C-START starter kits
| Starter kit | Microcontroller |
| --- | --- |
| GD32VF103R-START | GD32VF103RBT6 |
| GD32VF103C-START | GD32VF103CBT6 |
| GD32VF103T-START | GD32VF103TBT6 |
Features
5V supply voltage
integrated GD Link programmer
Arduino standard connector
On 2 June 2020, GigaDevice Solutions introduced an evaluation kit which was the result of cooperation with IAR Systems. It is a kit dedicated to applications based on RISC-V architecture, consisting of:
IAR RISC-V GD32V EVAL BOARD,
IAR Embedded Workbench for RISC-V architecture,
evaluation license,
I-jet Lite debugger,
"Introduction to RISC-V Evaluation Kit" introductory training
On the evaluation board, you will find:
GD32VF103R8T6 microcontroller,
3-axis accelerometer,
potentiometer,
temperature and humidity sensor,
light intensity sensor,
microphone,
6 buttons,
Jack 3.5 mm, JTAG 20 pin 0.05" and USB B micro connectors.
About Gigadevice
GigaDevice is a fabless company manufacturing advanced SPI NOR Flash, SPI NAND Flash memories and microcontrollers based on the ARM architecture with Cortex M3/M4/M23 and RISC-V cores. More than half of the company's employees are involved in research and product development, thanks to which Gigadevice products enjoy success among clients from the embedded systems industry and in consumer electronics. Currently, this company holds over 600 patents in the field of microcircuits production technology.
We encourage you to get acquainted with the GigaDevice products available in the TME offer.