If you are looking for higher performance and larger memory density than MCUs can offer while keeping the same software development tools environment, our MPUs + MPLAB Harmony3 by Microchip is a perfect solution.
The new Harmony3 release includes support for SAMA5D2 and SAM9X60 MPU families.
MPLAB Harmony 3 includes several improvements over previous version, which facilitate its use:
High Portability, Easy Migration

In only 6 easy steps, you can migrate data from a 32-bit MCU or SAM MPU with Harmony Peripheral Libraries (PLIBs).

Layered and modular architecture for software interoperability

Modular download of just what you need through GitHub.
Make it flexible with version control over software and utilized individual modules.
Easy to move and store projects in new machines or environment.

Easy configuration

Harmony PLIBs directly access device registers without any abstraction.
Simple graphical user interface for device configuration allows for a quick start.
Easy to debug with direct register access and simple functions.
MPLAB Harmony3 provides hundreds of demos and example applications that show how to use Harmony libraries and Microchip hardware. These demos provide a good starting point for developing new applications in such fields as:
Audio
Bluetooth
Boot Loader
Safety
Crypto
File System
Graphics
Motor Control
EGT (Ensemble Graphic Toolkits) for Linux based design
The Ensemble Graphics Toolkit (EGT) is a free and open-source C++ GUI widget in a new graphics toolkit software package being developed by Microchip to enable embedded Linux processors with the features and an API you expect. We built EGT from the ground up to work with existing microprocessors and to be a complete application level graphics solution with existing drivers and libraries in addition to the already extensive Linux ecosystem available. EGT is a part of mainline Linux distributions, fully supported by Microchip for long term designs.
Third party graphical frameworks, such as Qt, are often used in the Linux world. Such frameworks are not optimized for particular processors and require higher performance, more memory and often graphical accelerators to be effectively used. In addition, customers are required to pay license fees for commercial use. EGT is designed to be straightforward for experienced Qt developers to use, with a similar structure and API. EGT is optimized for Microchip microprocessors, allowing users to take advantage of lower power processors with smaller memory needs.
EGT allows users looking for graphics solutions to save power and BOM and license costs with a free, fully supported modern graphical framework from Microchip!
Why EGT is a solution for you?
Free and Open Source

Optimized

Optimized to run on Microchip microprocessors running Linux.

Multimedia support

EGT supports video and audio playback of files on all supported MPU devices, with performance up to 30fps at 720p on the SAMA5D4 series. All major audio and video file formats are supported.
Modern

C++11 design and simplicity on top of the latest in Linux graphics stack technology.

Animations

EGT includes built in support for basic animations and effects, but also easily integrates with real physics libraries such as Box2D.

Complete solution

As part of Linux4SAM offer, a stable, tested, and ready-to-go operating system and SDK are available.
Evaluation Kits
MPLAB HARMONY and EGT are optimized and ready to run on Microchip Cortex-A5 and ARM9 microprocessors. Microchip offers a variety of development and evaluation kits ready to get you started on target hardware.
32-bit MPUs for Automotive and more
The new microprocessor portfolio includes products which meet a wide variety of automotive needs, as well as HMI, Connectivity and audio processing applications, Automotive MPUs meet AEC-Q100 Grade 2 qualifications and corporate Long-life practice, which means they are and will be available in a long term. They are available with a complete software platform, including full Linux and RTOS support, Autosar/Mcall support and Graphics toolkit through Harmony and EGT.
#SAM9X60 family:
Microprocessors from the SAM9X60 family are Entry level Linux machines or high-end RTOS platforms with a CPU core at 600Mhz and a 200Mhz memory bus.
SAM9X60 is an ARM9 based microprocessor, AEC-Q100 Grade 2 qualified (SAM9X60-VAO), ideal for applications like Infotainment, which need connectivity as well as analog performance. In addition, AUTOSAR is also supported on this product.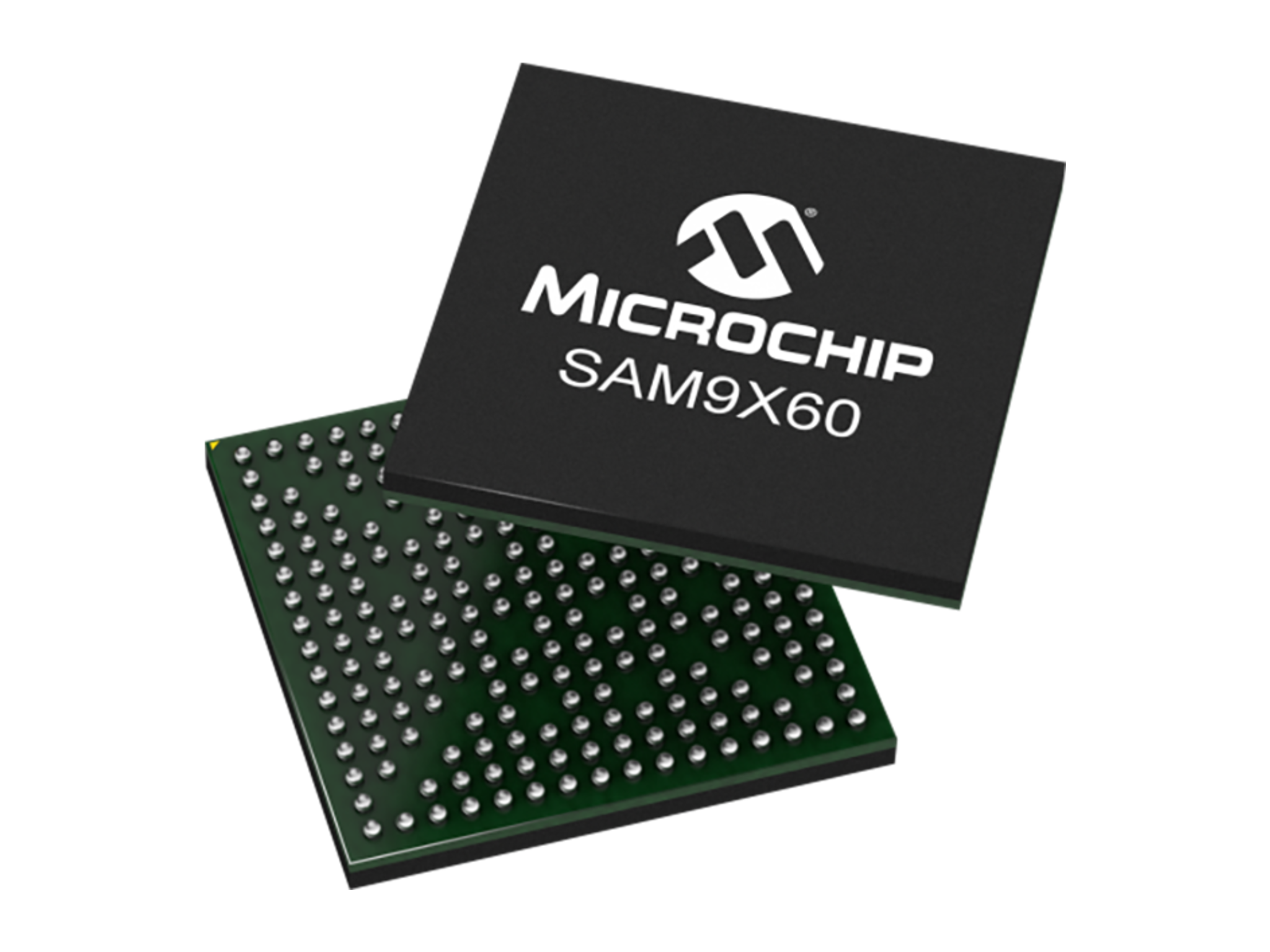 ARM microprocessor: SAM9X60-V/DWB
#SAMA5D27 family:
With its complete media embedded capabilities and advanced security features, the SAMA5D27 Cortex A5 based microprocessor is ideal for HMI (Human-Machine Interface) applications. The system also offers an extensive range of connectivity interfaces. SAMA5D27C-CNVAO is AEC-Q100 Grade 2 qualified.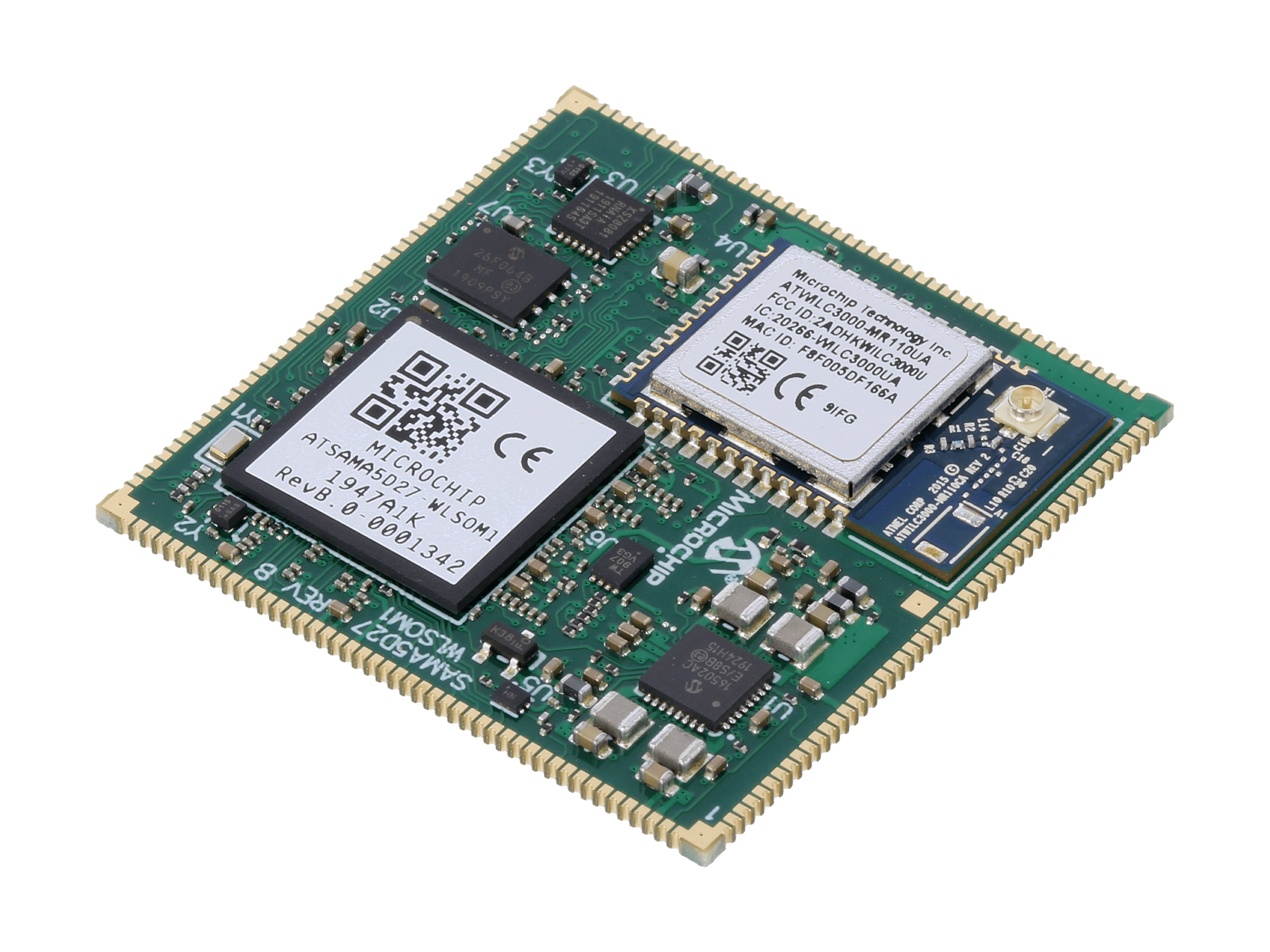 Module SOM: ATSAMA5D27-WLSOM1
Check out the offer in the catalogue