EVENEMANG
2016-12-07
TME supports Sumo Challenge 2016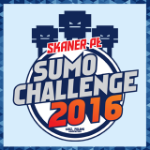 On 19 November 2016, more than 230 constructors visited the International Robot Competition. Sumo Challenge is one of the largest events of this kind in Europe, and it all started as a small local competition organised in 2008 by the SKaNeR scientific association of Lodz University of Technology.
During this year's edition, the robots competed in two classes: Nano (small, matchbox-sized) and Standard (the strongest machines weighing up to 3 kilograms). They competed in the total of 15 categories. The largest number of participants signed in for Lego Sumo, where the age bracket of the builders was the largest – from school-aged children to retired robotics enthusiasts. The audience particularly enjoyed the MicroMouse fights of robo-mice and one of the kind Ketchup House event in Poland. The visitors admired fighting robots as well as racing two-legged robots.
Apart from contests with clearly defined rules, there were also Husarion Freestyle shows, and multiple interesting variants were presented, e.g. an artificial hand mimicking the movement of a human, six-legged spider robot, a Mars rover, and replicas of R2-D2 and BB-8 of the Star Wars saga.
We would like to thank everybody for the emotions and time spent together at Manufaktura!