Control cables are used to transfer data to machines and equipment operated in production process lines. As a result of constant development of automation systems and structural solutions control cable manufacturers face more and more stringent requirements.
How do control cables work?
The operation principle of control cables is based on control signal transfer or data transmission, i.e. transferring analogue or digital signals between a control device and an industrial automation system element. This requires a certain level of resistance and specific properties characterising the cables, so that they can be used as intended and ensure long-lasting safety and stability of operation. Thus, there are certain properties that must be taken into account while selecting the best solution. A broad scope of requirements related to the variety of working conditions or loads results in the fact that the choice of proper cables is not always a straightforward and obvious task.
How to select proper control cables?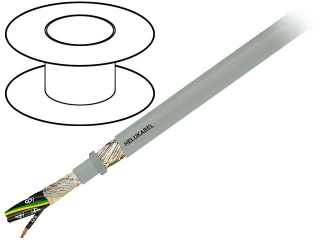 Control cable properties to be taken into account:
Shielding – this term is closely related to electromagnetic interference that may be caused by industrial automation lines and equipment. However, it is not easy to image an industry in which cables are routed far away from equipment, as it increases the length of such cables and generates additional costs. Thus, a shield provides protection against interference and safeguards the signal. Obviously, unshielded cables are still used in certain industries. They are installed on those sites in which no interference occurs or where interference does not affect the quality of data transmitted. The most popular shielding materials include: aluminium foil, braids of tin plated copper wires or braids of galvanised steel wires. In order to enhance cable protection against interference, a few shields are often used simultaneously. In such cases, not only a cable itself is shielded, but its cores as well.
Cable core structure and material – control cables most often come with cord-like copper cores (sometimes additionally tin plated), as such a solution ensures considerable conductance. A proper choice of materials also ensures that a core is resistant to mechanical damage. Cables with nickel plated or silver plated cores are also available. This design results in higher strength and resistance to chemical processes.
Insulation material – is responsible for a number of properties and cable resistance. High-class insulating materials prevent malfunctions and extend the lifetime of the entire system. The external coat determines such properties as cable flammability, resistance to oil, chemical agents, UV radiation or mechanical damage, i.e. abrasion, cutting or crushing. Moreover, the insulating material determines the cable flexibility class and makes it possible to manufacture products for mobile applications. The most common insulating materials include: PVC (polyvinyl chloride), PUR (polyurethane), FRNC (Flame Retardant, Non Corrosive) or LSZH (Low Smoke Zero Halogen), i.e. a material which does not emit any harmful gases in contact with fire.
Halogen content – information regarding the halogen content is important in the context of fire protection. During combustion, halogen cables generate toxic gases, and halogen-free cables only emit slight amounts of non-toxic smoke. Selection of cable characteristics which are appropriate for operational conditions results in minimising any risk of malfunction and extending the lifetime of the entire system. New control cables by Alpha Wire (Pro-Met series) and Belden (MachFlex series) are a good response to the current market needs. Both series include flexible cabling in the locations where installation space is limited.

Parameter
Belden
Alpha Wire
Cable type
Control
Control
Cable type
MachFlex
Pro-Met
Insulation material
PVC
PVC
Rated voltage
300/500V 450/750V
300/500V
Insulation colour
Grey, transparent
Grey, transparent
Shielded
Depending on a series
Depending on a series
Operating temperature
Depending on a series
-30…70 deg. C
-15…70 st. C ; -5…70 deg. C
Protective core
Yes
Depending on a series
Core marking
Black, numbered;
Black, numbered
Colour marked, without repeated colours
Core type
Copper
Copper
Core cross-section
0,75…4mm2
0,5…1,5mm2
Core structure
Cord
Cord
Number of cords
3…15
2…12
Shield structure
Braided, tin plated copper wires;
Braided, tin plated copper wires
braided, galvanised steel wires
Outer diameter
5,6…21,4mm
4,77…15,06mm
Packaging content
50m; 100m
50m; 100m
UV resistant
YES
YES
Flame retardant
YES
YES