The HDMI standard has been developed for the efficient transmission of digital HD video and digital multi-channel audio over a single cable. The HDMI cable was developed in 2000 in Silicon Image's laboratory and quickly became one of the most widely used multimedia interfaces in households and the industrial sector.
In this article you'll discover:
What's the purpose of the HDMI cable?
Thanks to the HDMI interface uncompressed digital signal and control data can be transmitted, and HDMI-compliant devices can be connected. HDMI cables are now used to connect tablets and smartphones, PCs, TVs, cameras and video recorders, graphics cards, Blu-ray players, game consoles, SAT receivers and other devices based on the transmission of high quality audio and video signals.
What's the HDMI standard?
Over the years, many HDMI versions have been developed. Today, there are more than six HDMI standards – from 1.0 to 2.1, which are divided into the first and second generation. The development of this type of cable was a natural response to the changing capabilities, parameters and functionalities of devices used for recording, reproducing and displaying digital content.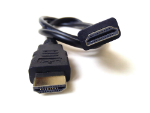 HDMI 1.0
The first HDMI standard, which appeared on the market was version 1.0. It offered very limited (from the point of view of the current standards) transmission parameters, such as:
maximum HDMI resolution: 1920 × 1200p60,
colour depth: 24-bit,
maximum pixel frequency: 165 MHz,
maximum TMDS throughput: 4.95 Gbit/s.
HDMI 1.0 did not support many of the current standards and features, including DVD-Audio, Ethernet channel, 3D and 4K resolution, and Dolby TrueHD compatibility.
HDMI 1.1
The next HDMI standard was the 1.1 version. The only difference between version 1.1 and 1.0 was the implementation of the DVD-Audio format. Other parameters in the HDMI 1.1 version remain unchanged.
HDMI 1.2 and 1.2a
These types of HDMI cables do not offer better solutions in terms of HD resolution, signal bandwidth or colour depth either. However, Super Audio CD support for Sony and Philips audio media has been added.
HDMI 1.3 and 1.3a-c
The advent of the HDMI 1.3 standard has significantly improved the quality of digital signal transmission. In addition to the significant improvement in terms of parameters, support for Deep Color, xvYCC, Dolby TrueHD, DTS-HD Master Audio, as well as AV-Sync synchronization for audio and video has been added. HDMI 1.3 offers the following parameters:
maximum HDMI resolution: 2560 × 1600p75,
colour depth: 48-bit,
maximum pixel frequency: 340 MHz,
maximum TMDS throughput: 10.2 Gbit/s. Enhanced HDMI 1.3a-c versions offered a further improved compatibility with new multimedia devices.
HDMI 1.4 and 1.4a-b
HDMI 1.4 and its a-b updates were the last standard of the first generation of HDMI. These HDMI versions have enabled another technological leap in data transmission and support for the 4K resolution. Features of HDMI 1.4 and 1.4a-b include:

maximum HDMI resolution: 4096 × 2160p24,
colour depth: 48-bit,
maximum pixel frequency: 340 MHz,
maximum TMDS throughput: 10.2 Gbit/s.
In addition, version 1.4 includes Ethernet channel support, return audio channel, and 3D support for HDMI. An example is the 3-metre Goobay 31943 HDMI High Speed cable with Ethernet.
HDMI 2.0
Second-generation HDMI cables are characterized by the best possible transmission parameters, which are dedicated to the most advanced devices and the most demanding users. HDMI 2.0 provides parameters such as:
maximum HDMI resolution: 4096 × 2160p60,
colour depth: 48-bit,
maximum pixel frequency: 600 MHz,
maximum TMDS throughput: 18 Gbit/s.
HDMI 2.0 a-b
HDMI 2.0 a and b are currently the most popular HDMI standards. They provide the best transmission parameters, moreover HDMI 2.0 b supports HLG (Hybrid Log Gamma) technology. The parameters of HDMI 2.0 a and b are:

maximum HDMI resolution: 4096 × 2160p60,
colour depth: 48-bit,
maximum pixel frequency: 600 MHz,
maximum TMDS throughput: 18 Gbit/s.
An example of a modern HDMI 2.0 High Speed HDMI cable with Ethernet is e.g. 0.5-metre Goobay 38514
HDMI 2.1
HDMI 2.1 is currently the latest HDMI standard. It provides the best transmission performance and is also equipped with improved Audio Return Channel, DSC, Automatic Low-Latency Mode (ALLM) and Dynamic HDR. The HDMI 2.1 parameters are as follows:
maximum HDMI resolution: 7680 × 4320p120,
colour depth: 48-bit,
maximum pixel frequency: 1200 MHz,
maximum TMDS throughput: 48 Gbit/s.
Versions of HDMI cables
There are three types of HDMI cables – A, C and D. The main difference between these types of HDMI cables is their construction and the connector size.

HDMI version A
HDMI version A is a classic and the most commonly applied design. It is used in households to transfer digital signals between audio and video devices such as game consoles, TVs, Blu-ray players and home cinema sets.
HDMI version C (mini HDMI)
Mini HDMI is typically used to connect portable devices such as cameras, video recorders or smartphones to TVs, PCs and laptops or media players. The PROLINK TCV8350-3.0 HDMI 1.3 C-type cable is worth recommending for such applications.
HDMI version D (micro HDMI)
It is the smallest HDMI connector in terms of construction, used primarily to transmit signals between mobile devices – smartphones and tablets.
Types of HDMI cables
In addition to the cable version and supported HDMI standard, you should also pay attention to its type. There are four types of HDMI cables:
Standard HDMI;
High Speed HDMI;
Standard HDMI with Ethernet;
High Speed HDMI with Ethernet.
Regardless of which HDMI version you choose, it provides backward compatibility and allows digital signals to be transmitted between the connected devices. However, if you make the right choice of the type of HDMI cable, you can tailor its functionality to your individual needs.
If, for example, an HDMI cable is to additionally transmit data packages in the Ethernet standard, you must select a Standard HDMI cable with Ethernet or a High Speed HDMI cable with Ethernet. If you are working with devices that support HDMI resolution of 1080 px or more, you must ensure a sufficient bandwidth. In such a case, a High Speed HDMI cable is recommended.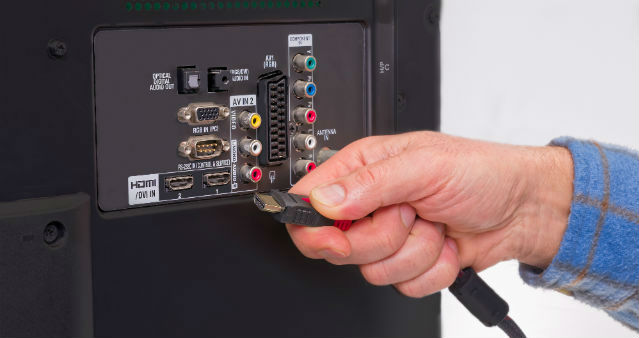 Types and diameters of HDMI cable cores
HDMI types can also be categorized based on the type and diameter of the signal cores. The quality of the transmitted signal depends on the core material and thickness. We distinguish the following cores: CCA, CSS and OFC.
CCA cores
CCA cores are made of aluminium and copper. Due to the admixture of aluminium, this type of HDMI cables is definitely cheaper than other cables. Unfortunately, at the same time it provides much worse conductivity, it is more brittle and prone to damage, and also more difficult to pack. Insufficient copper coating can cause rapid oxidation of the cores and consequently reduce the life and durability of the cable. The use of a CCA cable significantly reduces the length of HDMI cable.
CSS cores
This type of core is made of copper and steel. HDMI cables with CCS cores are recommended for data transmission over short distances. The admixture of steel increases the mechanical strength of the cable, but also increases its weight.
OFC cores
These are the most common HDMI cable cores. They are made of oxygen-free copper with a purity of 99.99%, which guarantees excellent conductivity.
HDMI versions can also be categorized based on their core diameter. There are six diameters defined by the American Wire Gauge (AWG) standard. The larger the AWG number, the smaller the diameter of the HDMI cable will be. According to this standard, the following core diameters are available:
22 AWG – ø 0.644 mm,
24 AWG – ø 0.511 mm,
26 AWG – ø 0.405 mm,
28 AWG – ø 0.321 mm,
30 AWG – ø 0.255 mm,
32 AWG – ø 0.202 mm.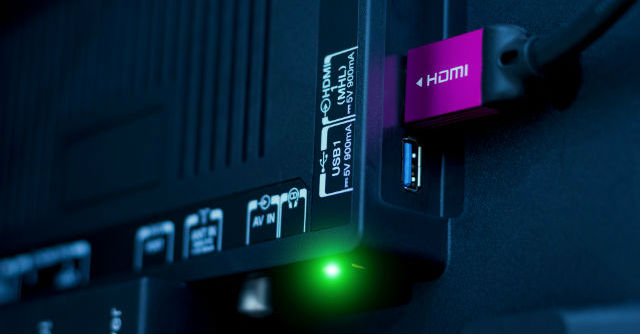 The smaller the AWG, the better, faster and more resistant to interference the transmission is. However, keep in mind that thicker HDMI cables are also more expensive. Therefore, it is advisable to adjust the core diameter to the planned length of the HDMI cable. There are some guidelines that can be followed in this respect.
For cables longer than 20 m it is recommended to use 24 AWG cores. For cables with a length of 10-15 m, 24 AWG or 26 AWG cores will be a good solution, while for cables with a length of 3-10 m it is best to choose 28 AWG and 26 AWG cores. For the shortest cables (up to 3 m in length), 30 AWG and 28 AWG diameters are a reasonable choice.